While I am a frosting fanatic – glaze is fairly new to me. We did a trial run making glaze on our cinnamon rolls this Christmas and it was so good! Today since the kids are home on holiday we've decided to try our hand at glazing homemade donuts in pretty colors. Glaze is easier to use than frosting for making donuts look smooth, and it tastes really great.
Using this glaze is an easy way to take any treat up a notch, I even think it would be awesome for frosting cakes.
I am surprised how easy this glaze is to make. With this yummy recipe you can create sweet treats in any color of the rainbow! I am partial to pink as always. :)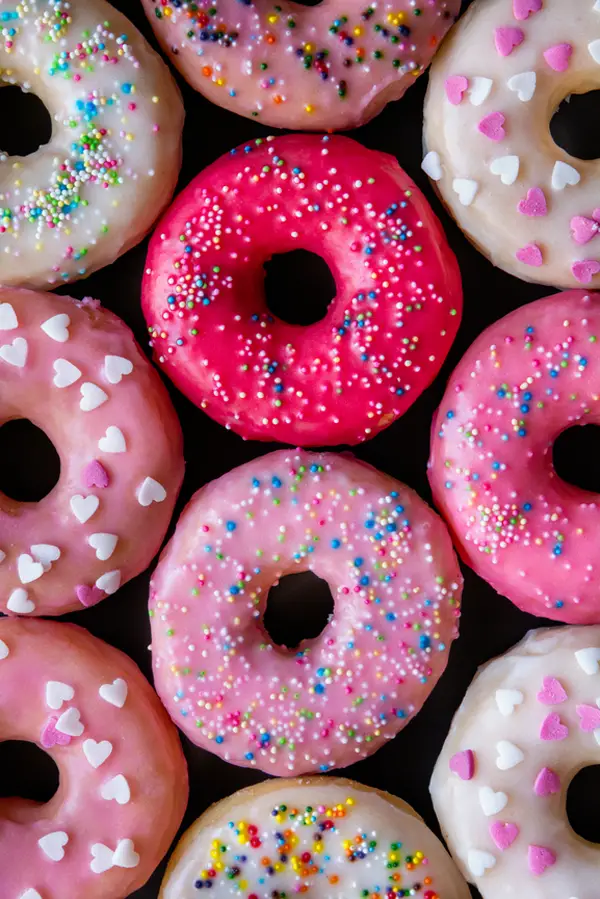 To make the colorful donut glaze you will need:
1 cup powdered sugar
2 tablespoons water
1-2 drops of pink food coloring
Colorful sprinkles for decorating
Colorful Donut Glaze
To prepare the colorful donut glaze;
Whisk together the powdered sugar, water, and food coloring in a bowl.
Adjust consistency of the glaze, by adding a small amount of sugar if it's too watery, or adding water if looks too thick.
Repeat in a couple different bowls to get various shades of color.
Pour the glaze over the donuts, cookies, apples or cakes… Seriously, this would be amazing on almost anything.
Add sprinkles, candies, or jimmies while the glaze is still wet and allow the donuts to set before eating (if you can help yourself!).
Enjoy a holiday/Monday/everyday treat that is just as amazing tasting as it looks.
(Photography ©Pixel Stories/Stocksy United).