Let's talk about how awesome it is to gift different types of cactus… Instead of gifting the traditional flowers for Mother's Day, teacher appreciation week, or as a wedding, housewarming, or graduation gift, give a cactus.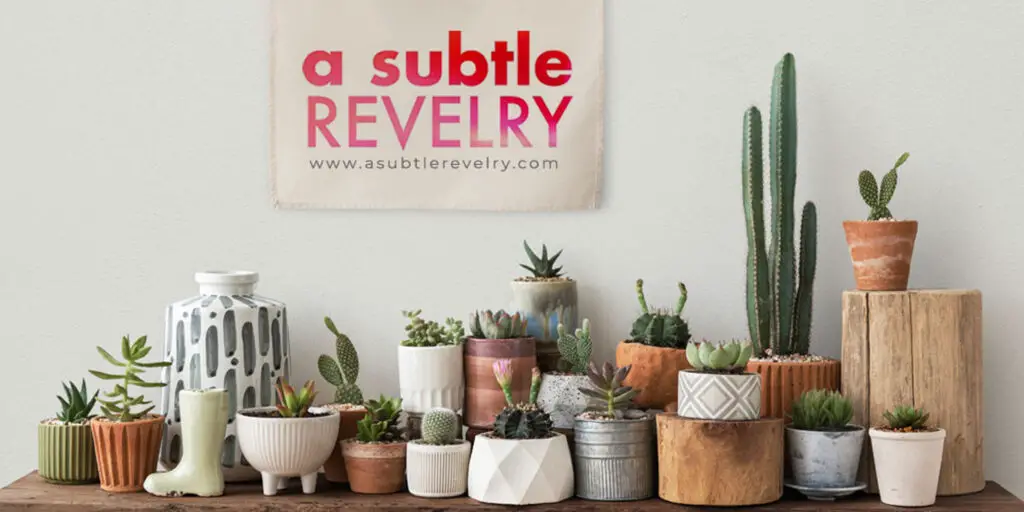 I love gifting cacti because they are hard to kill, they look gorgeous in any home (or classroom), and they are a modern representation of flowers that aren't overly fragrant.
If you think about it… a cactus is a perfect gift for just about anyone. For mom, cactus something unique and thoughtful, for a teacher, it is something that stands out amidst the sea of mason jar bouquets and thrives on a classroom desk even with the lack of care during weekends, and for graduates and newlyweds, a cactus is a great gift to celebrate a new stage in life.
10 Great Types of Cactus to Gift
However, there are many types of cacti, and some are better received then others. Here are my 10 favorite types of cacti for gifting:
1. The Golden Barrel Cactus
The golden barrel cactus (Echinocactus grusonii) is among the most recognizable cacti on this list. Its round, slick shape fits perfectly with any modern interior and is best paired with round pots. A golden barrel cactus has short yellow needles which grow in clusters and give the plant its seamless look. This is a great gift for a perfectionist, or someone who knows how to combine shapes and colors to turn their interior into a perfect home.
2. The Bunny Ear Cactus
The Bunny Ear Cactus (Opuntia microdasys) is probably the most popular among families with children. In addition to its attractive appearance, this cactus requires little to no care, and can survive in harsh conditions. The Bunny Ear Cactus is a perfect gift for a busy individual with a great personality, as it can represent both elegance and playfulness at the same time.
3. The Blue Columnar Cactus
The Blue Columnar Cactus (Pilosocereus Cacti) is one of the most beautiful columnar cacti. This genus of cacti is native to Mexico, the Caribbean, and Brazil, and is able to grow up to 30 feet or 9 meters. The Blue Columnar Cactus is a perfect gift for a dedicated and a caring person, as it requires human hand to thrive in the domestic environment.
4. The Fairy Castle Cactus

The Fairy Castle Cactus (Acanthocereus tetragonus) is a slow growing cactus with a unique growing pattern resembling fairy tale castles, which is where it got its name from. This Cactus is able to grow up to 6 feet or 1.8 meters, however due to its slow growth it will take years to reach this stage. The Fairy Castle Cactus is a perfect gift for a creative and imaginative person.
5. The Peanut Cactus
The Peanut Cactus (Echinopsis chamaecereus) is a gorgeous house plant native to Argentina. This cactus is easy to care for, and its otherworldly appearance makes it the most sought after cacti for indoor gardening. Due to its unique shape and strong color, the Peanut Cactus is a perfect gift for someone who cares about modern interior design.
6. The Bishops Hat Cactus

Although you have already seen many interesting cacti on my list already, the Bishops Hat Cactus (Astrophytum myriostigma) is by far the oddest looking one. This plant is a blooming, spineless cactus native to Mexico. The Bishops Hat Cactus can grow up to 24 inches or 60 centimetres, requires little water and care, and is able to grow in difficult conditions. The Bishops Hat Cactus is a perfect gift for individuals with unusual taste, and those who often try new things in life.
7. The Easter Cactus

The Easter Cactus (Rhipsalidopsis gaertneri) is the cacti type that requires special care and is the only one on my lists that blooms in variety of different colors. This cactus thrives in cold environments and does not stand direct sun light. The Easter Cactus is a perfect gift for someone who lives in an area with not so many sunny days, or for someone living in a small apartment, considering that this cactus can only grow up to 2 feet or 0.6 meters.
8. The Moon Cactus

The Moon Cactus (Gymnocalycium mihanovichii) is native to desert habitats in various parts of South America. This group of cacti does not produce chlorophyll, which is why it is usually grafted onto a species that produces plenty of it. The Moon Cactus is a perfect gift for those who love to tell stories, as this plant is something your guests will most definitely ask you about.
9. The Feather Cactus

The Feather Cactus (Mammillaria plumosa) is a soft and fluffy cactus that hides sharp spines all over its trunk. The Feather Cactus usually grows up to 3 inches or around 8 centimetres, does well in garden containers with little to no care, and has typical watering needs for a succulent. The Feather Cactus is a perfect gift for a gentle and caring person that has a strong character and knows how to set boundaries.
10. The Old Lady Cactus
Possibly the most elegant on our list of cacti is the Old Lady cactus (Mammillaria hahniana). The Old Lady Cactus can be kept in both indoor and outdoor spaces, however it requires very dry environment and should not be watered if there is any moisture in the soil already. The Old Lady is the perfect gift for those how do not want to spend too much time caring about their plans, and yet want to heave beautiful flowers on their display.
How to display your cactus collection

Building an indoor garden by mixing different types of cacti with a few fresh cut blooms will be a gift that your loved one is sure to cherish! Scour the thrift store for vintage tea cups, miniature vases, and even use small latte bowls for a gorgeous and sweet way to display your cacti collection.
An entire bowl filled with mini-succulents is a gift any mom or teacher will treasure for years to come. A bright pretty bowl or a small collection when placed together becomes a gift that will make someone very happy.
Sweet painted jars are a perfect way to get the kids involved in gifting cactus this year. Purchasing small succulents that are really affordable and painting washed out metal cans will make a great present for a teacher or mom. I love the neon colors in this collection.
If you want to make your gift stand out even more, you can always try out painted succulents and cactus balloons.
Whichever type of cacti you gift this year – the thoughtful presentation of a plant will bless and encourage the recipients, and convert them into cacti lover for ever.