Inside: 10 WWE® Party Games for watching with fun! This post has been sponsored by Mars Wrigley Confectionery and WWE®. All thoughts and opinions are my own.
Ok, so WWE® is apparently the new thing for kids to watch and play. Anyone else in the same boat as me?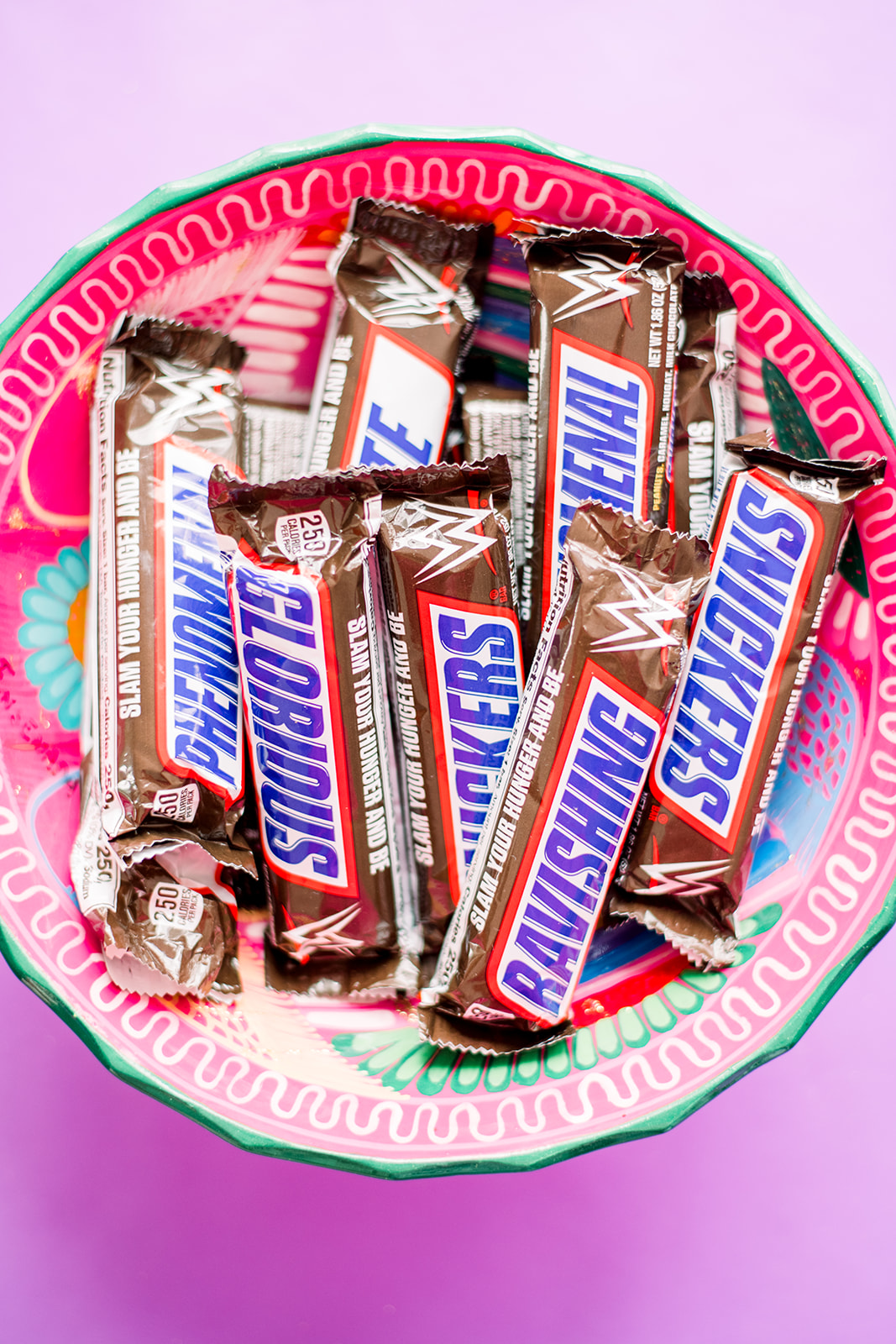 Mine are constantly asking to watch the big fight and have their friends over for a big watch party. So, in my true party planning fashion, I've come up with some ideas to make it tons of fun! And since no party is complete without the sweets, we grabbed a perfectly on theme bunch of SNICKERS® Hunger Bars with WWE® available only at Dollar General®. Paired with a few masks and the show and we are ready for fun night at home.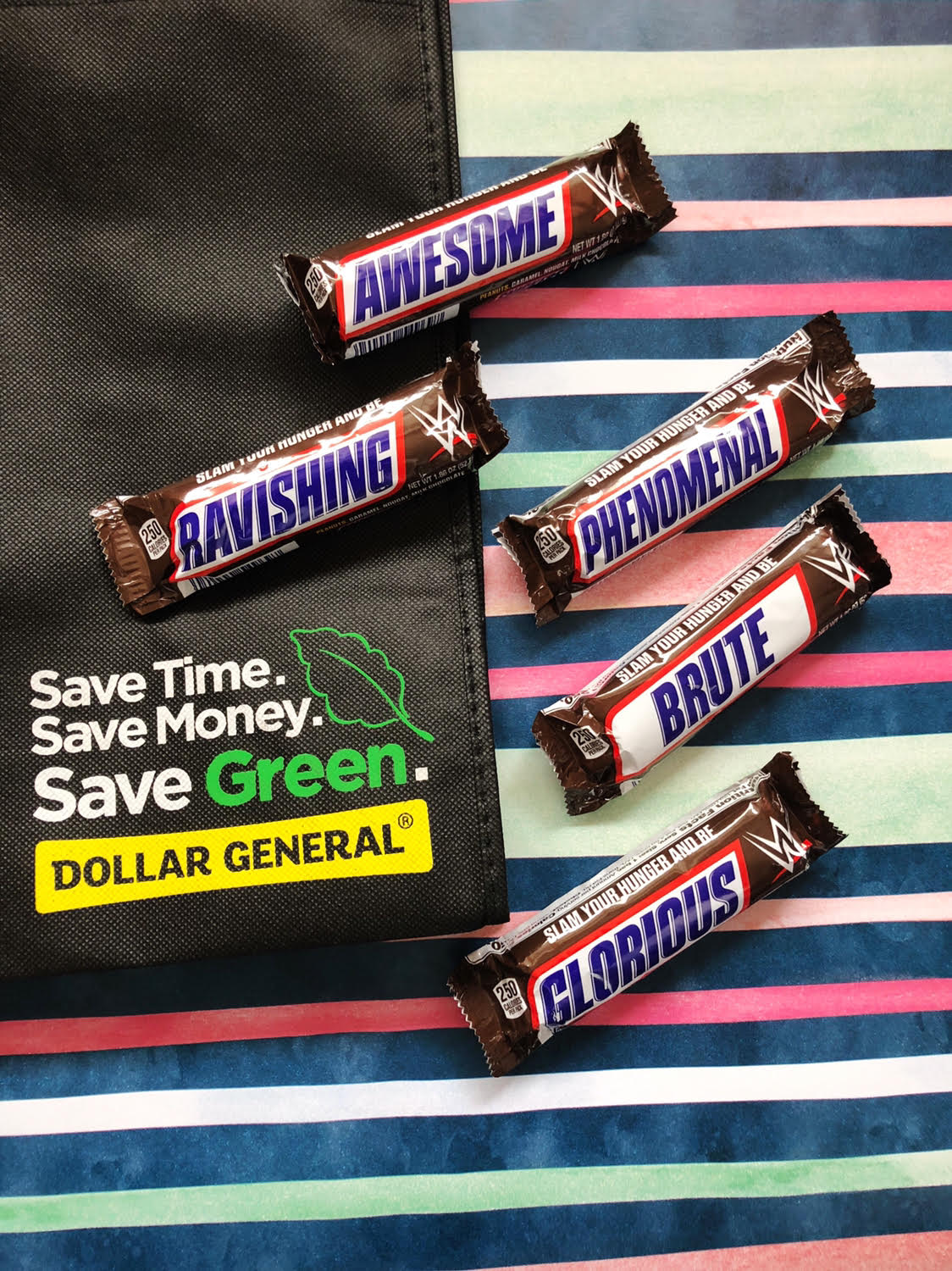 These 10 WWE® Party Games are sure to bring smiles, laughs, and some competitive chaos…that's controlled, of course ;)
Games You Can Buy For A WWE® Party
Shop your way to the perfect party games for a WWE® to remember!
Punching Bag: An obvious choice for a WWE® party but one that'll certainly add hours of fun! Since this bag is shaped like a pro, have your family practice their best WWE® moves to see who's the ultimate champion.
Inflatable Gloves: Let the family get in on the action with some gloves of their own.
Thumb Wrestling Arena: Thumb wrestling just got a crazy cool upgrade with this wearable arena that's great for a two-person game. These would be really fun party favors too.
Arena Bounce House: If you'd like to take the party outside, this bounce house will become the ideal spot for a smackdown! Bonus: you don't have to return it after the party like you would a rentable one.
WWE Games that are Way Funny
Some games are fun. And some games are really dang funny. These ones are the latter…
Games that are Way Funny
Sumo Bubble Wrap: Got some leftover bubble wrap laying around the house? It's the perfect cushion for a sumo suit! Create your own sumo suits using packing tape to secure. Then let them duke it out!
Slippery Socks: This game is hysterical. The object: remove everyone else's socks while keeping your own on. There aren't any other rules, so get crazy!
DIY Superstar Ring & Water Balloon Pop: Make your own ring outside with chairs as the 4 corners and streamers as the sides. Place water balloons in the middle and have each child see how many balloons they can pop in 30 seconds with their best WWE® moves!
And for game rewards that the whole family will love to win, pick up SNICKERS® Hunger Bars with WWE® for a fun way to celebrate! With the Dollar General®'s Buy 3 Get 1 Free digital coupon you can have treats for the whole party and still keep your sanity.
WWE® Party Games Even the Girls Will Love
WWE® watching parties aren't just for boys! There are plenty of female superstars that are just waiting to inspire your girls. Get the gals in on the action with some cutesy crafts and photo ops…and obviously they are welcome to join in on the match too. ;)
DIY Party Belt Craft: Make your very own WWE® belts! Paint, sequins, rhinestones, and glitter will add some bling to the belt for a show-stopping look that can't be missed.
Grand Entrance Photo Booth: WWE® fans always make an entrance. Create the perfect little photo booth with a DIY entrance stage. Make sure to provide lots of fun WWE® themed props and use a Polaroid camera so the party guests can take home their pictures.
DIY Face Mask Craft: Buy some blank face masks for the family to decorate. Provide paint, markers, and stickers so they can design something cool enough to compete with the pros!
I had no idea that WWE® could be so much fun. I completely understand my kids' obsession now! Creative outfits, big entrances, sweet moves, a cheering crowd…what more could you want?! I can't wait to throw them the WWE® party of their dreams, made complete by these awesome games. Which are you most excited to try?