Inside: 12 of the cutest DIY cupcake toppers to add a little festive flair to your dessert!
We all love a good cupcake, am I right? I know I do! They are the perfect treat for birthdays, celebrations or just as a little pick me up. I find that adding a little something special top these mini confectionary treats takes them to a whole other level.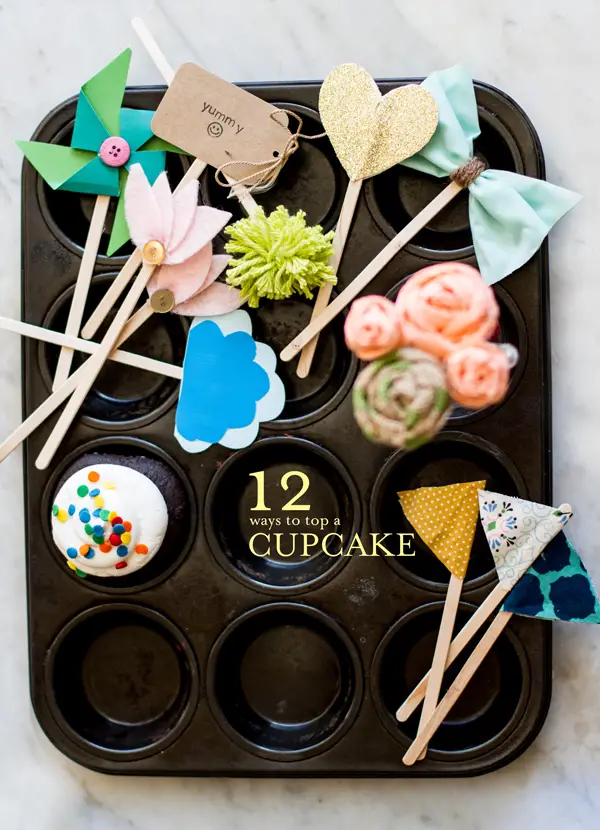 To top these little packages of goodness, you don't need a cake decorating degree. Instead grab one of these 12 easy peasy DIY cupcake toppers to add a little festive flair to your party desserts!
In case you're needing a recipe to make these cupcakes taste as great as they look, here are a couple favorites we've created:
Here are 12 easy peasy DIY cupcake toppers
1. Simple fabric flags are most possibly the easiest way to turn a cupcake gorgeous. It's an oldie that is still just as sweet looking. To make these cut small pieces of fabric into triangle and glue to a toothpick. This is such an easy DIY cupcake topper, and you can make them with left over fabric scraps.
2. The fabric bows are made by using a rectangle piece of fabric. Fold both of the sides backward and wind a 3-inch piece of yarn around the middle. Check out a step by step on how to make a no-sew bow topper. Glue the simple bows to craft sticks for topping cupcakes.
3. A tassel garland can be made by using a few small lengths of tissue paper. Fold each in half and cut about 80% up the paper, then wind it in a roll and secure the tip with twine. A couple of these bright beauties will instantly brighten up a cupcake.
4. The rose pink flower petals are made with a few petals cut from felt. Glued one on top of another and centered with a little button as a flower center fills this look with easy spring whimsy. Such a cute DIY cupcake topper for all your spring events!
How to make birthday party cupcake toppers
5. Kite toppers are great fun for a kid's birthday party. Create them by cutting 2 diamonds out of card stock paper, one large than the other. Glue them together and wind a small length of yarn down the bottom of the craft stick.
6. Stamped tags are so easy and you can customize them for any party. Simply take some small tags and stamp with any saying. Such as "Happy Birthday" or "Congrats"! Then glue them to your mini craft sticks.
7. Fabric rolled flowers make perfect DIY cupcake toppers. Here is a great DIY tutorial showing how to make these fun flowers.
8. Pom pom poofs, I mean cupcakes and pom poms! Can you think of a better combo? Check out this pompom tutorial to learn how to make the cutest pom poms ever.
9. Crowns, every princess deserves a cupcake served with a crown. All you need to do for these is use a crown template or draw by hand on some cute paper. Cut them out and glue to your craft stick.
10. Clouds, again a super easy paper DIY cupcake topper! For the clouds, I took a variation of blue scrapbook paper and cut them into cloud shapes. Used glue to layer them together and then glued them to the craft sticks!
Seasonal DIY cupcake toppers for school parties
11. Pinwheels make the most fun summer DIY cupcake topper for summer. You can see my best pinwheel tutorial here! Once you have made your pinwheel just use glue to adhere to your craft stick.
12. Hearts, these might be the simplest yet and perfect for that classroom party. Simply cut two hearts out of glitter craft paper and glue them to either side of your craft stick, you could really do this with any shape and have a class size worth of cute cupcakes in 5 minutes flat.
Let us know in the comments what your favorite cupcake flavor and DIY cupcake toppers are, or make the full dozen and try them all.
PS. Cakes with bows!