Toast the weekend with cotton candy! We all deserve something sweet for making it through another week. I'm planning to pull out one of our all time favorite treats to savor a few sweet moments this weekend. Topping our champagne glasses… filling the s'mores… really it is nearly magical to me. Cotton candy is basically unicorn food, when tasted by tired humans it gives us all the magical boost we need for a weekend of revelry.
Here are 14 of the greatest cotton candy treats I know. Many of which I've made before. All featuring the magical and beloved sweet.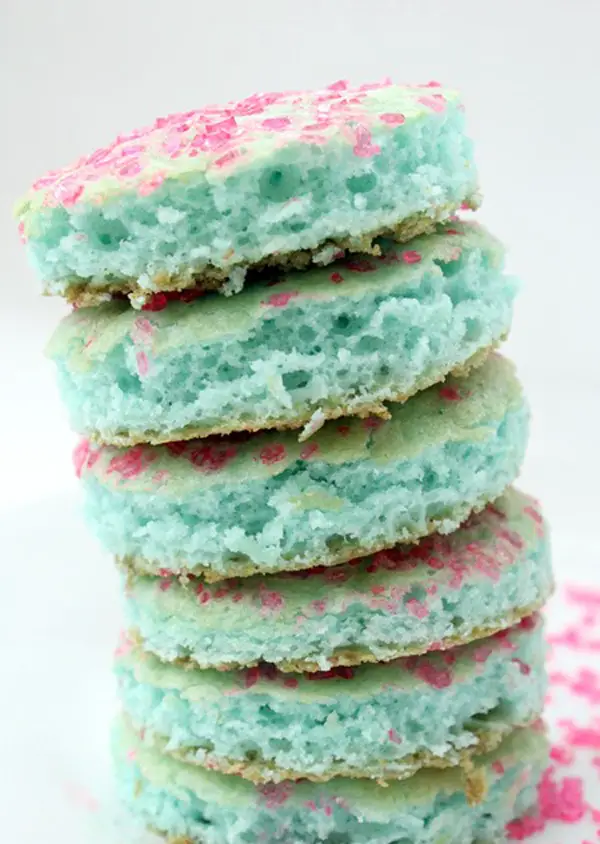 A stack of cotton candy cookies will create a sweet touch for any weekend. These ones by Momma Miss have been made and quickly devoured in moments on an Saturday afternoon at my house.
A cotton candy cocktail that is as colorful as it is fun! There's great joy in serving these beauties at a cocktail party as the sun sets.
A cake made with cotton candy balls beats turning on my oven just about any day. This towering version is a birthday party star.
Our cotton candy cupcakes take on extra fun form when baked and served in striped cotton candy holders. Guests love the sweet surprise!
Combining two of our favorite treats, these cotton candy donuts are almost too amazing to even eat.
Cotton candy, candy apples. These are too good to be true! They almost look like small little crystal balls, which only encourages my notion that cotton candy is truly a magical treat.
A cotton candy blizzard is a mixture that totally makes sense for a Friday afternoon. Ice cream, cotton candy, and a little extra coconut to make it thick. Perfection in a cup!?! I'm so thrilled Kelley figured how to make this knock off DQ version.
Pink cotton candy vodka is my sneaky, sweet way to make any party more festive and fun.
Cotton candy s'mores are a summer tradition at our house. We created these a few years ago and since then the kids ask for them every time the bonfire starts up.
A fluffy topping of cotton candy finishes a birthday cake in style – no fancy decorating skills required. It's a super cute detail on this rainbow cake by Sprinkle Bakes.
Did you know you can flavor your own cotton candy? Cotton candy hair and treats make gorgeous displays that will bring any party up a notch with tasty flavors and golden flakes.
Ruthie's version of
For serving drinks that are safe for the whole family (alcohol free) try whipping up a rainbow display of cotton candy cream sodas. They're a surefire way to liven up a Saturday night with whoever might be stopping by and sipping on the drinks gives a nice boost to the family dance party.
Cheers to a sweet weekend friends and remember this cotton candy Halloween costume? I just can't get enough of the magically sweet fun. xoxo