We have been posting DIY Halloween costumes for kids and families for 7 years here on the blog! There have been many fun ideas and we've created costumes for kids, adults and even babies. Basically the entire family! It's been a blast and so many of the ideas have been favorites for our family to wear through the years. I've collected them all here in one place for us to scroll through and be inspired by.
Incase you are still thinking about the perfect costume for this year, why not try DIY?
DIY costume ideas for moms
Creating costumes that move with us and are easy to put on/take off is crazy important to me as a mom. Fun, whimsy and ease are my top three priorities when designing mom focused costumes. Here are 8 DIY Halloween Costumes for Moms that all hit the mark from the past 7 years…
Cotton Candy Halloween Costume.
Pink Spider Lady DIY Halloween Costume.
Paper Party Fan Halloween Costume.
Be a mannequin! Love this idea and it's simple to create with a basic mannequin torso frame.
Missing Milk Carton Halloween Costume. So fun! Grab the printable by clicking the link above and create your own missing (from Instagram) milk carton. Can you even imagine?!? ;)
Rainbow witches Halloween costume which also works so great as a group costume idea!
Medusa hair Halloween costume + 10 other amazing Halloween costume ideas for grown ups.
DIY Halloween costumes for the babies
Babies can be the cutest to dress up, especially when they are being held in momma's arms! Here are 2 crazy cute DIY Halloween costumes for babies that we've created, so you can hold your littlest while still keeping up with the big kids.
Emoji Heart DIY Halloween costume for baby.
Bouquet of flowers Halloween costume for baby.
DIY Halloween costumes for kids
And possibly the biggest group of costumes is obviously for the kid crowd. From Trick-Or-Treating to classroom parties having a fun DIY style will make your kid's costume the best one in class! Here my favorite 10 easy DIY Halloween costumes for kids…
A bouquet of balloons DIY Halloween Costume.
My little circus girl Halloween costume. This is one of my most favorite DIY Halloween costumes for kids!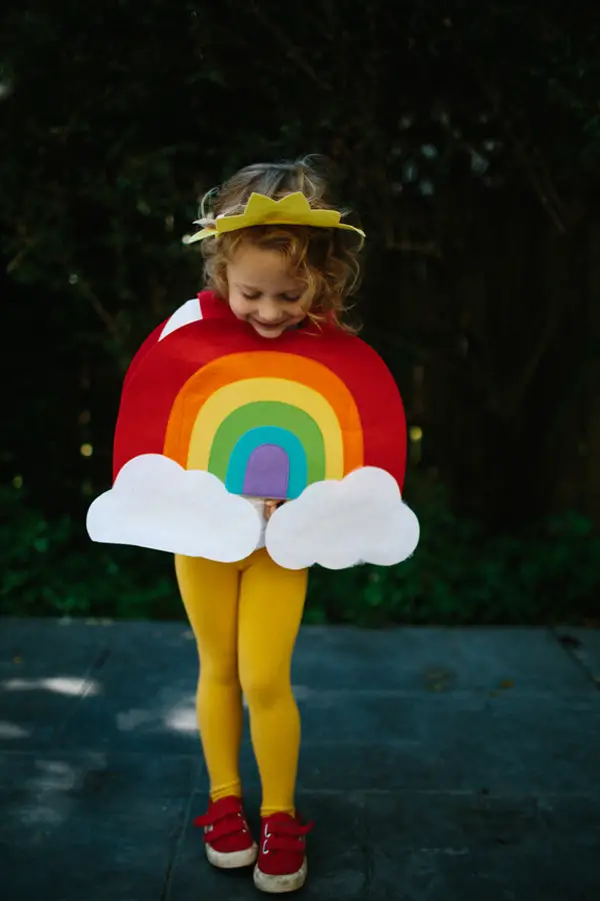 Rainbow and sunshine Halloween costume, which was such a fun idea when we posted it and now is available to buy if you don't love the idea of DIY.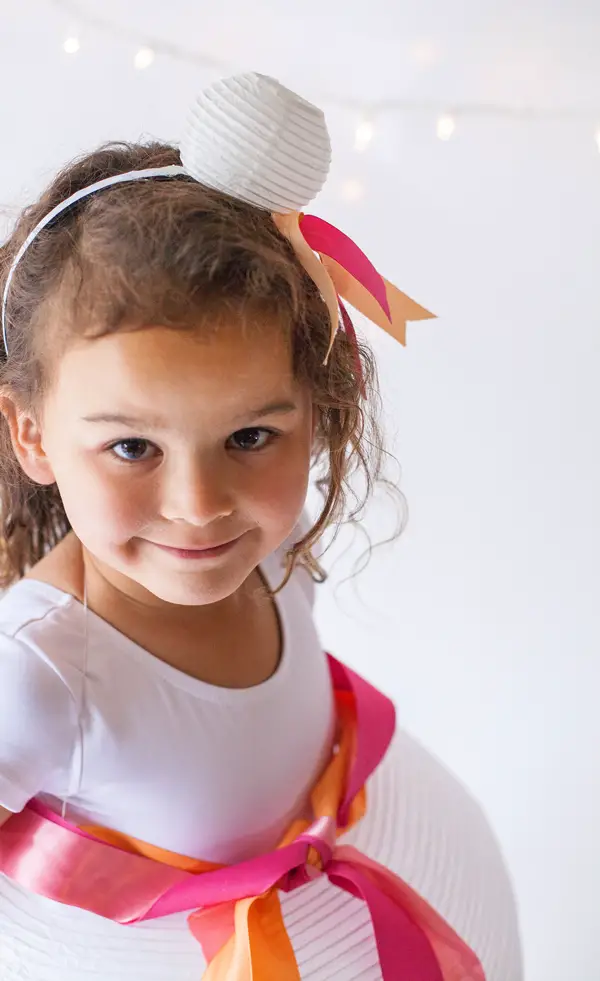 Paper party lantern Halloween costume.
DJ boombox boy Halloween costume.
Birthday cake Halloween costume and birthday boy! Such a fun DIY Halloween costume for twins.
Unicorn Toast Halloween costume with a momma one to match.
A honeycomb Halloween costume! So fun. ;)
Gummi Bear Halloween costume which we made just this year using felt and a sharpie + a few gummies strung up as a bracelet. It's an easy last minute costume switch.
Birthday present Halloween costume.
And just incase a full costume is too much to handle this year here are 10 simple masks to make & a few fun Halloween makeup ideas that I love.
(Mannequin Halloween costume photo @Stocksy United by Igor Madjinca. Gummi Bear & Milk Carton costume photos @A Subtle Revelry by Ali Denney. All others linked under photo.)