Inside: 25 Creative Pumpkin Carving Ideas.
Pumpkins are my favorite decorative accessories around the house this time of year! Decorating them in different ways! Decorating them has gotten so much more fun with the slew of inspiration online. Here are 25 of my favorite creative pumpkin ideas… Which will you be making this year?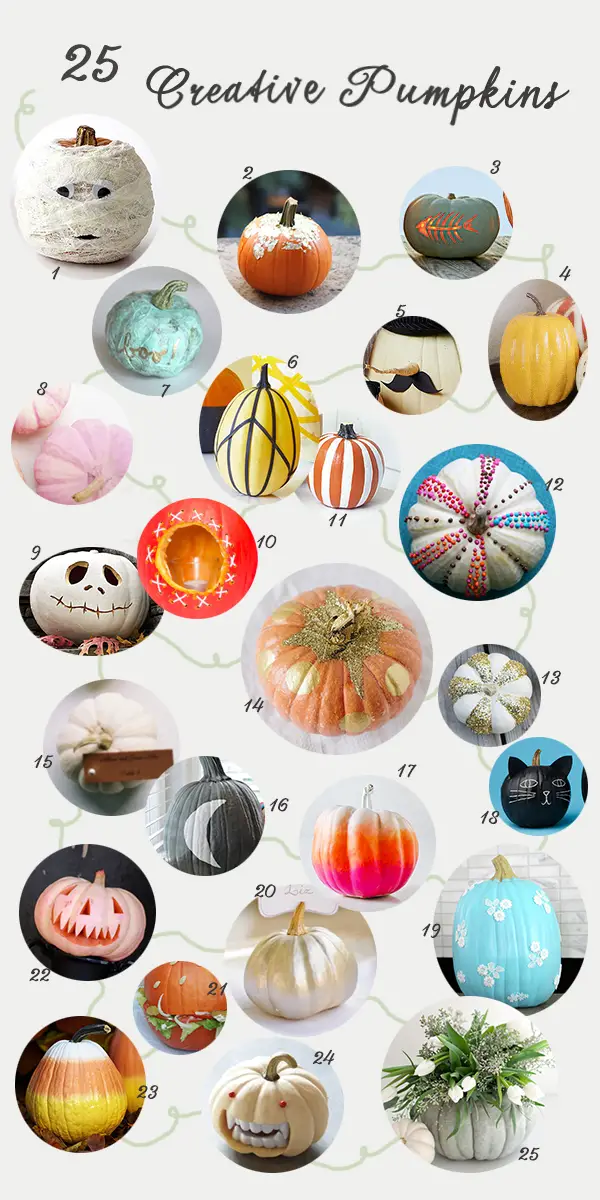 25 of My Favorite Creative Pumpkin Carving Ideas
Mummy Pumpkin: All you need for this creative pumpkin idea is a pumpkin, cheesecloth, modge podge, and some glow in the dark paint! They make the cutest and creepiest front porch Halloween decor.
Gold Leaf:
Fishbone: This coastal inspired creative pumpkin idea is so fun and looks super easy to make!
Glossy Yellow:
Mustache Face: This cooky little pumpkin is so fun. I love this creative pumpkin idea as a family affair. Everyone in the family can participate in this fun DIY!
Creative Masking Tape: Okay. This has to be one of my favorites. Carving and cutting can be messing and well, sharp? ha! This creative masking tape idea is super easy and with all the fun different types of tapes and designs out there these can be super fun to make!
Tissue Paper: I love this fun and festive pumpkin decorating idea!
Pastel: These pink pastel pumpkins are a total dream.
Skull Pumpkin: Oh these skull pumpkins are so fun for this spooky season!  I love that they are painted white for that extra fun flair!
Embroidered Pumpkins: This is one of my favorite creative pumpkin ideas of all time! We created these fun DIY embroidered pumpkins are the perfect mix of festive and fun!
Painted Stripes: This may be the simplest of all the pumpkin decorating ideas but I love simple and perfect. Painting fun stripes down your pumpkin creates a new spunky look that is perfect for the season!
Painted Dots:  This painted dot pumpkin is so fun and colorful! We love this creative pumpkin inspiration!
Glittery Stripes: Oh I am always down with a little fun glitter moment. To make fun glittery stripe pumpkins just simple use modge podge and paint on simple stripes, then pour your fun glitter, and bam you have the perfect festive pumpkin decoration!
Gold Polka Dots: Just like the glittery stripes this gold polka dots takes just some glitter!
Place Cards: Hosting a fun fall get together? This pumpkin place card idea is the perfect party accessory! I love creative pumpkin ideas like this!
More Creative Pumpkin Ideas
Moon: Aw, another super simple and perfect creative pumpkin idea. I love the simplicity of this and I think it is totally adorable!
Neon Ombre: My two favorite things, neon, and ombre!
Cat Pumpkin: Nothing says Halloween like pumpkins and cats and this creative pumpkin idea has both!
Decoupage Lace: I love this elegant and beautiful pumpkin, the make the perfect creative pumpkin decoration!
Metallic: These metallic pumpkins are the perfect little flair of fall throughout your home!
Hamburger Pumpkin: A. Hamburger. Pumpkin!
Carved Dip-Dyed: These colorful pumpkins are so fun and creative! I love the idea of dip-dyeing a carved pumpkin. It creates such a fun colorful look on the inside of the pumpkin!
Candy Corn Pumpkin: These candy corn painted pumpkins are the perfect festive decor!
Fang: It's crazy how popping a pair of fangs into a pumpkin transforms a boring pumpkin into the perfect Halloween decor! I love this creative pumpkin idea!
Flower Vessel: Hallow out the center of your pumpkin. Insert a clear vase and fill with beautiful fall flowers. This makes the perfect fall centerpiece!