This post is sponsored by fairlife ultra-filtered milk.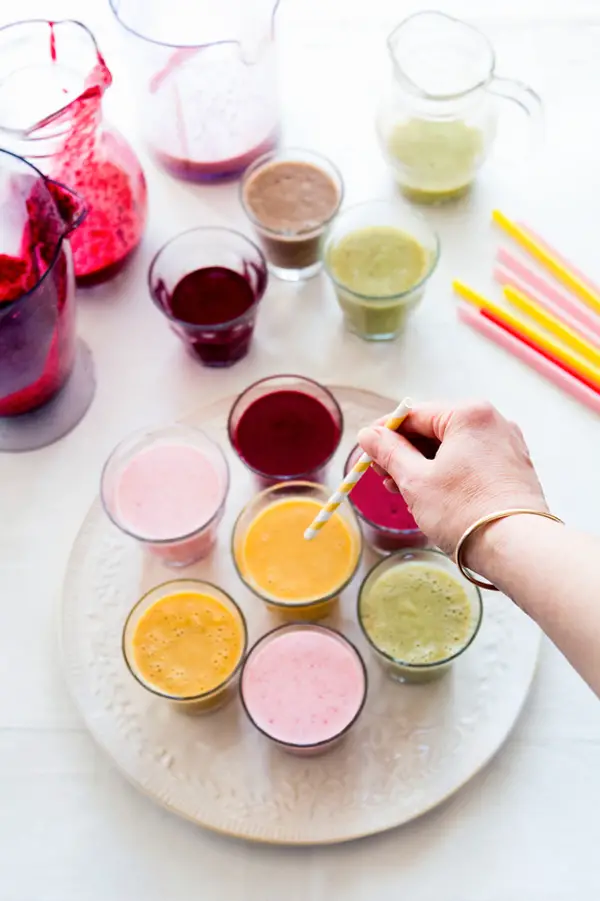 Smoothies have become essential in our morning routine. It is my sneaky way to fill the family up with a days worth of fruits, veggies and protein before we even get dressed. Our smoothies give us the am boost we all need to start our day off right. I originally started making a simple banana smoothie, but quickly learned how much we love all the different flavors. The more variety of fruits and veggies we get, the better the selection of vitamins is for our bodies.
If I am going to make the drinks, I want them to be substantial which is why I always add dairy to them. I'm excited to be sharing these 6 awesome smoothie recipes that are made with a milk base. Make one each day this week and watch your energy soar!
I used my new fairlife ultra-filtered milk to create all 6 of these recipes – remember when I introduced them right here? With 50% more protein and 30% more calcium than regular milk – I'm giving my family the best. Our bones get lots of love and the milk-based smoothies keep us full all morning long. Each of the smoothies is like a little party in your mouth! :) Such a great way to start every day!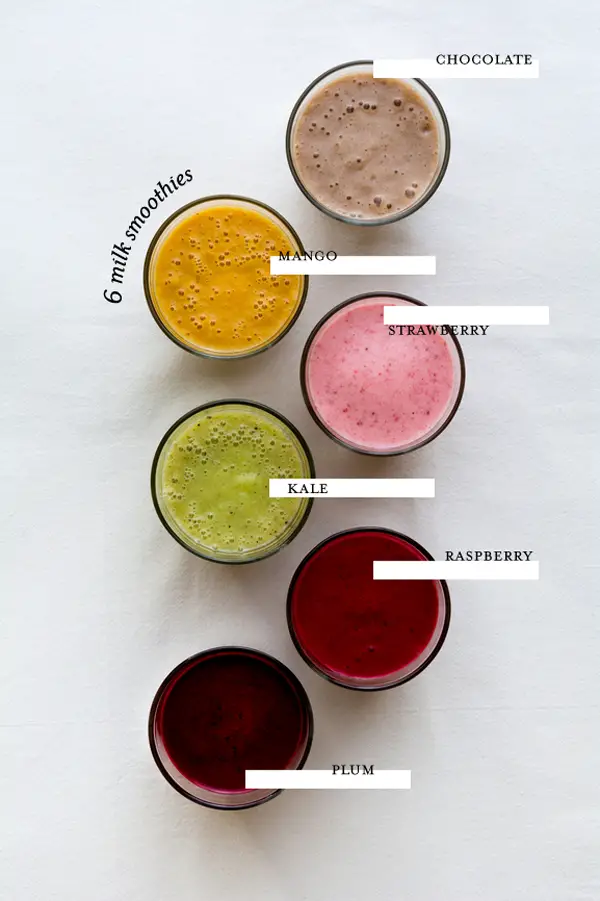 Here are the recipes; all of these recipes are for 2 servings. Reduce by 1/2 to just make one, or multiply to serve the entire family. I use a lot of add-ins to give our morning smoothies an extra nutrition boost. Feel free to substitute your own ideas and ingredients on hand. When you start with a base of milk and fruit everything else is just icing. But not really icing. Please don't sub in icing – that would be gross!
For these four smoothie recipes, the process is the same – place all ingredients in a blender and blend until smooth.
Chocolate Smoothie 
8 ounces milk, 1 tbsp honey, 2 bananas, 1 Tbsp cocoa powder, 1/4 cup chopped almonds, 3 ice cubes
Mango Smoothie
1 cup chopped mango (frozen works great), 3-5 mini carrots, 1 orange, 1 tbsp honey, 8 ounces milk, 3 ice cubes
Strawberry Smoothie
1 banana, 1 cup chopped strawberries, 1/4 of a cucumber peeled and chopped, 8 ounces milk, 1 tbsp chia seeds or flax seeds, 3 ice cubes
Kale Smoothie
1 cup chopped kale, juice from 1/2 a lemon, 1/4 an avocado, 1/4 cup blueberries, 1/4 cup pineapple chucks, 8 ounces milk, 1 tbsp almond butter, 3 ice cubes
For these 2 smoothie recipes it works best to place the fruit in the blender until smooth then add all other ingredients and blend until just right. They both taste great with a mint leaf added after pouring.
Raspberry Smoothie
1 banana, 1/2 cup raspberries, 1/4 cup goji berries, 1/4 cup cranberry juice, 8 ounces milk, 3 ice cubes
Plum Smoothie
1 ripe plum chopped, 1/4 cup pomegranate seeds, 1/2 cup red/purple grapes, 8 oz milk, 1 tbsp almond butter, 3 ice cubes
With our focus on getting all sorts of nutrition in the morning, I've loved using fairlife ultra-filtered milk as the base in our smoothies.  Plus the milk comes from family-owned farms where animal care is a top priority. That's a win for everybody! The founders even invited me (and you) for a visit in this sweet video.
Remember you can sub out any fruit with something fresh from your fridge. As long as you follow the basic recipe of milk base with a collection of fruits and healthy seeds your day will be energized from the start. Do you ever make smoothies? I'd love to know, what's your favorite smoothie-making recipe?
fairlife's farm families promise the highest quality milk, environmentally sustainable farming practices, and superior animal care. fairlife is ultra-filtered for more natural protein and calcium compared to regular milk. Learn more at fairlife.com
This post is sponsored by fairlife ultra-filtered milk. The opinions expressed are mine and are not indicative of the opinions or positions of fairlife ultra-filtered milk.
(Photography ©Pavel Gramatikov/Stocksy United).