Organizing a 70s theme party is almost as much fun as the party itself! You'll need to consider music, costumes, food, and decorations.
But first, send out invitations…
Find an image of the 70s that everyone will recognize, such as John Travolta's iconic pose for "Saturday Night Fever." Download it to your computer and use it as the background for your invitation.
Include smiley yellow faces and peace signs. Or search for free disco-themed templates online.
Besides the date, time, and place, write a note asking that guests come dressed in 70s-era costumes, or as their favorite 70s celebrity. 
Include a link to a video, blog post, or Pinterest site showing how people dressed then, to give them an idea.
Add one or more of these phrases popular in the 70s to the text of the invitation:
Can you dig it, man? 
Far out!
Be there or be square.
Hot dog!
Boogie on down
Threads (Clothes, as in: come wearing your grooviest 70s threads!)
Outtasight 
Groove on over
It's surprising and fun to receive a party invitation via old-fashioned snail mail, but it's cheaper and easier to send invitations out by email. 
Remember to personalize each invitation with the guest's name in the greeting, but send the invitations out as BCC. 
Another option is to make a private Facebook event announcing the party. It allows you to ask for an RSVP, so you'll get an idea of how many guests will arrive. 
It also gives guests the chance to ask for songs or ask questions.
Music, where to get it…
iTunes has a channel offering a 70s channel. Connect your computer to your speakers and log on to it. Your TV probably has 70s music channels too.
The easiest way to get the music is to order a disco collection playlist online. But if you make your own playlist, you can select your favorite artists and songs yourself. 
If you own vinyl records from the 70s and a record player, choose someone to be DJ and have them play the records. This works only for a small party, as for a big one, you'll need louder volume. 
And the DJ will want to get into the crowd and dance too, so either arrange an alternate DJ or plan to play records only part of the time.
Another fun thing is to set up karaoke for your guests to sing 70s hits.
Choose the style of music you like, and that you know your guests like. In the 70s, people listened to many styles, including hard rock, soft rock, funk, blues, soul, rhythm and blues, pop, and disco.
Go through the following list of artists and build your playlist from their hits. This is a partial list, but enough to get you inspired.
In 1970, the Jackson 5 recorded lots of danceable pop songs. "I'll Be There" and "I Want You Back" are classic pop songs of the era.
The Bee Gees were hugely popular at the time. "Staying Alive" is one of their songs that almost everyone knows.
If it's hard rock you want, search for songs by Deep Purple, Kiss, Three Dog Night, Jimi Hendrix, and Led Zeppelin. For music that electrifies, search for Janis Joplin, who sang rock, soul, and blues. 
The Beatles' vast output makes it easy to spread their songs out over the evening. From John Lennon's raucous version of "Sweet Little Sixteen" to the romantic "Michelle," you could almost plan an entire Beatles 70s party. 
The main thing in building a playlist is to create a certain mood as the evening progresses. Keep in mind the tastes of the guests. One crowd may love soul and Motown, while another group will expect pop.
Don't be afraid to mix styles. For example, start the party off with easy-going music, then move on to upbeat songs that tempt you to dance.
When you sense that almost everyone has arrived, and especially as guests start eating and drinking, ramp the excitement up with pop, rock, and disco. 
You might want to make a separate playlist of more quiet songs for the end of the party. Or plan to play them when you feel the guests need a break and would welcome some romantic, slow music. 
Think of thoughtful music like songs sung by Dionne Warwick, ABBA, and Simon and Garfunkle. Elton John's "Your Song" is an example of romantic 70s music. 
You'll need to keep a finger on the pulse of the party if you're planning separate playlists for different moods. You'll probably want the longest playlist to have the most music for energetic dancing. 
Soul music from the early 70s features African-American artists like Isaac Hayes, Aretha Franklin, Marvin Gaye, Otis Redding, The Temptations, and Sam Cooke. 
And let's not forget Stevie Wonder and Diana Ross and the Supremes, although the Supremes were at their strongest in the 60s. Diana Ross began recording solo albums in 1970. 
For fans of British rock, play music sung by Ziggy Stardust and T. Rex. The unforgettable Rolling Stones albums provide lots of background for dancing and showing off costumes.
If you're a good dancer and have two or three friends who also dance, consider putting on a short performance where you reenact the dance routines of groups like The Temptations. You'll need to study some videos, map the moves out, and rehearse several times. That could be great party prep fun.
Consider throwing a party themed around a 70s movie. How about the Rocky Horror Picture Show? There are dozens of outrageous costumes to copy there. Let's do the Time Warp again!
What to wear…
The 70s party styles edged away from the hippie flower power style and headed towards disco. Synthetic fabrics like polyester and Lycra were new and cool. Shiny, shimmery, and glittery textures were in for everyone. Women partied in mini-skirts if they had the legs for it, and pants suits with huge flared sleeves and bell bottoms if they didn't. 
Tight jumpsuits with revealing tops were popular. On the other hand, a demure 70s prom dress would make a fantastic costume, especially if you're partnering with someone dressed in a suit.
Men can show their moves off in colorful three-piece suits with wide lapels, wide-leg or flared pants, and high-rise waistcoats. Big neckties and pointed shirt collars are 70s hip. More comfortable for dancing are flared pants and colorful shirts in wild patterns. 
Men and women can wear platform shoes or platform boots. White go-go boots for women are super 70s. Cowboy boots are great for men.
Big hair is very 70s, especially mile-high Afros. Long, wavy hair with bangs, modeled on the Farah Fawcett Major look, is also great for women. Men can consider long hair and sideburns. 
Popular accessories are big sunglasses, belts worn low on the hips, big earrings for women, and neck chains for men. Peace symbols, a hangover from the 60s, were still popular as necklace pendants or earrings. 
Beads and headbands, also 60s hangovers, were worn into the 70s and make inexpensive costume accessories.
Party makeup includes plenty of mascara, shimmer eyeshadow, and lipstick in natural shades. False eyelashes went out in the 70s, but you may decide to wear them for fun at a party.
70s clothes, wigs, stick-on sideburns, and other 70s accessories can be found in dollar stores and online shops like Amazon, Etsy, or eBay. 
Where to get those cool threads…
Ask friends who were active in the 70s if they've kept outfits from that time. Who knows? There might be a cool hat, or a pair of bell-bottoms stashed away in a storage box. You might have suitable clothes in your closet, or clothes that can be pieced together to make a 70s outfit. 
Garage sales turn up gold sometimes. However, you need the patience to sift through piles of discarded clothes. You can also browse online costume retailers for the exact outfit you have in mind. Check your phone book to see if there's a resale vintage clothing shop in your area.
Another resource is a shop that offers costume rentals. Compared to buying a vintage costume outright, renting is inexpensive, and you won't have it sitting in your closet forever after. Fashion and casual wear went through changes in the 70s decade. You have a large range of styles to choose from when putting your costume together. 
Below are some styles that were popular in the 70s. Look for these costume items. 
Bell-bottom pants
Polyester leisure suits
Shirts with long pointed collars
Jackets with wide lapels
Wide neckties with colorful patterns
Ponchos
Tie-dyed shirts 
Peasant blouse or skirt
Halter-top blouses
Army jackets and other military wear
Maxi dresses
Midi skirts
Mini skirts
Tights with textures and colorful patterns 
Corduroy slacks
Dashiki tops
Gaucho pants
Punk fashion: black turtlenecks, leather pants, dog collars, leather jackets with chains, safety pins, and studs
Hip-hugger pants with belts
Hot pants in vivid colors
Jumpsuits
What to serve…
What's a party without food? 
There are hundreds of foods from the 70s that have fallen out of favor but still taste good today. But beware of plunging into retro recipes. Our tastes have changed, and some of those 70s dishes look awful to us now. Find the balance between old foods and the way we eat today.
Calculate the number of guests expected, and accordingly, if a buffet is appropriate, or just lots of snacks. Then consider the average age of your guests. 
Teenagers and young adults will want to be partying most of the time. They'll appreciate carb and protein snacks that can be eaten standing up. Older adults attending the party for nostalgia reasons might like to dance too, but will want something more dinner-like. A lavish buffet works well.
You can find recipes for all of the foods mentioned below online. If you have an old edition of a classic American cookbook like The Joy of Cooking or the Fanny Farmer Cookbook, consult the index for more retro food ideas, especially the sections on appetizers.
A platter of just about anything on toothpicks or skewers will bring a wave of 70s nostalgia back.  These foods on sticks work as snacks or as part of a buffet:
Hot dogs on sticks: Choose good-quality hot dogs, grill or fry them briefly to make them a little crusty, then cut them into bite-sized pieces before piercing them with extra-long toothpicks. Beware of flabby, cheap hot dogs. No one will eat them. We're far more vegetable-conscious today than we were in the 70s, so to please your guests, place a halved cherry tomato, or a little square of sweet bell pepper, or a chunk of cucumber or pickle under the hot dog piece before inserting the toothpick.
Cocktail meatballs on sticks are delicious and easy to eat. Make tiny Swedish, barbeque, Asian, or sweet-and-sour meatballs with extra-long, colorful toothpicks. You'll need plenty of extra napkins to have on hand when serving foods in sauce, like cocktail meatballs.
Cheese balls on sticks.
Several kinds of pickles on sticks.
Cheese and pineapple hedgehogs.
A salad platter on sticks: cherry tomatoes, olives, mini pickles, cucumber chunks, and anything else that's crunchy and not too juicy. Arrange the loaded sticks attractively on a platter. Make sure there's plenty of each kind. Put a small glass or jar filled with extra toothpicks on the table.
Kabobs of grilled chicken and vegetables.
Grilled salmon and vegetable kabobs.
Vegetables and cheese threaded onto skewers.
Alternate tomatoes, cucumbers, peppers, iceberg lettuce, and other firm, raw vegetable cubes with cubes of firm white and yellow cheeses. 
Finger Foods. These work either as snacks or as part of a buffet. 
Devilled eggs. Still popular after all these years!
A platter of mixed crackers, halved bagels, and mini toasts with a bowl of onion or cheese dip.
A cheese loaf or cheese ball rolled in black pepper, herbs, and/or nuts. Surround the cheese loaf with plenty of crackers and thinly sliced toast to spread it on.
Celery sticks stuffed with cream cheese and chopped pimentos, or plain olives.
Mini quiches.
Bowls of potato chips in various flavors, with a bowl of onion dip.
Dogs in blankets (cocktail franks wrapped in puff pastry or biscuit dough and baked)
Spiced peanuts.
Chex Mex.
Buffet Items
Salmon, broccoli, and cheese-based quiches, pre-sliced in their baking dishes before setting out on the buffet table, remain popular to this day. They can be served warm or at room temperature. The mini quiches also work well for a buffet.
Shrimp cocktails.
Sliced melon and ham.
Wedges of iceberg lettuce with a big dollop of blue cheese dressing, topped with pecans.
Fondue, the ultimate 70s buffet dish. You can find fondue pots in second-hand and thrift stores; or maybe a family member still has one.
Salads. Old standbys like potato salad, chicken salad, and coleslaw never go out of style.
Pasta primavera.
Fajitas.
Mini tuna melts. However, these have to be served warm.
Cold, curried turkey salad. This is an adult main dish for a buffet table. Put lots of condiment bowls around the turkey salad platter. Chutney, roasted peanuts, pecans, or cashews.Other accompaniments to curried turkey salad are sliced bell peppers in different colors, diced scallions, chunks of coconut or coconut flakes, raisins, and sliced apples dipped in very slightly sweetened lemon juice.
Have a crockpot full of hot, plain white rice on the table, to serve with the curried turkey salad.
Olive/cheese balls.
Tossed lettuce, tomato and cucumber salad with Green Goddess or Thousand Island dressing. You'll find recipes for those dressings online.
Beware 70s recipes that mix fruit and vegetables in Jello, not to mention horrors like Spaghetti-o's and hot dogs in Jello. They rightly belong to the past.
Sweet things
Black Forest Torte.
Carrot cake with cream cheese frosting.
Pineapple upside-down cake. For authenticity, use only canned pineapple rings.
Custard-based pies.
Lady Baltimore cake.
Brown Betty.
Watergate salad, which is a dessert. Instant pudding, canned pineapple, whipped cream, pecans, and marshmallows.
Canned fruit salad.
Canned fruit molded-in Jello.
Baked Alaska.
Boston Cream Pie, which is really a cake.
Lemon sponge cake with whipped cream.
Strawberry shortcakes.
To Drink: Alcohol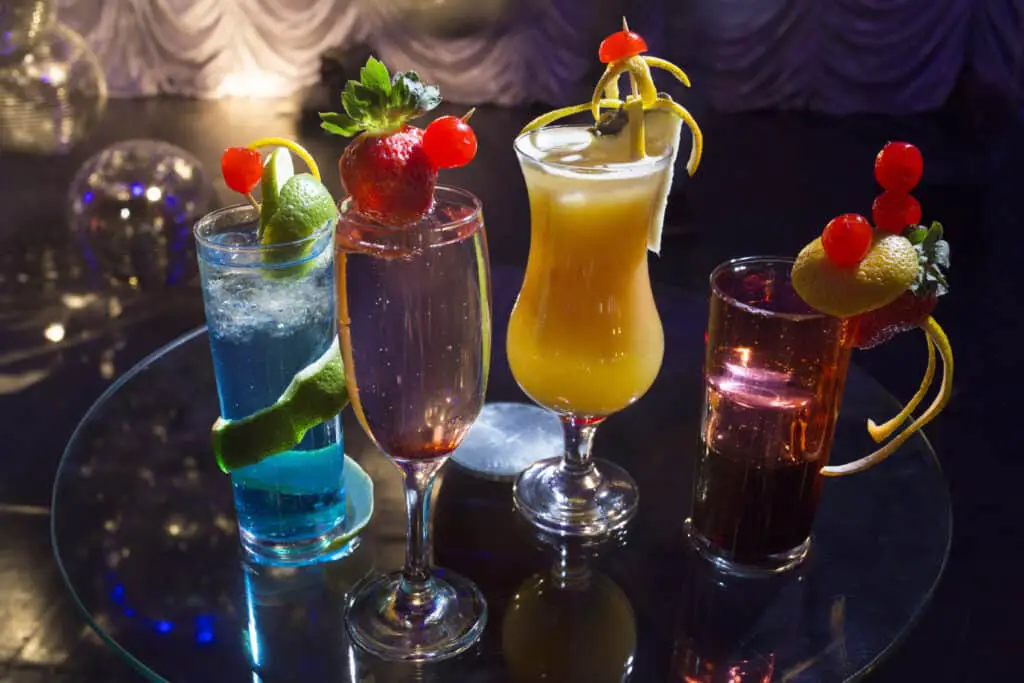 Beer. Seek old brands that are having a revival now, like Ballentine's, Schaefer, Miller Lite, and Rheingold.
White wine spritzers.
Sangria; red wine only.
Cocktails: Martinis, Manhattans, Tom Collins, Rob Roy, Pink Lady, Brandy Alexander, Whisky Sours, Margaritas, Campari and Soda, Daiquiris, Gin & Tonic, Stingers.
You don't need to organize an entire bar. Make things simple by offering wine and beer only.
If you love cocktails, set out the ingredients for the drinks. Print out the recipes and hang them up where they can be clearly seen, for people to mix their own. 
Plan on one or two drinks per person per hour.
Non-Alcoholic 70s drinks
Punch with lots of ice.
Pepsi and Coke, Sprite, Dr. Pepper, Tab, Mountain Dew, Ginger Ale, Root Beer. The old-timey sodas can be ordered online if not available locally.
Big pitchers of iced tea and ice coffee.
Don't forget to set out plain cold water for those who don't drink alcohol or sweet drinks.
Decorations…
You can create a fun nostalgic atmosphere for your party without spending much money. Colorful posters advertising old brands of drinks, foods, and cigarettes are easy to find online. Posters from movies and albums of the 70s are available in party supply stores, thrift shops, and online. 
Hang a large, mirror ball in the room where there will be dancing. You can find one at party supply stores. You can also order a mirror ball with a motor and pin spots online, for maximal lighting effects.
Print out iconic images from the 70s – celebrities, TV shows, movies, scenes from the news. Tape them up around the rooms. 
Hang a bead-string curtain in an open doorway – for example, between the living room and the kitchen. Disco balls and strobe lights certainly give a 70s discos feeling. Older people, some disabled people, and seniors won't enjoy them, though, so plan age-appropriately.
Hang lots of old vinyl records from curtains or the ceiling with fishing line. You can find old records in different sizes in the bargain bin at your local thrift store. Disco-themed paper banners and balloon banners are attractive and easy to hang up. Hang a colorful foil fringe curtain against a wall as a background for taking photos.
Search for disco-themed tablecloths, paper plates, and napkins, as well as colorful plastic glasses and tableware. The wilder and more colorful, the better.
For casual decorations to set around the house, the thrift shop is your friend. Find a few old items like telephones, roller skates, old soda cans, useless typewriters, and the like to set down on tables and shelves. 
Don't spend much, and don't be surprised if some of them are missing by the end of the party.
Strew metallic confetti on the floor and on tables. Hang metallic streamers from the ceiling. 
Lava lamps make fun centerpieces, but must be used responsibly. You must place them in safe places where they won't topple or get knocked over. Never put a lava lamp on or near a hot place like a radiator. Keep them far from banners, streamers, or other flammable hanging objects. Do not keep a lava lamp on for longer than 8 hours.
Plasma globes also make fun lighting effects. While they are safe in general, people with pacemakers are advised to stay at least 6 feet away from them.
Build or buy a photo booth, decorated with 70s icons. You can also download pdfs of photo booth props to cut out and pose with for photos.
Create or buy a big peace sign wall hanging. You can't do too many peace signs.  
Put a basket with funky wigs somewhere handy, and another with cheap colorful sunglasses. Let guests who come without a costume pick them out to wear. Necklaces with peace signs are a great nostalgic party favor. So are disco ball keychains and 70s theme buttons and magnets.