Spring is finally here! After a long winter of chilly temperatures, gray skies, and being stuck inside, I am dreaming of warm weather, sunny days, and leisurely evenings spent sipping a fresh cocktail. I love to try out new cocktail recipes right at home, and having my very own cocktail bar gives me the perfect reason to do so. Going out for drinks is fun too, but I love to host friends for a cocktail party, especially when it's nice enough to sit outside on the patio and enjoy the beautiful weather! So today, we're going to chat all things cocktail bar: the best to buy, fun accessories to include, easiest recipes to make, and tips for set up at home. Cheers!
10 Amazing Cocktail Bars to Buy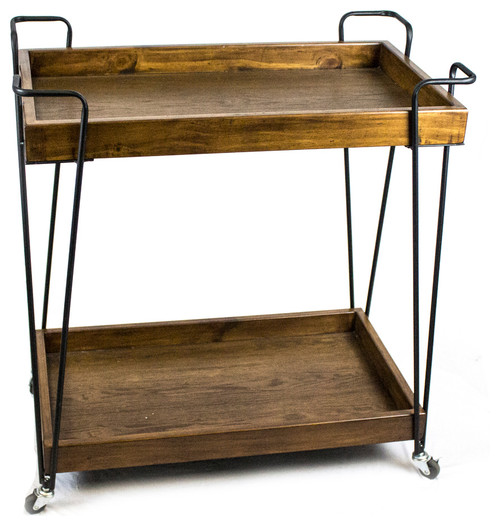 15 Fun Cocktail Bar Accessories
Gold Pineapple Cocktail Shaker
Easiest Recipes for a Cocktail Bar
Raspberry & Basil Summer Smash
Tips for How to Set Up a Cocktail Bar at Home
Think about where you want to put your cocktail bar: Do you like to sit outside on the patio to enjoy a drink? Or have a fun room in your house it'll be perfect for?
Purchase an amazing cocktail bar that'll go well with your style…or, if you're up for the challenge, make your own! Our DIY Tabletop Bar was relatively simple to make and really allows you to customize the piece to suit your personal style.
Stock that bar! I'd recommend starting with the basics: vodka, gin, tequila, whiskey, and rum. Make sure you grab some mixers too: tonic water, club soda, flavored sodas & juices. And don't forget the citrus; a fresh squeeze or carefully crafted twist can up your drink game instantly.
Invest in some pretty glasses. You'll want a variety here: highball, rocks, martini, and wine glasses just to name a few. You can go with a classic set of clear or mix it up and do some funky melamine ones in various colors. Be as classy or casual as you like!
Make sure you've got the appropriate tools. Some must-haves include a corkscrew, bottle opener, cocktail shaker, strainer, long spoon for stirring, ice bucket, and a jigger (aka a mini measuring cup for shots).
Pick out some fun touches like cute cocktail napkins, fun stir sticks, or unique coasters. Change it up throughout the seasons or when hosting a special party!