Our backyard is easily one of my favorite living spaces in our home. Even though it's outside we like to make it cozy and fun for entertaining all summer long. We've shared before about how we've designed it for brunch and easy party tips for entertaining outdoors in fall, but this year I'm focused on making sure the space is just right for our growing family.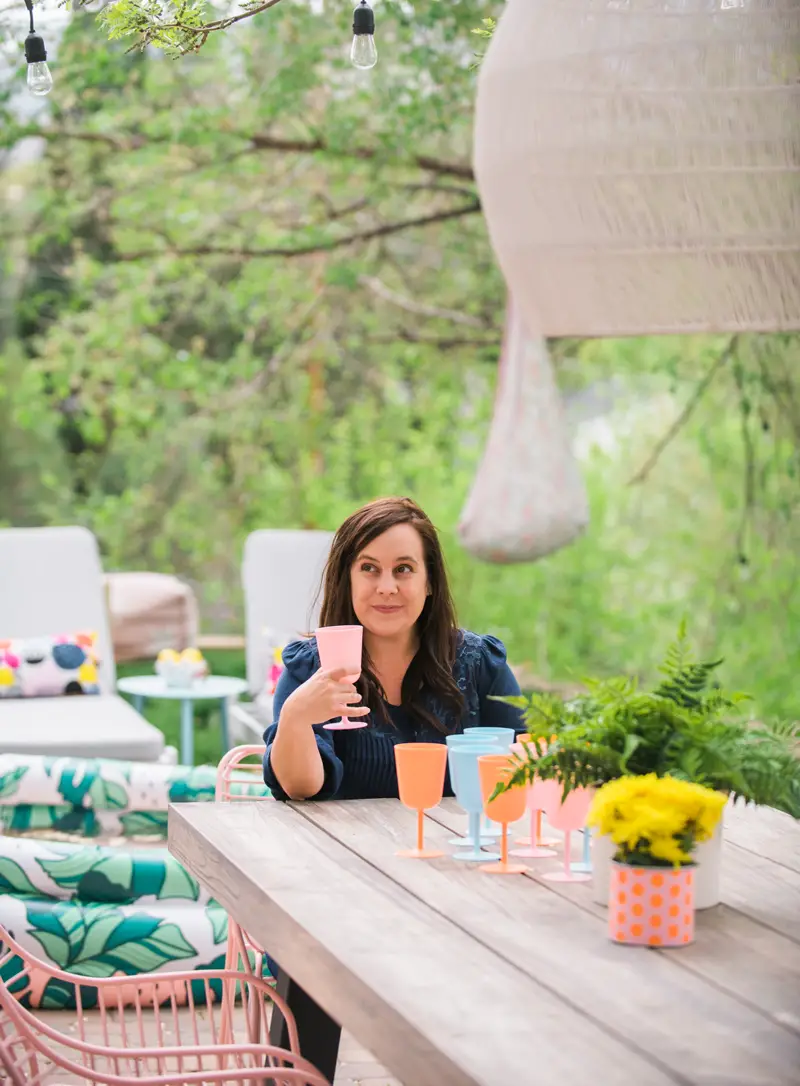 Having a mix of entertaining space with the large Tavola outdoor dining table from Article and pretty pink chairs and a more relaxing set up with the Eleya lounge chairs and a wall garden help the space work for everyone from my little kids to our grown up friends.
We kept our same table and updated the look with a set of the Caya Verbena Pink dining chairs. Built from powder-coated steel and sold in the prettiest colors they instantly brighten up any outdoor space.
Article outdoor furniture dining set-up
This pretty setup is one of the reasons why I love Article's outdoor furniture so much. The ability to mix and match to create our perfect outdoor style is just right. Too often you have to go the "everything matches" route which I don't love or find a more eclectic look that doesn't always mesh well. Instead, Article's pieces all work amazing together so you can find your own style and have confidence it will be great.
Article offers a 30-day satisfaction guarantee so you can try out your new furniture in your home. If you're not completely happy, they'll pick up the furniture and provide a refund, minus the delivery and pickup charges which is $49 in most cases.
Article Outdoor lounge furniture
For our lounge area we set up 2 of these fun Eleya loungers in Cera Gray. And yes, I know it's a little weird to have poolside chairs without a pool – but we set up our favorite mini pool for the kids to play in and ended up so excited to have a comfy place to lay out and get some sun. Plus, there's always dreaming a big pool is in our future someday.
The chairs have a boxy silhouette that makes for super supported lounging & a weather-resistant cushion for all the kid splashing that is bound to happen.
DIY Outdoor hanging wall garden
Now let's talk wall garden. We've attempted to create our own little gardens every summer. The kids love helping and it's great to have fresh herbs available through the season. This year we scored a selection of Article's hanging Walla sets and they are so easy to use.
I hung all our herbs above the larger root plants like our tomatoes, peppers and onions. Here's to a season of freshness & fun that the entire family will enjoy ahead.
Check out more products to make your outdoor space life ready at Article.
Visit Article's Memorial Day Sale! Live from May 20-June 2 with many pieces, including outdoor furniture, up to 25% off. Shop here.