Balloons just make me oh so happy! They're bright, beautiful, bouncy, and add so much fun to any occasion. Whether it's a party, celebration, or a regular day, balloons always bring all the happy things. There are so many types of balloons and ways to use them, so we thought it would be fun to share with you some of our most creative ideas and favorite tips and tricks. Let's fly away!
Balloon Basics
The most common thing to do with a balloon is fill it. Seems obvious, right? But there are lots of different ways to get the job done. You can fill it with air–which begs the question: old school style with a breath of fresh air or taking it up a notch (literally) with a blast of helium?– water, confetti, paint, notes, and the list goes on and on! If you're opting for air, there's a couple things you should know before you blow to make sure your balloons hang around for a while:
1. Keep them in a cool environment. Balloons float much better in colder temperatures and will more quickly deflate in heat or sunlight.
2. Don't handle them too much, particularly between temperatures. Abrupt changes aren't the greatest for floating.
3. Helium > oxygen. If you want your balloons to last, opt for a helium tank rather than blowing them up yourself. Unless of course, you don't want them to float, then DIY is your best bet for sure!
4. To properly inflate a balloon, stop when it's got a rounded shape. If it gets pear-like that means it's overfilled and more likely to pop!
Fun Ways to Use Balloons
So, I mentioned that the most common thing to do with a balloon is to fill it…but that doesn't mean that's the only thing they're good for!
Balloons come in bright colors which make them perfect for an art display. How cool is this Balloon Shadow Box? We also love taking regular old mason jars and covering the bottoms with cut balloons for a colorful twist on a classic household item. Use them to store pens, pencils, or enjoy a sweet sip!
Another favorite and nonconventional way to use a balloon is for a mold. We created these Gold Frosted Balloon Bowls for simple and pretty decor using a balloon as the base for papier-mâché. You can also use a balloon as a mold for a chocolate bowl! Fill it with ice cream, cookies, or use as an edible Easter basket.
Balloons filled with air can also hold fun little surprises, like love notes…or money! These Money Balloons are sure to be a crowd pleaser whether you're making them for a special birthday party, graduation celebration, or unique way for the Tooth Fairy to sprinkle a little love on your toothless tinies.
Balloon Shapes
These days its seems you can buy a balloon shaped like just about anything. Typically, custom shapes come in mylar and add a special flair. Take these Cactus Balloons for example…I mean, how cute?!
We also love those long and skinny balloons that are traditionally used to create Balloon Animals. But, we've found other fun ways to use them too: Balloon Bows, a Christmas Mantle, and Shamrock Balloons are just three of our faves.
Speaking of holidays, because let's be honest–we are always in full-blown celebration mode–have you seen our Bright & Funky Bunny Balloons for Easter?


Best Balloon Designs to Try
By now you've probably realized that I think balloons are just about the best thing ever, so I thought it totally necessary to share with you some of my favorite balloon designs of all time! I'm certainly a fan of balloons of all types, shapes, and sizes, but these picks are extra special.
Water Balloons
Water balloons are the perfect accompaniment to a hot summer day. I really can't think of a better way to cool off and have some fun in the sun at the same time. If you want to take water balloons to a whole new level, instead of just a traditional toss, throw a whole bunch on the trampoline! Water Balloon Trampoline Jumping is probably going to be your kids' new favorite thing… you're welcome :)
Number Balloons
As mentioned, balloons definitely come in all shapes and sizes. But, there's just something to be said about the original number balloons. Traditionally used to celebrate birthdays or anniversaries, we decided to use mini number balloons to create these super fun and festive New Years Eve Balloon Headbands. For another twist, we created our own Balloon Numbers out of a bunch of balloons in different sizes and colors. It's a fun way to DIY, instead of going store-bought, if you're in a creative mood.
Red Balloons
There's no balloon quite as classic as a simple red balloon. They're pretty versatile for just about any holiday since it seems red is a common color across seasons. And, you know we're all about taking the simple and adding whimsy to make it even more pretty and fun, which is why we've got a few fun ideas for you to incorporate red balloons into any and every celebration! These Luv Bug Balloons were a big hit at my kids' school for Valentine's Day this year and they cost just over $1 each to make! We used red balloons and also pink ones too, because obviously. Long & skinny red balloons are perfect for making Firecracker Balloons to help celebrate the 4th of July. And we also like to use red balloons in our Christmas Balloon Wreaths too!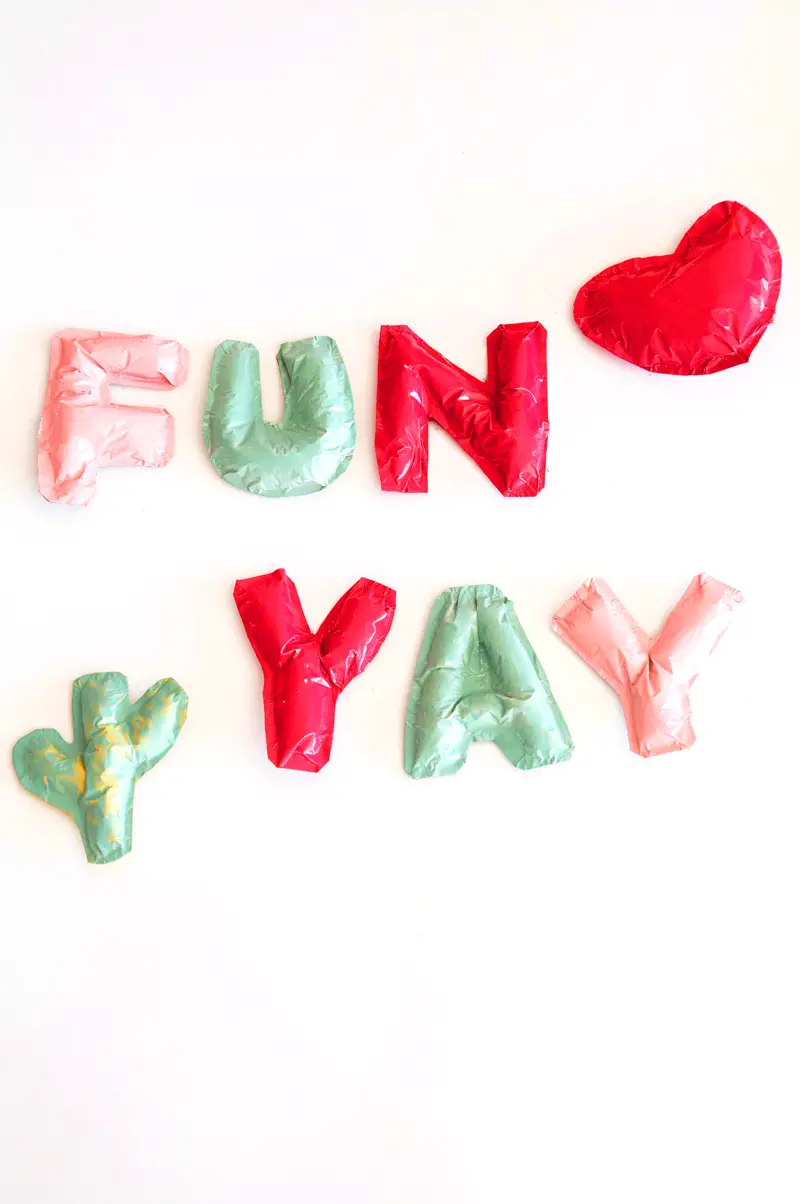 Letter Balloons
Letter balloons, like numbers, are a special way to celebrate in a customizable way. We brought back the mini foil balloons (because they're just so darn cute!) in our own Letter Balloon DIY. Did you know you can literally craft your own balloons with some regular old foil, batting, and glue?! Now you really can make balloons into any shape you want, and with some spray paint, you can color them as you choose too. Our other favorite way to make letter balloons is to create a Letter Decal Balloon Banner. Using latex balloon and letter decals, you can stick whatever message you want right onto your balloons for any upcoming party.
Fiesta Balloons
Fiesta means party…we're on board! You? Fiestas just got way more festive with these Cinco De Mayo Fiesta Balloons. Using streamers in place of strings makes these fiesta balloons colorful, vibrant, and all around fun! Fiesta balloons can be tied into a bouquet for a pretty display, left to float throughout the room, or taped along a wall for a gorgeous backdrop. So many options, so many ways to party!
Confetti Balloons
Confetti is my jam and I see absolutely no reason why it can't be sprinkled everywhere…on and in balloons not excluded. I've got two fun and totally different ideas for confetti balloons. The first is easy and oh so colorful, instantly transforming a plain white (or colored) balloon into a bright and beautiful confetti'd masterpiece. Do yourself a favor and make some Confetti Balloons for your next big thing…or, right now; promise they'll make any day more fun! The second idea is way out of the box, creating "confetti" out of ice cubes. All you do is fill water balloons, freeze them, and then drop into your favorite beverage for a fancy frozen treat!
Balloon Emoji
No matter what you're feeling, emojis are the perfect way to express all of the things. Although, I can't imagine balloon emojis bringing anything but happy vibes :D We created an Emoji Party Cake that would look so awesome paired with some balloon emojis! Instead of using wooden discs, swap them for a mini foil balloon emoji. DIY foil balloons also made the perfect balloon emoji costume for kiddos this past Halloween. We used them to make our Sparkly Heart Emoji Halloween Costume, and this year I think we'll try to make all the emojis into kiddos costumes!
Another emoji holiday fave are these Big Ball Emoji Ornaments. They're made out of clear, big ball ornaments, but I love the idea of making them out of balloons too!
Balloon Animals

As you can tell, balloons really are the best ever. There are so many different things you can do with them, each unique and crazy fun! What are your favorite ways to use balloons whether it's for a special celebration or the every day?

P.S. It's no secret that our favorite balloon project ever is this Balloon Window we made right at home! Go check it out and make one for your house too :)