This post has been compensated by Collective Bias, Inc. and its advertiser. All opinions and ideas are mine. #BringTheTropicsHome #CollectiveBias
Now that it's summertime and the kids are home we've made a short list of things they'd really love to do. On the top of my daughter's list was crafting with friends – so we hosted a tropical craft party last weekend for the girls.
We decided on painting beach scenes to encourage the tropical summer vibe we are all feeling. I laid out a number of colorful blankets for sitting and filled balloons with paint instead of using brushes, which gave the entire party a festively tropical feel.
Beach scenes with balloon paint and confetti from the imagination of 7 year olds – I love what they created.
Before the party I filled a number of balloons with paint, tied them and set them on plates with confetti included. It was a super easy summer craft to prep for.
Fill each of the balloons with paint beforehand and set aside.
When it is time to paint snip off the bottom of each balloon and let the girls go to town with their paintings.
We used tropical colors reminiscent of the beach and I asked each girl to share their favorite memory from the beach while we painted. The paint acted as glue for holding the confetti in place and I was surprised how much they loved the idea of painting with balloons – it was a fun party detail that they'll surely remember.
Since we were on the floor and painting I made sure to have a little laundry soap on hand, I grabbed some at my local Walmart while picking up the paper plates – all®'s newest scent, all® Fresh Tropical Mist™ went with our party theme and was a great way to take care of stain fighting on the scene. I never want to send kids home with stained clothing and sometimes craft parties can be hard on this.
After we crafted all the girls changed into their bathing suits and jumped in the pool while I made sure any spills would be gone quickly. The soap smell reminds me of the fresh ocean breeze and inspires me to create even more tropical party crafts, bringing the tropics to my backyard – we might make this a weekly thing! Plus all®'s cleaning power is legit, clearing every last drip of paint.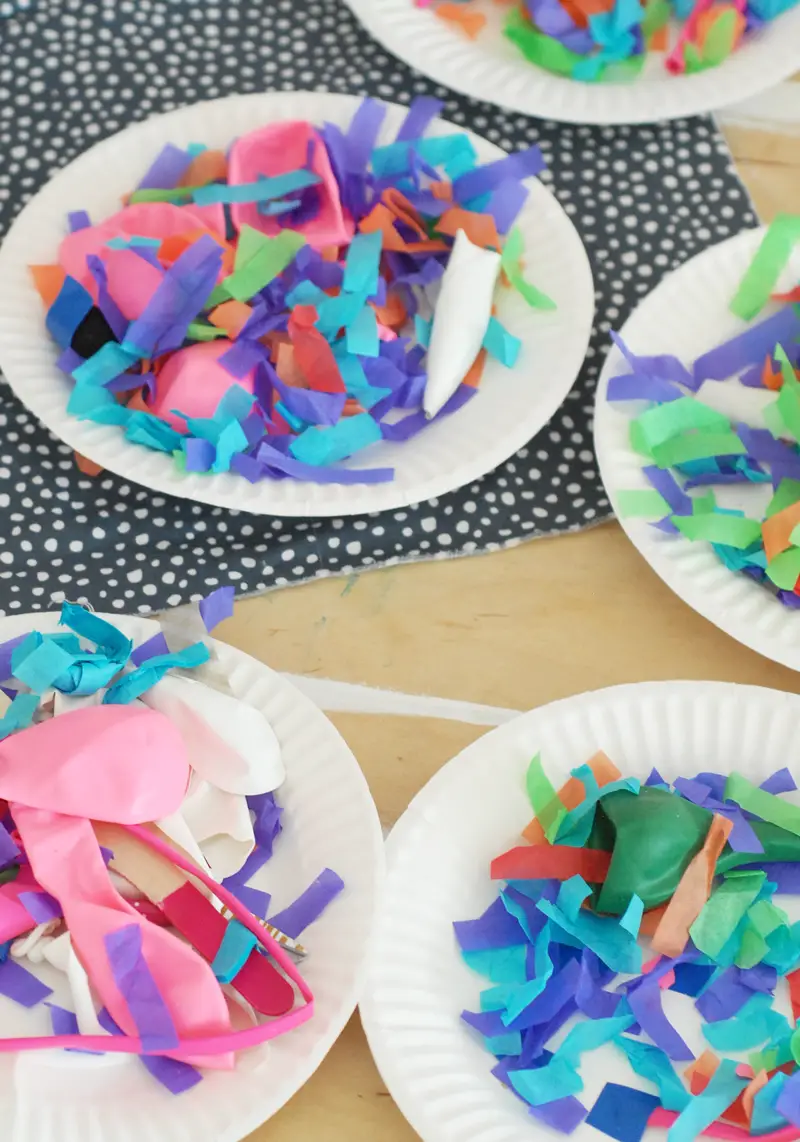 To find NEW fresh tropical mist in store near you, visit all®'s website and click Where to Buy plus grab a coupon right here for your own tropical cleaning experience and let's bring the tropics home this summer.