These tips will make cooking for a big party easier. 
Plan ahead.
Test new recipes ahead of time and take notes. It makes everything simpler when you know how long a dish takes to cook if any part of it can be made ahead, and where to get ingredients. 
Decide if you're serving a complex main dish, or if the focus will be on finger foods and appetizers. 
For a menu highlighting an impressive main dish, round out the food with easy side dishes.
For an appetizer-heavy menu, choose a simple main dish like baked salmon, and keep dessert simple with purchased sweets like ice cream.
Flexible recipes that can be doubled or tripled are your best bet. Among these are stews, roasts, soups, and casseroles. 
Plan the cooking according to the appliances you have. Plan oven time for baked and roasted foods. Make a schedule for stovetop use so you can fry, steam, or boil foods in a pre-determined order. 
Plan which foods only need to be reheated in the microwave, and which need to be taken out of the fridge to bring to room temperature.  
Make a chart out of these notes and put it where you can see it easily – like on the fridge. 
Choose do-ahead recipes that you can freeze or keep chilled until the day. 
Foods served at room temperature are useful to make ahead, like pasta salads and quiches. Just remove them from the fridge and keep them covered until it's time to put them on the table.
Many recipes also have steps that can be done well ahead to save time later. Put these steps on a schedule; for instance, make and store (or freeze) stuffings and fillings.
Sit down a week ahead with pencil and paper – or a computer spreadsheet. Consider every detail of every dish, and make a shopping list accordingly. 
You will need several shopping lists. Organize fresh vegetables; drinks; meat and poultry; fruit; pulses and grains; dairy products; specialty items, and other categories that come up as needed. 
Go through your staples at home and note which need replacing or ones that have run out. These are items like flour, sugar, oil, salt, butter, eggs, and other foods you reach for every day and which you'll surely need for bulk cooking.
Plan a limited drinks menu. This will make planning simple and save you shopping time. 
Organize two kinds of each drink, such as two wines or two brands of beer; or lemonade and iced tea; or 2-3 brands of soft drinks. 
And always, plenty of cold water, both flat and sparkling. 
On the day of the event
The simplest way to serve a large party is to set up a buffet table, where cold foods and serving-ware can be placed ahead of time.
Avoid the strain of making sure all the food is hot at the same time by using slow cookers, warming trays, or chafing dishes to keep different dishes warm.
Create more room on the table by using cake stands or tall dishes. You can place other dishes under them; for example, put rolls on a cake stand and bowls of spreads underneath it.
Set out drinks like sangria, cocktails, lemonade, and punch in big pitchers. Keep glasses and ice nearby for guests to serve themselves.
Studies show that anywhere from a third to half the invited guests arrive late to a large party. Keep the hot foods back until it seems that most of the guests have arrived. 
Read Related Article: Birthday Party Appetizers – A Guide
Appetizers
Whether you're planning a sit-down dinner or a buffet, you'll want to provide some appetizers for guests to nibble on before the main dish. The ones described below are easily doubled.
Baked Brie Cheese with Figs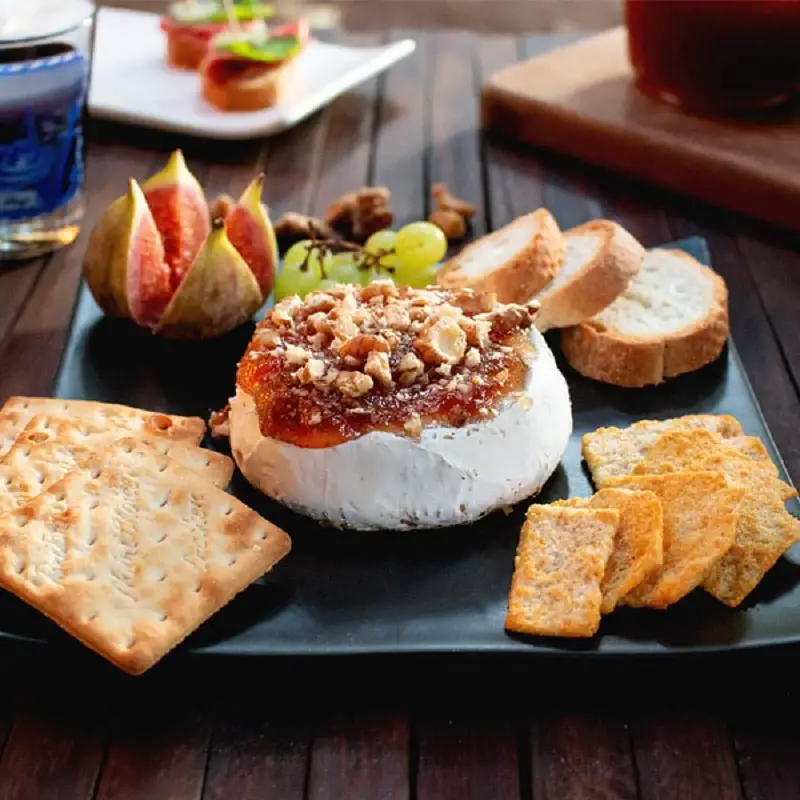 Serves 8-10. 
Ingredients:
One 8-oz. wheel of Brie cheese
¼ cup fig jam
¼ cup sliced figs
½ cup chopped pistachio nuts
Zest of 1 orange
Ground black pepper
1 tablespoon runny honey
1 tablespoon fresh thyme leaves, chopped
Bread or crackers
Directions:
Preheat the oven to 375°F. 
Place the Brie in a small oven-safe skillet. Place the skillet on a baking sheet.
Mix the jam with the figs, pistachios, and orange zest. Spoon the mixture on top of the Brie.
Sprinkle it with black pepper. 
Bake the seasoned Brie until heated through, about 15 minutes.  
Drizzle the baked Brie with honey. Garnish it with the thyme. 
Serve warm, with bread or crackers.
Artichoke and Spinach Pastry Puffs
Serves 12
Ingredients:
1 tablespoon olive oil
4 scallions, chopped
1 garlic clove, crushed
2 cups artichoke hearts, coarsely chopped
12 oz. baby spinach leaves
8 oz. cream cheese
2 sheets frozen puff pastry dough, thawed
3 oz. Parmesan cheese, grated
Directions:
Preheat the oven to 400°F. 
Line a baking sheet with parchment.
Cook the scallions and garlic in the olive oil, over medium heat, about 1 minute. 
Add the chopped artichoke hearts and the spinach. Cook for about 3 minutes or until the spinach crumples.
Stir the cream cheese in.
Roll the puff pastry out a little. Slice it into 2½- inch squares.
Spoon 2 tablespoons of the filling onto the center of each puff pastry square. Fold the edges in to contain the filling but leave it exposed.  
Spoon 1 tablespoon Parmesan over each square. Bake the squares until golden brown, 15 to 17 minutes.
Crockpot Spicy BBQ Meatballs 

You can serve these little meatballs right out of the crockpot. Keep cocktail forks nearby for guests to spear them up.
Ingredients for meatballs:
1 lb. ground turkey or beef
1 large egg, lightly beaten
3 garlic cloves, minced
3 green onions thinly sliced. Reserve one for garnish.
¼ cup panko or dry breadcrumbs
1 teaspoon smoked paprika
½ teaspoon salt
½ teaspoon pepper
For the BBQ Sauce:
⅔ cup ketchup
⅔ cup water or beer
¼ cup maple syrup
3 garlic cloves, minced
2 chipotle peppers in adobo sauce, minced
2 tablespoon apple cider vinegar
2 tablespoons Dijon mustard
1 tablespoon of adobo sauce from the can of chipotles
1 teaspoon Worcestershire sauce
½ teaspoon onion powder
½ teaspoon smoked paprika
¼ teaspoon black pepper
For the spicy BBQ sauce:
In a saucepan, mix all the sauce ingredients.
Bring the sauce to a boil, then reduce the heat to low. Cook until thick, 30-60 minutes.
This sauce will continue to thicken when removed from the heat and allowed to cool. You can make the sauce up to 1 week ahead. Keep it in a tightly closed container and store it in the fridge.  
The meatballs may be frozen. To cook in the crockpot, pour the BBQ sauce over them while frozen and cook on low for 8 hours.
Directions:
In a large bowl, gently blend the turkey, beaten egg, garlic, onions, breadcrumbs, paprika, salt and pepper.
Form meatballs about 1 inch big. Place them on a sheet of parchment paper as you work along. (Here you can refrigerate them for later or freeze them.)
Warm the olive oil in a large skillet, over medium heat. Brown the meatballs until just golden. 
You will need to brown the meatballs in batches or use two skillets. 
Put the meatballs and the BBQ in the crockpot. Cook on low for 4 hours.
Garnish with sliced green onions. 
Main Dishes
We offer you easy recipes that can be doubled, made ahead, or frozen. 
Slow Cooker Carnitas
Serves 10 
If you intend to double this recipe, use two crockpots or schedule two days to make it. 
3 lbs pork shoulder cut into 3-5 inch pieces
2 bay leaves
2 teaspoons dried oregano
2 teaspoons chili powder
2 teaspoons kosher salt
2 teaspoons ground cumin
1 teaspoon ground black pepper
¼ teaspoon Cayenne pepper flakes
1 large onion, quartered
Juice of 1 large orange, plus the peel
Juice of 1 lime
2 cups chicken stock
Combine all ingredients in a large crockpot.
Cook the pork for 8 hours on high until you can pull the flesh apart with a fork. 
Strain, and reserve the cooking liquid.
Transfer all the pork to a large sheet pan.
Pull the pork apart into 1-inch pieces, using two forks. Discard any large fatty pieces. 
Brush the meat with the reserved cooking liquid. 
Set the broiler on high and place the meat on a middle rack. Broil until the ends are crisp, 5-8 minutes. 
Remove the pan from the oven and turn the meat over. 
Broil for five more minutes. Plate, and serve.
White Lasagna With Pesto and Spinach
Serves 8-10
This recipe will please discriminating vegetarians.
Ingredients:
2 tablespoons olive oil
6 tablespoons salted butter
12 oz. porcini mushrooms, roughly chopped
Kosher salt and pepper
2 cloves garlic, crushed
1 teaspoon dried oregano
¼ cup all-purpose flour
2 cups whole milk
2 cups vegetable broth
2 cups shredded provolone or fontina cheese
1 cup grated parmesan cheese
2 cups whole milk ricotta cheese
2 (10 oz.) packages frozen spinach, thawed and drained
½ cup basil pesto
1 box no-boil lasagna noodles
Directions:
Preheat the oven to 350 °F. Grease a 9×13 inch pan.
Sauté the mushrooms in the olive oil over medium heat. Season with salt and pepper. 
Cook without stirring for 5 minutes or until golden. Then continue cooking until the mushrooms have caramelized, 3-5 minutes. 
Spoon the mushrooms out and transfer to a plate.
Add the butter, garlic and oregano, salt, and pepper to the skillet. Cook for 30 seconds. 
Whisk the flour in and cook for 1 minute. Slowly pour the milk and broth in. 
Bring to a boil, stirring. Remove from heat and stir in the provolone or fontina cheese and 1/2 cup of parmesan cheese. 
Stir the sauce until the cheese is fully melted and all is smooth. Remove from heat.
Combine the ricotta, spinach, and pesto in a medium bowl.
Spread a quarter of the cheese sauce in the bottom of the prepared baking dish. 
Top with 3-4 lasagna sheets. 
Spread with half the ricotta cheese mixture. Layer ¼ of the cheese sauce, then half of the mushrooms on top. 
Cover with another 3-4 lasagna noodles. Spoon the remaining ricotta cheese mixture over the noodles.
Top with another quarter of the cheese sauce, and the remaining mushrooms. 
Add the remaining lasagna noodles and pour the remaining cheese sauce over the top. Sprinkle ½ cup of parmesan cheese over the top
Bake uncovered for 45 minutes or until the top is bubbling. 
Let stand 10 minutes before serving.
Pineapple Chicken for a Big Crowd
Here's a truly big recipe for a large crowd. This sweet/savory chicken recipe serves 100. 
You can halve it to serve 50 or quarter it for 25 people. It's freezable, just omit the bell peppers.
Ingredients:
50 lbs chicken pieces, skin on
1 cup of soy sauce
½ cup of salt
½ cup granulated sugar
2 lb. 4 oz. flour
Additional 1 cup soy sauce
3 quarts canned crushed pineapple (1 # 10 can)
Oil to shallow-fry the chicken
1 each red and green bell pepper chopped small
½ additional can pineapple chunks (#10 can) for garnish.
Directions:
Preheat the oven to 365°F. 
Wash chicken under running water. Drain and place in large bowls.
Combine the soy sauce, sugar, and salt. Pour over the chicken and toss to coat the pieces.
Dredge the chicken in the flour. Fry in shallow oil until cooked through, about 10 minutes.
Remove the chicken to baking pans.
Combine the additional 1 cup soy sauce with the crushed pineapple. 
Pour over and spread about 1 ½ quart over the top of the chicken pieces, in each pan. Cover pans with foil. 
Bake 1 hour to 1 ¼ hour or until all the pieces are tender. 
Add the chopped bell pepper to the pans at the last 10 minutes of baking time.
Garnish with additional pineapple chunks.
Mexican Tortilla Soup (Vegetarian)
Ingredients:
1 32-oz. box vegetable stock 
1 15-oz can vegetarian refried beans
1 15-oz can black, kidney, or pinto beans, drained and rinsed 
1 15-oz can corn, drained, or 2 cups frozen corn
1 15-oz can diced tomatoes, including juice
1 4-oz can diced green chiles 
1 cup of salsa
2 tablespoons taco seasoning mix
1–2 cups cooked brown rice or cooked quinoa
Toppings: shredded cheddar cheese, jalapeños, sour cream, crushed tortilla chips, lime wedges, diced avocado.
Directions:
In a large pot, combine broth, refried beans, black beans, corn, tomatoes, chiles, salsa, and taco seasoning. 
Stir and break up the refried beans as much as possible. 
Bring to a boil and quickly reduce to a simmer. Cook over medium-low heat for 10-15 minutes, stirring occasionally while it cooks. 
Stir in the cooked rice and serve warm with optional toppings.
Apricot-Glazed Turkey Breast
This glazed turkey dish is super simple to make and looks beautiful on the table. 
Yield: 15 servings.
Ingredients:
½ cup apricot preserves
¼ cup balsamic vinegar
¼ teaspoon pepper
Dash of salt
1 bone-in turkey breast (5 pounds)
Directions:
Preheat the oven to 325°F. Combine preserves, vinegar, pepper and salt; set aside. 
Place turkey breast on a rack in a large shallow roasting pan.
Bake the turkey breast, uncovered, 1 ½ to 2 hours or until a thermometer reads 170°. Cover it with foil, loosely, if it appears to be browning too quickly.
Baste it every half hour with the apricot/vinegar mixture. Cover and let it stand 15 minutes before slicing.
Teriyaki Pineapple Drumsticks
Yield: 12 servings.
Ingredients:
1 tablespoon minced chives
1 ½ teaspoon paprika
1 ½ teaspoon pepper
1 tablespoon garlic salt
½ teaspoon salt
24 chicken drumsticks
½ cup canola oil
½ cup of water
¼ cup packed brown sugar
¼  cup Worcestershire sauce
1 can (8 ounces) crushed pineapple
¼  cup yellow mustard
4 teaspoons cornstarch
2 tablespoons cold water
Directions:
Preheat the oven to 350°F. 
Mix the chives, paprika, pepper, garlic salt, and salt. Sprinkle this seasoning over the chicken.
Brown drumsticks in the oil, over medium-high heat. You will need to do this in batches. 
Transfer the drumsticks to a roasting pan.
Combine the water, brown sugar, Worcestershire sauce and mustard. Pour the mix over the chicken. 
Bake, covered, tender, about 1 ½  to 2 hours or until tender. Uncover the pan during the last 20-30 minutes of baking for the skin to become crisp.
Remove drumsticks to a platter.  Transfer cooking juices to a small saucepan and skim the fat off.
Simmer the cooking juices. Mix the cornstarch and cold water until smooth. Stir into the cooking juices. 
Bring the sauce to a boil and stir 1-2 minutes until it thickens.
Pour the sauce over the drumsticks and serve. 
And here's a dish to please vegetarians:
Greek Zucchini & Feta Bake
Yield: 12 servings.
Ingredients
2 tablespoons olive oil, divided
6 cups zucchini chopped into ½-inch cubes
4 cups chopped onions 
1 teaspoon dried oregano, divided
½ teaspoon salt
¼ teaspoon pepper
6 large eggs
2 teaspoons baking powder
1 cup plain yogurt
1 cup all-purpose flour
2 8-oz. packages feta cheese, cubed
¼ cup minced fresh parsley
1 teaspoon paprika
Directions:
Preheat the oven to 350°F. 
Grease a 9 x 13-inch baking dish, or line it with parchment.
Heat 1 tablespoon oil over medium-high heat in a large skillet. Add half of the zucchini, half of the onions, and ½ teaspoon oregano.
Fry, stirring until zucchini is crisp-tender, about 8 minutes. Remove from the pan. 
Repeat with remaining vegetables. 
Combine the two batches of cooked vegetables. Season with salt and pepper; allow to cool slightly.
Whisk eggs and baking powder until blended. Add yogurt and flour. 
Stir in cheese, parsley, and the zucchini mixture. Transfer the baking dish. 
Sprinkle the paprika over the top. Do not cover the baking dish.
Bake for 30-35 minutes or until golden brown. Let stand 10 minutes before serving.
Brisket Braised in Beer
This is a splendid dish, but it needs to be seasoned 1-2 days ahead of time, so plan ahead. 
Serves 12. Easily doubled.
Ingredients:
6 garlic cloves
2 tablespoons brown sugar
2 tablespoons Dijon mustard
2 tablespoons olive oil
1 tablespoon black pepper
1 tablespoon ground cumin
1 tablespoon paprika
1 teaspoon cayenne pepper flakes
¼ cup kosher salt, plus more
1 8–10-pound untrimmed flat-cut brisket
2 onions, thinly sliced
1 12-oz can lager beer
Directions:
Use a food processor to make the rub for the brisket. 
Put the garlic, brown sugar, mustard, oil, black pepper, cumin, paprika, cayenne, and ¼ cup salt in the processor and process until you have a smooth mixture. 
Rub the seasoning thoroughly all over the brisket. Work it in well.
Wrap the brisket in plastic and store it in a container. Refrigerate 1–2 days. 
Bring it out about 1 hour before starting to cook. 
Preheat the oven to 325°F. 
Lay the sliced onions in a large roasting pan. Set the brisket on top, fat side up. 
Cover the meat with beer. Cover the pan with foil.
Cook for 5-6 hours or until the meat is very tender. 
Remove it from the oven, uncover it, and heat the broiler. Broil for 5-10 minutes or until the top is browned.
Cool the brisket for 10 minutes. Slice it, or shred it if that's your preference.
Spoon the onions out of the pan and mix them into the brisket. Season the meat with salt if needed. 
Spoon a little cooking liquid over the meat.
You can cook the brisket as directed the day before the event. Allow it to cool, then cover and chill it.
Cover with foil and reheat at 325°F for 1½ hours.
Put the sliced brisket on a platter and place bowls of shredded lettuce, sliced tomatoes, coleslaw and pickles around it. 
Set out a bowl of mayonnaise or a mayo-based sauce.
Provide rolls. Guests can build their own sandwiches. 
Creamy Coleslaw For A Crowd
Serves 30 
Ingredients:
3 large heads cabbage, shredded
3 large carrots, shredded
2 cups mayonnaise 
1 cup of sugar
¼ cup vinegar
2 tablespoons celery seed
1 tablespoon salt
2 teaspoons garlic powder
Directions:
Combine the shredded cabbage and carrots in a very large bowl.
Combine the mayonnaise, sugar, vinegar, celery seed, salt, and garlic powder in a separate bowl. 
Thoroughly mix the cabbage and carrots with the mayonnaise dressing.
Refrigerate the coleslaw for at least one hour in a covered, food-safe container. 
Toss it before serving. Add mayonnaise if it seems dry.