Inside: We are making the cutest sprinkle shoes!
I have a thing for pretty detailed shoes and easily fell in love with this shoe makeover Amy did a few months ago. So I asked her to create a shoe birthday cake version for us! We transformed an otherwise boring pair of shoes into the perfect shoe birthday cake accessory. Eating cake on our birthday has always been necessary & now wearing it is too.
And the best part about this birthday cake shoe makeover? The sprinkles, of course! :)
Birthday Cake Shoe Makeover
To make the birthday cake shoes you will need:
Pair of shoes in need of a makeover
Multi-surface acrylic paint
Paint palette
Paint Brushes, including a fine-tip brush
Blue painter's tape
Ribbon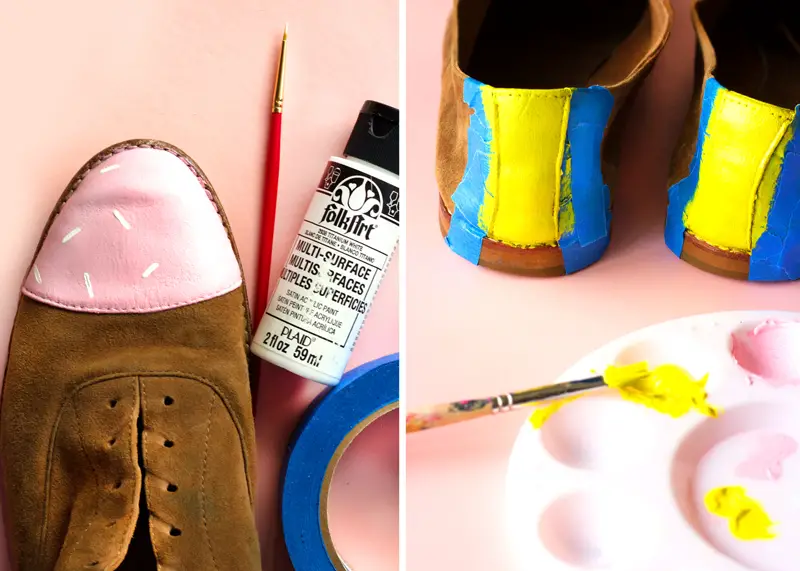 1. First, remove the laces from your shoes. Then tape off the area you plan on painting, like in the picture above.
2. Paint the toes of the shoe. Start with one coat, let it dry. Apply 1-2 more coats of paint, letting each coat dry in between. Remove the painter's tape when you're finished.
3. Paint the heel of the shoes or any other part of the shoe that you want a different, new color. Apply 2-3 coats, letting each coat dry in between coats.
4. Now for the sprinkles! Using the fine-tip paintbrush, start by painting small lines, randomly placed, like in the photo above. Do this for each paint color you plan on using. Let each color dry a little bit – to prevent smearing – before you continue on with the next color.
5. Finally, re-lace your shoes with some thin ribbon. Note: I ended up using different ribbon in the final look than what was photographed in the supplies photo.
And that's it! Your newly made-over shoes are ready for a birthday party!
Hey, sprinkle toes here are a few more of our favorite sprinkle inspired projects
(Photo concept, design and photography ©A Subtle Revelry by Amy Larkin).