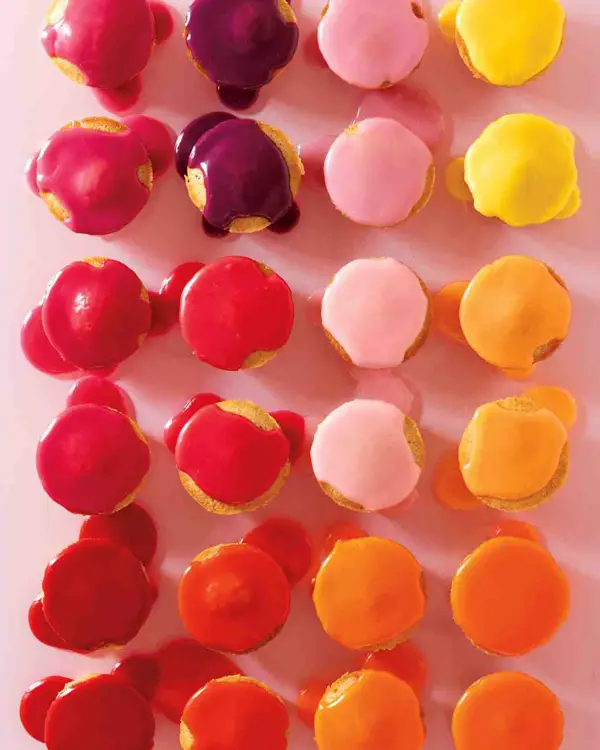 Is anyone else struggling to get back into the groove this week? We had such a busy holiday season and a wonderful break. This week it's been a little hard to jump back into life. To cheer up, I am planning on baking a batch of cupcakes with bright frosting colors all over them this weekend. The smell of goodies baking and a dose of bright frosting seems like the perfect way to perk up January.
Here are a couple easy tricks I use to make bright frosting colors that are truly vibrant and not at all dull.
1) Mix your frosting a full day before you plan to ice the cake. The colors in the frosting deepen as they sit. The result will be a brighter, more colorful cake.
2) Add Kool-aid to the mix. You may know I'm a fan of Kool-aid for hair dye, but it also works for giving bright frosting colors as well. The normal package will be too sweet – opt for the unsweetened version and add it in small doses along with the food coloring.
3) Choose gel. Not all food dye is made the same. When we are looking for the perfect dye for things like color wheel cheesecakes we always use gel. It gives richer and more bright frosting colors every time.
While I get mixing my bright frosting colors, I think you'll love these other bright baking ideas to chase the winter blues away…
A dandy guide to achieving exact frosting colors | colorful pizelle cake | this colored ball cake is gorgeous | mix bright colors into these rainbow waffles | watercolor painted cake | red velvet bunt cake | bright frosting colors fringe cake | deep blue butterfly cookies | colorful fruit cakes | rainbow donuts | and although this awesome mug isn't baking, it is too bright and fun to not share.
Bright batched cupcake photo by Martha Stewart (above).