Inside: Colorful DIY Yard Dominoes
Summer is here and that means it's the perfect time for backyard barbeques and summer celebrations! I love long sunny days filled with good friends, ice-cold drinks, and fun games. I remember when I was younger my grandpa and I would sit out on his beautiful patio with ice cream and music playing and play dominoes all summer long. It is one of my favorite memories as a little girl.
So I thought I would add a fun twist to that special memory by creating an extra-large version, perfect to spread out across the backyard, and have hours of fun with the whole family. Check out how you can make your own DIY Yard Dominoes and with Father's Day just around the corner, these are the perfect DIY to make with Dad!
How to Make DIY Yard Dominoes
We collaborated with Tayra over at The Tayra Perez Project. She did a vlog on the process for making our yard dominoes. Check out her channel for more fun projects.
Now before we start please believe me when I say, you don't have to be a tool loving, building wizard to make these DIY yard dominoes. Trust me.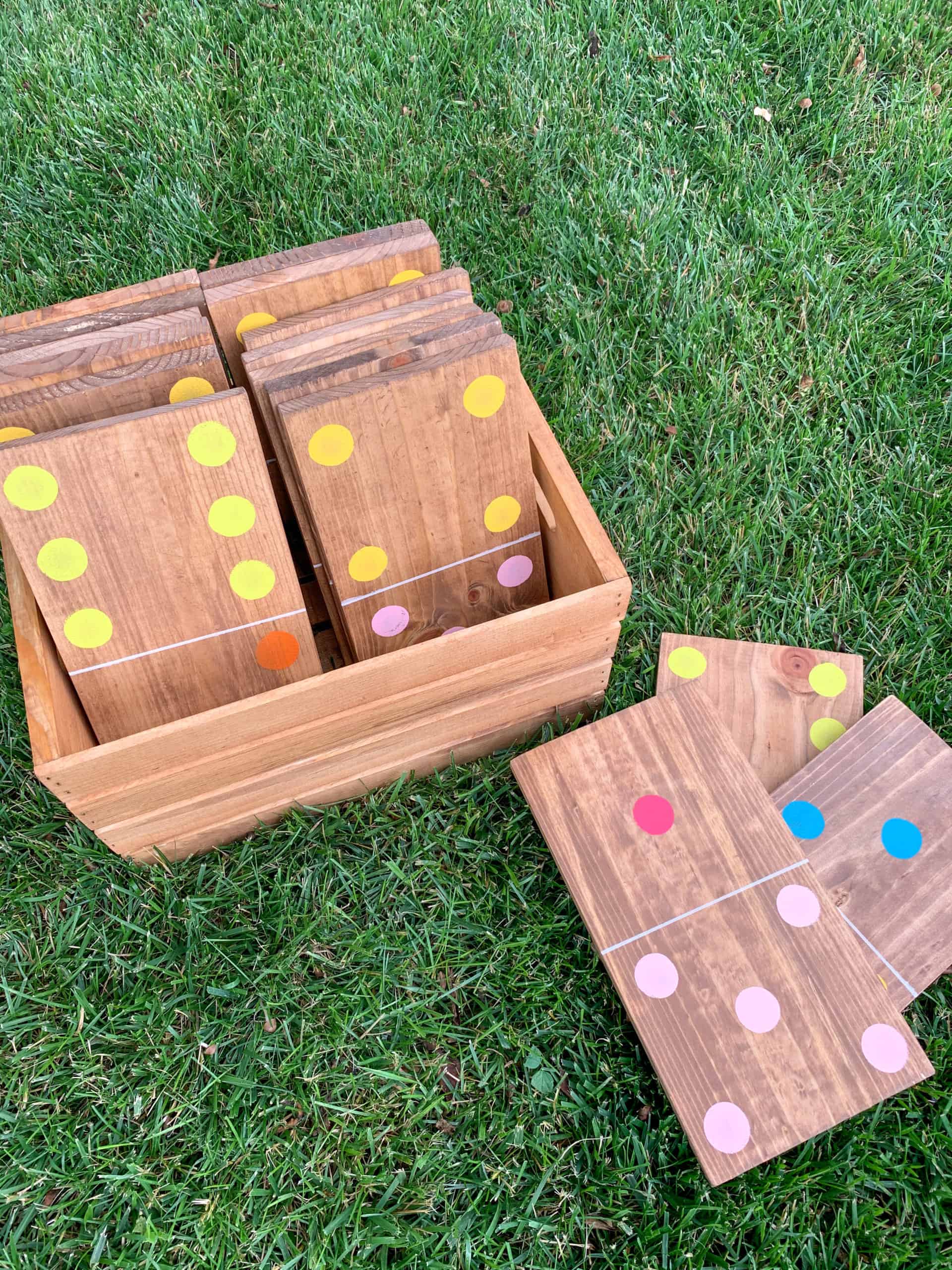 Supplies
6in by 6ft wood plank – We made our dominoes 6in by 14in long
Tape Measure
Saw – I used a Skill Saw but you can use whatever you have or feel comfortable with.
Wood Stain
Colorful Paint
6ft Rope
Instructions fro DIY Yard Dominoes
Start by measuring your wood planks to 14in long. Making each piece 6in wide and 14in long. Each board should yield 5 pieces.
Use your skill saw, or other cutting device and cut 28 pieces, plus maybe a few extra for any mess-ups!
Now that you have all your pieces cut, use some sandpaper and smooth out the edges.
4. Add the stain to each board and let dry.
5. Next use the paint pen and a straight edge to create a dividing line in the middle of the domino.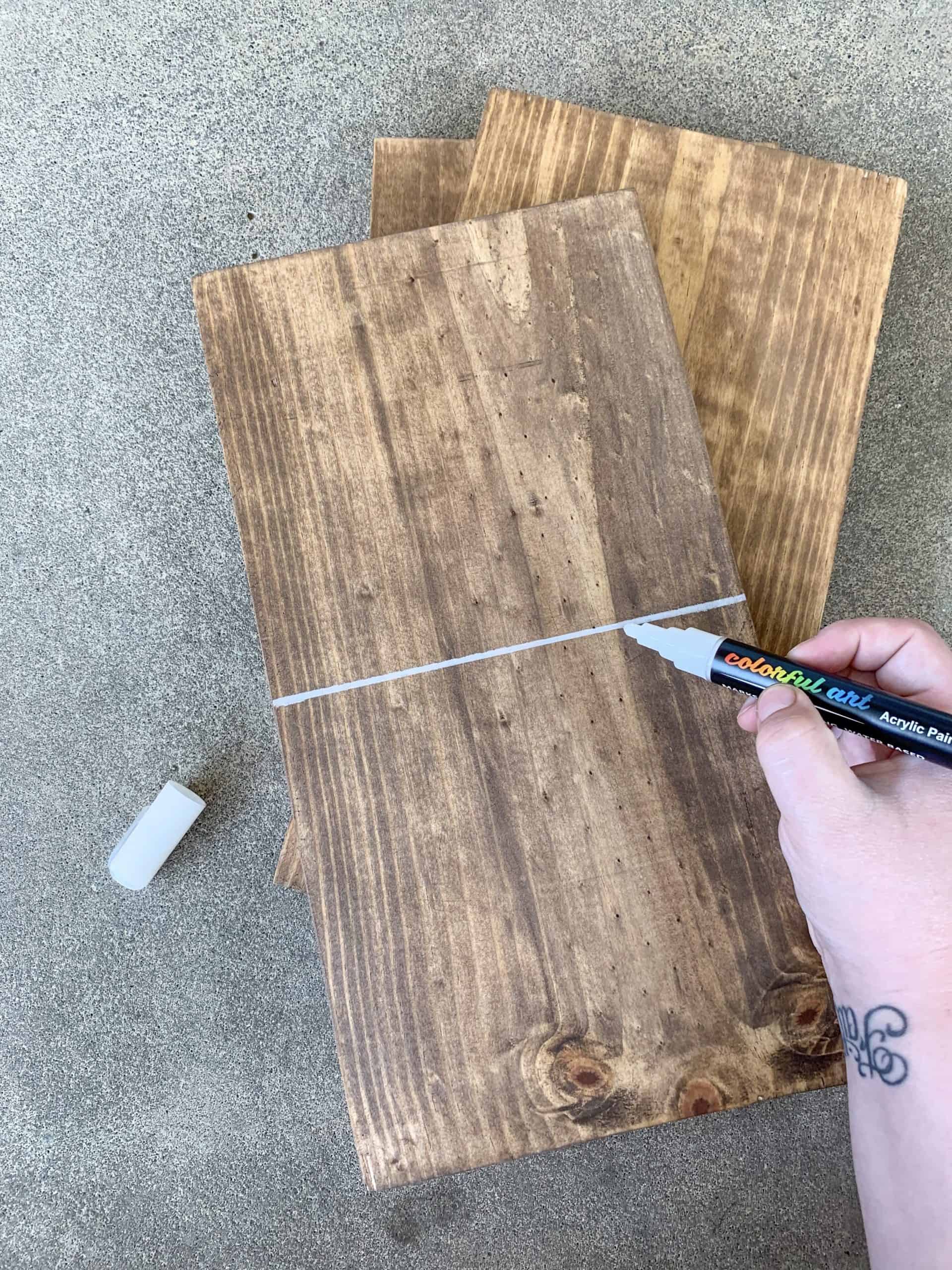 6. Now plan out your colors and create dots on each side of the domino.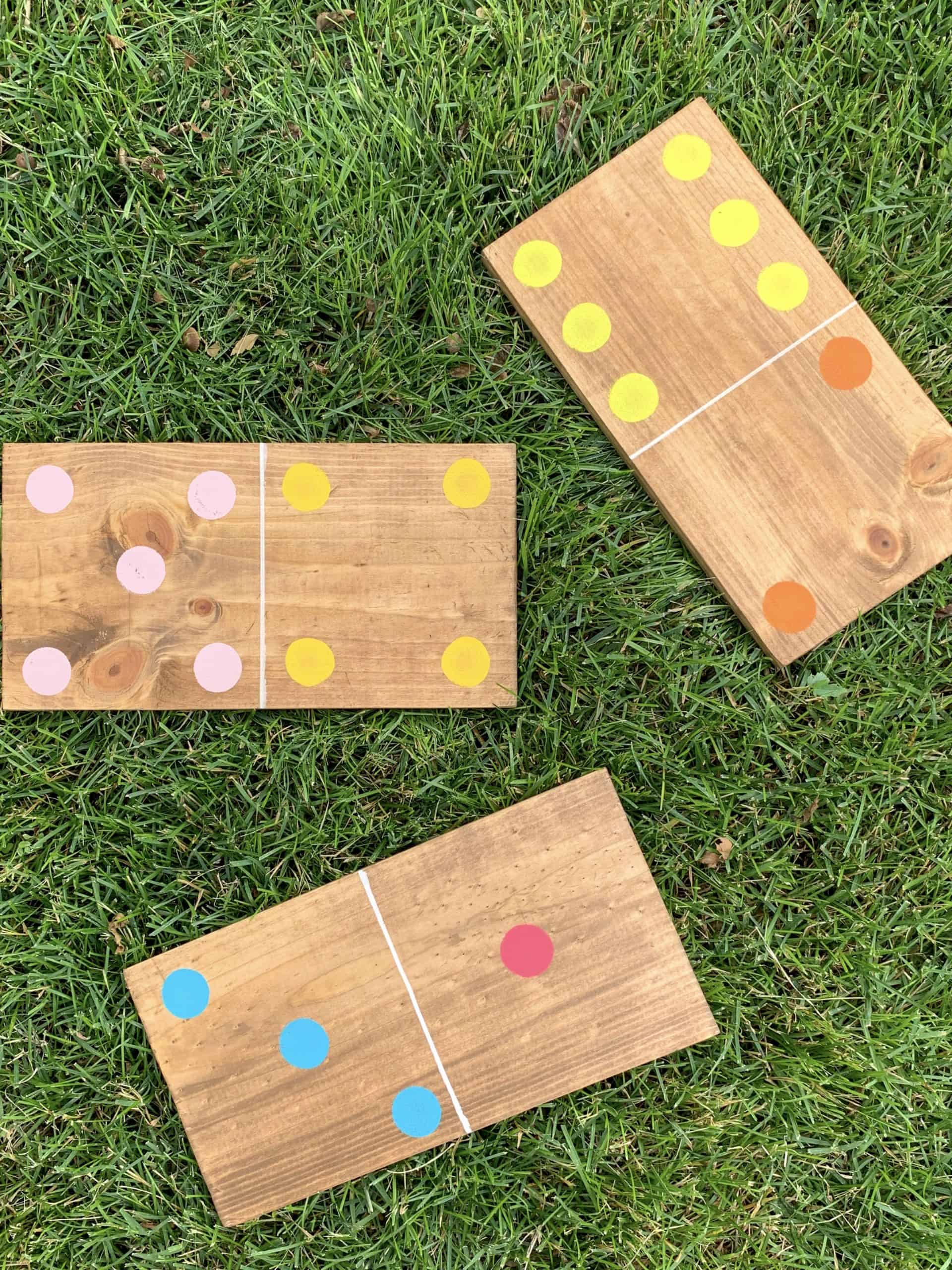 More Summer Fun DIYs
Do you love these DIY Yard Dominoes? Looking for more fun summer DIY ideas, here are a few of our favorites!
Tips for Making DIY Yard Dominoes
Again like I said before you don't have to be a handy man to make these dominoes! I have playing around with tools and building things before but I am not a professional by any means. Here are a few tips and tricks to make the process as easy as possible.
I will say that this is one of the easier DIY projects I have done in a long time. From start to finish this project took me one full day to complete.
My first tip is to make sure you measure twice before you cut! I know, I know, such a simple tip but trust me nothing sucks more than messing up and you end up short a piece or two.
I used a sanding block, which I found to make sanding so much easier.
List out your pieces, trust me it is so much easier to keep everything straight.
We created an easy domino stand to hold all your pieces. Since these yard dominoes are big its nice to have a way to hold them without having to carry them. We simply took some plastic stakes, gave them a fun coat of colorful spray paint and rope. Tied the rope to the stakes and stuck them in the ground to keep up our dominoes!
How to Play Dominoes
Need a little reminder on how to play a classic game of dominoes with your Yard Dominoes, we have your back!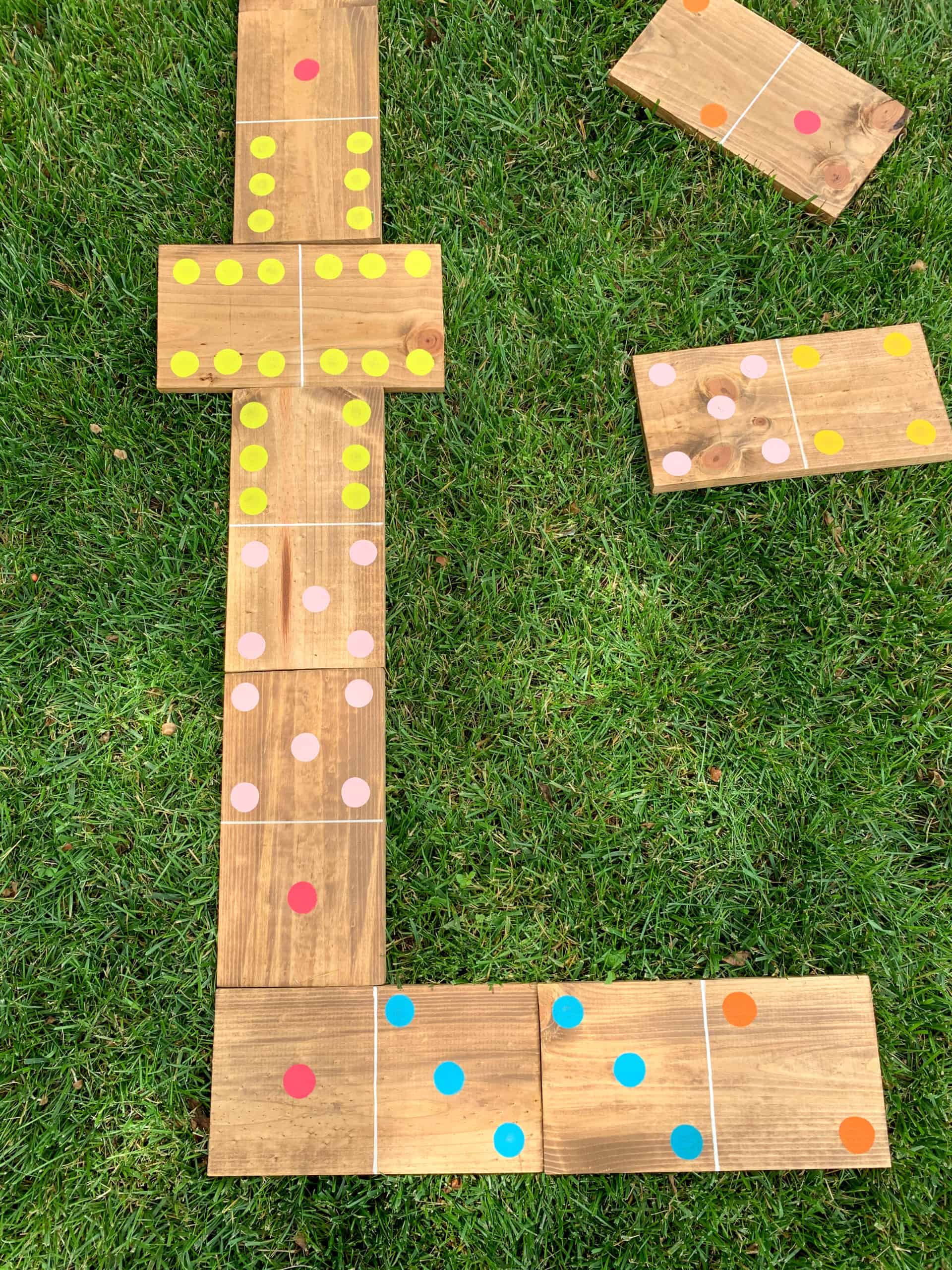 Players: Two, three, or four may play the game of Dominoes.
Drawing: Each player then draws seven dominoes for his hand. The remaining dominoes (the boneyard), if any, are left face down on the table to be drawn later if a player is unable to play from his hand.
Begin Play: The player who drew the highest double or the highest domino plays first, playing any domino he wishes from his had.
Object of the game: Scoring points by laying the dominoes end to end (the touching ends must match: i.e., one's touch one's, two's touch two's, etc.). If the dots on the exposed ends total any multiple of five the player is awarded that number of points. All sides of the first double (the spinner) may be used one piece to each side and later one to each end. All other doubles are played at right angles to the line and the total points on both ends are counted. Dominoing occurs when one player goes out by playing all of his dominoes. The sum of the spots of all opposing players is computed and added to the dominoing player's score (rounded to the nearest five). In partnership play the spots of the partner of the one who "DOMINOED" are not counted.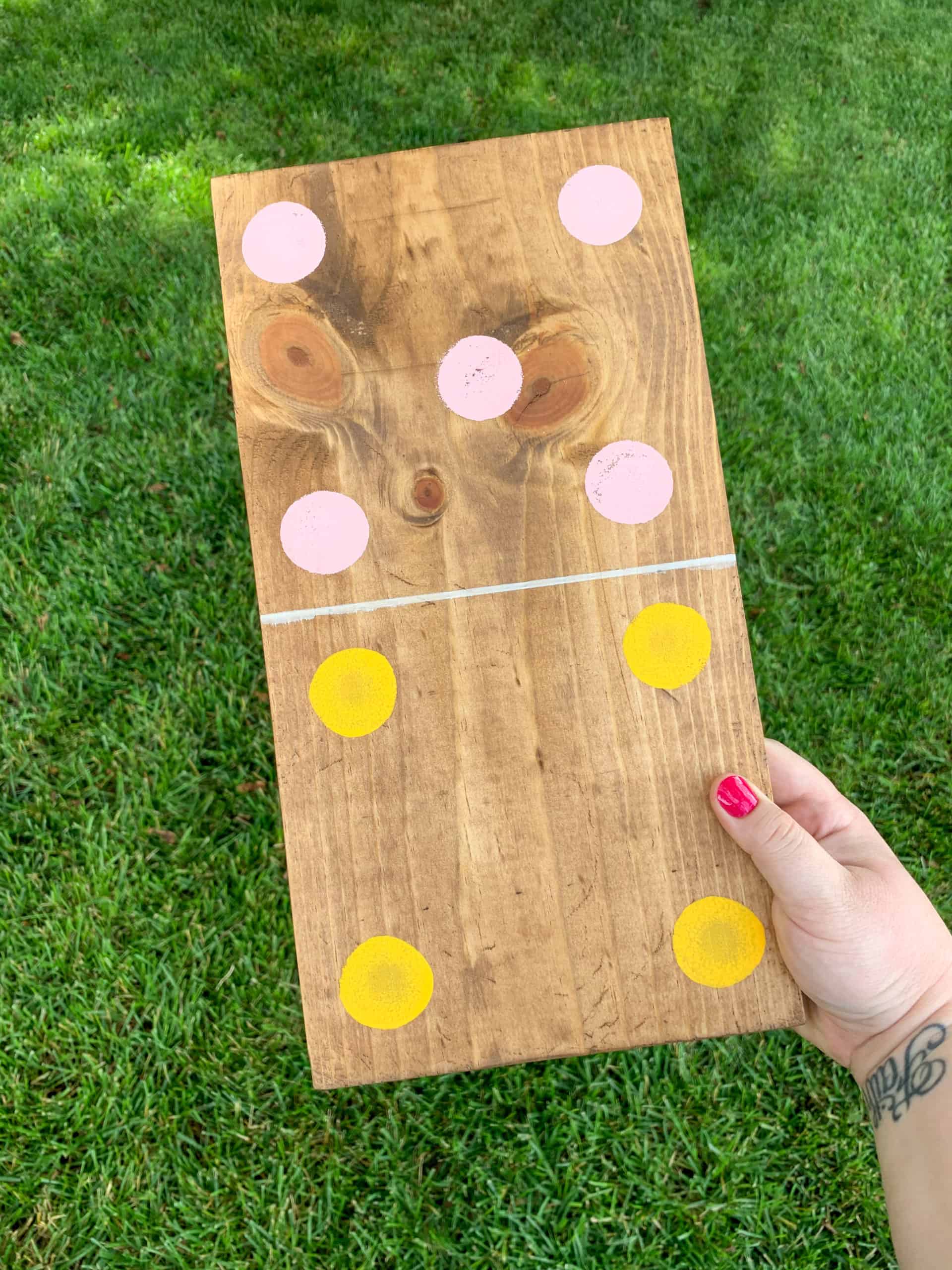 Now grab your supplies and have some fun with these super cute colorful DIY Yard Dominoes. They are the perfect way to spend long summer days with your favorite people!
(Photos @ASubtleRevelry created for us by Whitney Gray)