Bright hanging garland is always a win in my party play book. These colorful vines only take a few snips of paper and dabs of glue to connect. They can be hung across the walls or down from the ceiling – which is the best way I can imagine to brightly top a party table this summer. Easy crafting is something I adore (so much that I wrote the book on it!). With the printable template below, and a few simple crafting supplies, this project is a great way to brighten up a lingering summer night.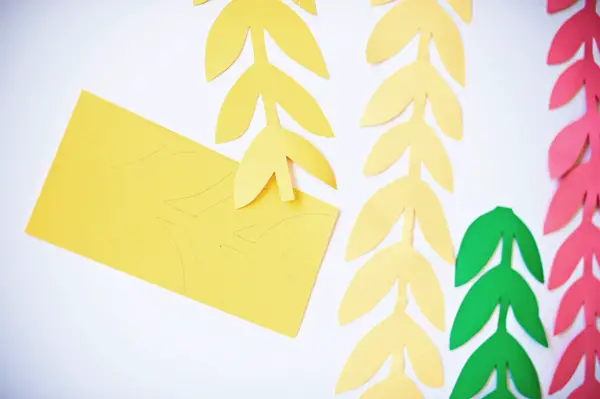 To make the colorful hanging leaf garland you will need paper in your favorite party colors, scissors, a pencil and glue.
Start by tracing the leaf stencil and cutting it out. This garland can be made in almost any leafy vine shape (download and print our vine template right here).
Once you have the template created, put on your latest Netflix binge show and trace + cut your heart out. This project looks great with even just a few strands, or you could trace and cut until you've filled an entire room for maximum impact.
Glue the colored selections together making long strands for hanging.
Once the leaf strands are created, all that is left is to hang them. A simple pushpin into the ceiling will give you this dramatic cascading effect. Mix colors and vine lengths to create a display that is full of fun texture and style.
Simple decor statements that take little work and give a gorgeous impact are what I dream of this time of year. The epitome of summer party style.
PS. 25 summer gift wrapping projects + garlands you will love.
(Photography by ©A Subtle Revelry by Erin Holland).