Valentine's Day deserves to be filled with confetti and color, just like every day of the year. This is the thought behind these fun confetti hearts. Bursts of love that are colorful and bright.
The hearts are fabulous for celebrating a valentine, an engagement, a wedding, even a good friend. Because who in their right mind would not want hearts filled with confetti?!? Especially when they're topping a bubblegum covered cake.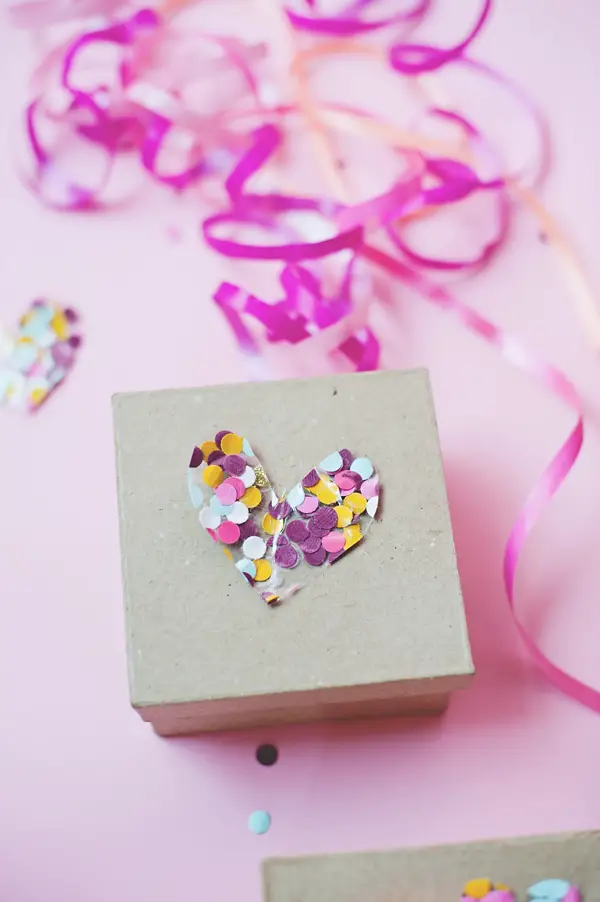 These confetti hearts are wildly simple to make. They look great topping treat boxes, hung up as garland, or used to top cakes/cupcakes this time of year. Done in a more traditional palette the hearts make a sneaky way to design a massive amount of favor boxes (say hundreds for a wedding) in a couple hours and with very little money.
To make the confetti hearts you will need only three things: packing tape, colorful paper and a small hole punch. Plus scissors, I suppose, if you'd prefer not to cut tape with your teeth.
Punch out the confetti. Punch some more. Just keep punching.
You could also purchase pre-punched confetti, although it always seems silly to me when there is no easier craft to make. Punch out enough confetti to fill your dreams.
Then cut a piece of packing tape to double the height of the heart you want to make. Sprinkle confetti inside filling the tape 1/2 way up. Fold the tape in half, covering the laid down confetti with the top half of the tape.
Cut out the heart shape. BAM!!! There you have it. A colorful, confetti clad heart that will make all your festive dreams of love (or at least your dreams of confetti and cute cakes) come true.
To attach the hearts to boxes, glue the backside down on the box or string with ribbon. To make the cake toppers, use a dab of hot glue on the back of each taped heart and attach onto a small wooden skewer. Various size skewers and hearts make for a fun Valentines cake.
Whether topping a cake or treat boxes, there is no better way to be festively in love this time of year. Make a stash of these hearts and get celebrating.
PS. Bubble gum on a cake!!! My new favorite way to decorate with no time, money, or talent needed. I knew you'd love that:).
(Photography © A Subtle Revelry by Erin Holland).