Christmas is a time for planning ahead, a time for crafts, and a time for gifts.
All of this makes a DIY advent calendar the perfect way to extend the holidays and create something unique and memorable.
Whether you're making your advent calendar as an exciting gift for your spouse, as a way for your kids to count down to the big day, or for your friends or other loved ones, there are loads of ideas in this guide to help you to create something unique and thoughtful.
While we all enjoy the candy advent calendars you get from the store they don't give much of an opportunity to provide a unique and personal touch.
That's why our homemade advent calendar ideas are so effective for your loved ones.
Our Top Advent Calendar Ideas
Let's move on to the top DIY advent calendar tips and some creative ways to make someone's day every day in the lead up to Christmas.
Pill Box Advent Calendar
This is a cool and creative use of your everyday pill box to create something exciting for the advent. There are plenty of pill boxes out there with 28 days worth of boxes, which means that you can even add a few little extras in there, or give the last couple of days two boxes for some extra treats.
How to make an advent calendar out of a pill box?
It's as simple as stickers for the days of the month, and stuffing your gifts into the containers where the pills would ordinarily go. Simple candy is always welcome, but you can even make it a little bit more personal with jewelry or handwritten notes.
Photo Print Craft Advent Calendar
One of the most personal advent calendar ideas is also one of the simplest to make. There are loads of online options for getting photographic prints made, and most of us have treasured family photos on our phone.
Order them in advance, and you can use envelopes to create a simple gift, perfect for parents and grandparents, with a photo a day to brighten up their December.
The envelopes alone can look a little bland and boring, so it definitely helps if you've got some craft and creative flair in order to spruce up the envelopes with bows, stickers, and even pretty handwriting.
Printable Pyramid Advent Calendar
Wanting to make your own advent calendar and create something that actually looks pretty can be daunting if you're not the most artistic person.
This printable advent calendar makes it easy for you.
Once you've got the templates, all you need to do is print them and stick them together in the right shape, adding your gifts and preparing the pyramids to be opened on each morning.
If you want to make the pyramids more exciting still, use different kinds of paper and add some little cocktail flags on toothpicks. This couldn't be simpler and it is a fun activity to draft the kids in to help.
Christmas Notes
Because a DIY advent calendar isn't all about candy and gifts, why not make the most of the season to be jolly by adding some personal notes.
This design allows you to string up sweet notes on string, and all you need to do is a bit of folding to make sure the notes stay in place.
They're easy enough to send to loved ones with a Christmas card and let people far away know that you are thinking of them at this time of year.
Though the notes inside can be simple messages of joy and love, you can also include special memories that you share or even suggest Christmas activities, like watching a Christmas movie together.
I've even seen people share recipes for festive drinks.
Extend the Advent With a New Year Countdown
Those days in between Christmas and New Years are a bit of a 'nether zone', right?
Now you can extend the advent and add some more excitement in the run-up to the New Year celebrations.
Some awesome countdowns even extend to the hours leading up to midnight on the day, with plenty of sweet treats for the festivities.
Digital Advent Calendars – It's So 2021!
Digital advent calendars give a lot of scope for new and exciting ways to deliver messages and even digital gifts.
There are even specific apps you can use to send out your daily messages via social media, or email. Our how-to guide showing how to make an advent calendar with only digital tools means that anyone can put one together.
Of course, there is the excitement of getting a daily message and notification, and a lot of these apps and digital calendars are built around simple messages, but you can introduce so much more.
Game codes, downloads, even fun videos that you have recorded for your loved ones can be shared. The power of the digital age!
We really love this method for those who have family that are a long way away or who they don't see very often. It's a way to be a big part of their lives around the festive period without being together physically.
Little Boxes For Advent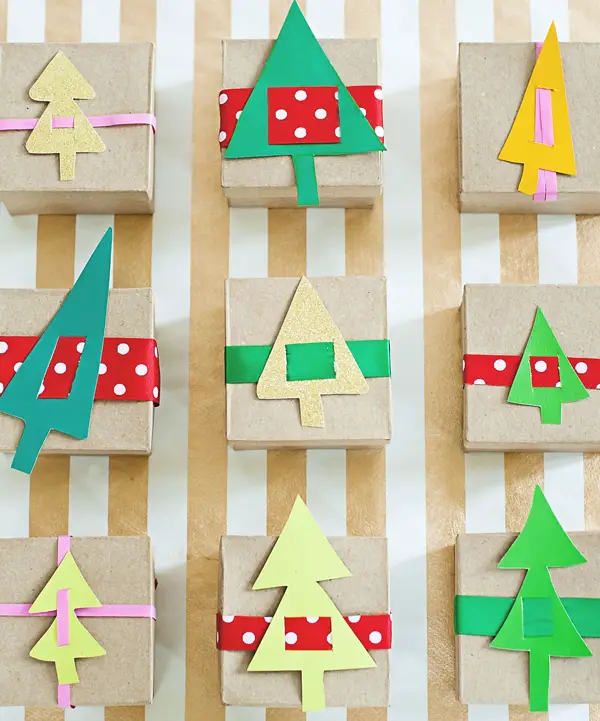 Sometimes the old classics are still the best. 24 little boxes filled with gifts and nicely-decorated can be far more exciting than a candy advent calendar. Fun to make, and even more fun to open.
Our paper trees advent calendar design is so simple and super festive.
They're also a bit bigger than a lot of the other advent calendars out there so there is plenty of opportunity to add exciting gifts, and you aren't restricted to jewelry and candy.
Summary
Our advent calendar ideas can form a basis for your imagination to run wild.
Whether you want to make cute messages for people, send them digital gifts, or just provide a stock of candy as the big day approaches, any of the DIY advent calendars in this guide can fit the bill.
It can also provide a fun activity in the process.