Inside: 13 crazy colorful DIY Mexican party decorations
I. Love. Parties! And themed parties are even better. Mexican parties, aka fiestas, are some of my favorite kinds…want to know why? Tacos, margaritas, piñatas, and all the colorful decor! Need I say more?
Now that we have put away easter, Cinco de Mayo is upon us and as far as I'm concerned, it's fiesta time baby!
I'll be hosting some good friends for a great time and that means the house needs some serious decorating. Prepping for the party is oh so happy when there's colorful decor to create. I've rounded up 13 of the most colorful DIY Mexican party decorations and am so excited to share a little bit about each one. ¡Vamos de fiesta!
DIY Mexican Party Balloons & Garlands
Giant Fiesta Balloons: Obviously I'm going to kick this fiesta decoration list off with balloons because they're simply the best! This giant balloon cactus is the most festive balloon arrangement for a Mexican party. I can't wait to make my own!
We also took a fun twist to the Cactus balloon idea and created a dart game out of it. Which means decorations and party games all in one!
Printable Paper Picado Streamers: A classic decoration for a fiesta, this DIY includes a free printable template so you can hang these pretty streamers up with ease. Trace them onto tissue paper for a traditional look, or use card stock for streamers that you can use at your Cinco de Mayo parties year after year.
Cupcake Wrapper Sombreros: We created these mini sombreros using two sizes of cupcake wrappers. Then, we strung them together to make a colorful garland. Now that I think about it though, you could totally sub the mini cupcake wrapper in the center for a peanut butter cup for a delicious party favor that all your guests will love! Take the DIY Mexican party decorations ideas right into party favor ideas. It's just as good as wearing a fun party hat, if you ask me.
DIY Painted Corona Bottles: A craft that requires empty bottles of ice-cold Corona? Count me in! ;) Host a little pre-party with your closest pals, cheers to friendship, and when the beer runs out, get to painting! I'm going to do mine in a variety of colors, just like the tutorial shows, and then fill each bottle with a different colored bunch of flowers. These would be perfect for centerpieces!
DIY Watermelon Flower Centerpiece: This centerpiece looks exactly like a cactus flower, and for that reason, it makes it in my list of DIY Mexican party decorations. Make sure you pick out a vibrant green watermelon (it'll probably be juicier inside too!) and then fill it up with hot pink carnations. I love the way this looks at the center of a table with a delicious Mexican spread!
Piñata Smash Cake: What's a party without a cake? This piñata smash cake is absolutely adorable. It's definitely an all-day project but well worth the time investment! On the outside are pretty fondant ruffles and on the inside are layers of scrumptious rainbow cake AND all kinds of colorful candies! I think this smash cake would go really over really well at a kid's party, don't you?
DIY Simple Taco Banner: I've said it once and I'll say it again…tacos are a big reason why I love Mexican fiesta parties so much! They're just really good, ok?! Ha, and for the rest of you taco fanatics, I found this super cute taco banner that's a must-have for any fiesta. It just takes a bit of craft foam, tissue paper, hot glue, and string. If you're an avid DIY'er, you probably have all this stuff on hand anyway. So put it to good use and whip up this banner that you're going to be tempted to leave up year round.
Fiesta Wreath: There's a wreath for every season and a fiesta is no exception! This Fiesta Wreath includes flowers, ribbon, tissue paper, and cupcake wrappers galore. I love the idea from the DIY of designing your wreath based on a specific color palette. Can you guess what I'm going to choose? There will be pink, of course! And I'm also planning to incorporate some other bright colors too, maybe some sunshine yellows and lime greens.
DIY Mexican Party Backdrops For Fiesta Photos
DIY Piñata Fringe Photo Backdrop: I love me a good photo booth and a beautiful backdrop makes all the difference when we are talking about DIY Mexican party decorations. This piñata fringe is everything and can be built with just a few supplies: plastic tablecloths in alllll the colors, plastic fencing, and scissors. It'll take a couple hours if you want a large backdrop, but can be used post-party for a festive wall hanging in a kid's room, home office, or play room. I am all about repurposing craft projects here, people! Set out some sombreros, maracas, and cutout mustaches to go alongside the piñata fringe backdrop to complete the photo op.
Fiesta Flowers: Tissue paper is the main ingredient for this DIY and you'll need a ton of colors! These flowers are quickly created using layers of tissue paper and once assembled can be arranged anywhere you like. I love the look of them around a doorframe but also think they'd be cute around a wreath or in a group on the wall.
Cinco de Mayo Fiesta Balloons: Here's another balloon idea for you that's as simple as can be! Balloons + streamers = the prettiest Cinco de Mayo fiesta balloons! It's as easy as that but I promise they really fill out a room well. Kids will have a blast pulling on the streamer strings and you could even do a big release at the end of the party for a fun farewell!
DIY Mexican Party Decorating With Flowers
Mini Piñatas: Creating mini table scapes as a party of your DIY Mexican party decorations is a fun way to center the festivities. And anything mini is cute, right!? These mini piñatas take cute to a whole other level. They'd go great on basically any surface: table, bar, arranged as a centerpiece…and would work well as party favors too!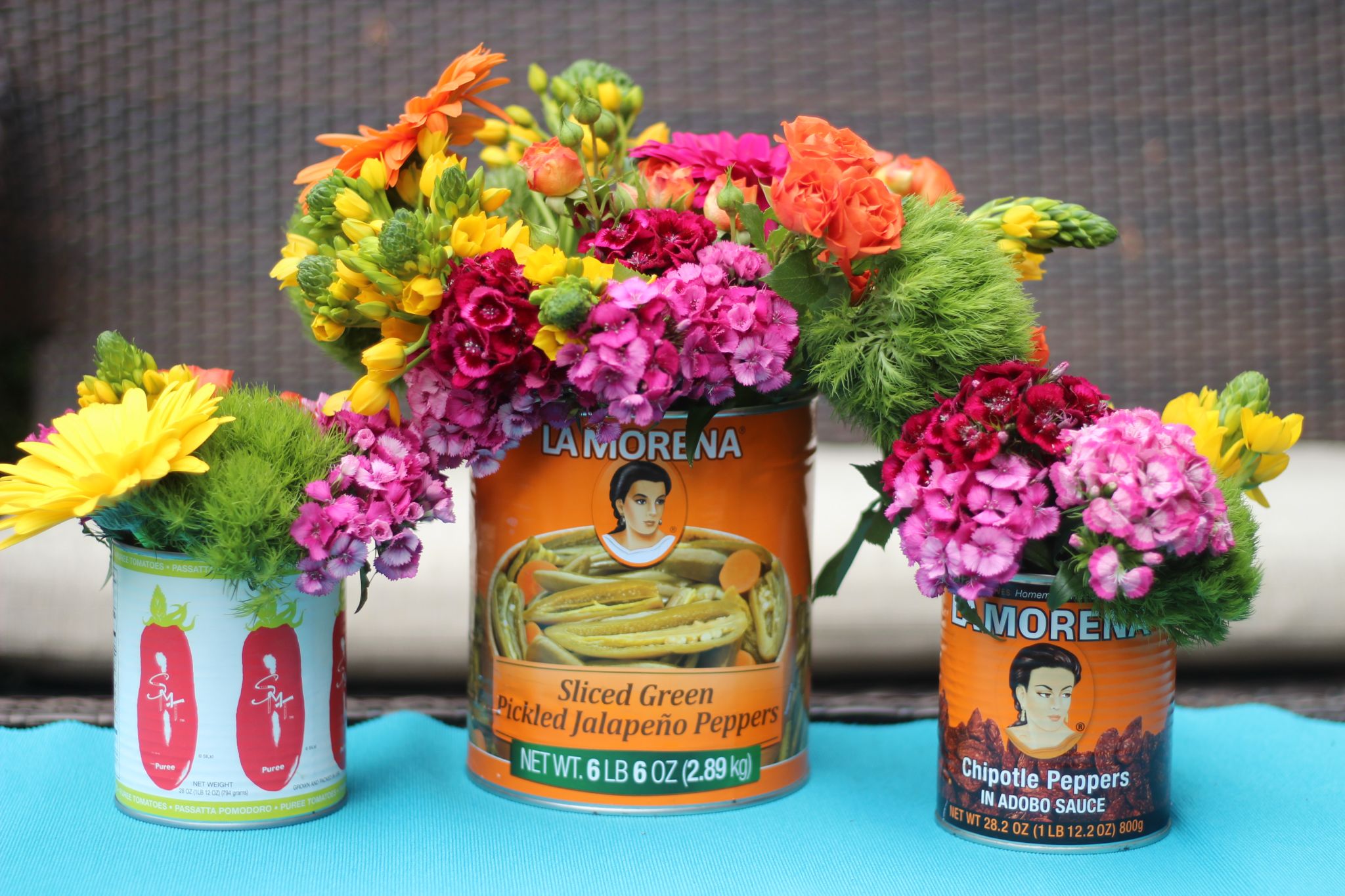 Tin Can Flowers: A pretty flower arrangement really livens up the party decor. And for a fiesta, big, bright, and beautiful colors are a must! Pair a rainbow array of flowers with empty tin cans with some Mexican flair. Think cans of pickled jalapeños, chipotle peppers, enchilada sauce, and refried beans. Choose a variety of sizes and colors that'll go well with different types of blooms.
Other fun DIY Mexican Party Ideas
I'm all about all things fiesta and I've got some other fun posts to share with you too…just in case you've got the fever too!
Once you've tried your hand at all these DIY Mexican party decorations… Here's a Cinco de Mayo Menu that'll knock your socks off, a recipe for Fancy Churros that you can make right at home, and even more Fiesta Party Ideas.
What are you planning for fiesta throwing this year? Hopefully something on this party list will help!