When we began planning out the renovations on the festive home I knew one thing for sure… I wanted wide plank light wood floors. These are the floors I dreamed of at night, the floors I've imagined in my most favorite of houses. Remember this inspiration? I got to work looking for them and to my astonishment they were of course WAY out of the price range. Not a little out of the price range… but like $12 a square foot, when I could spend $2. Way out! Determined to find the right ones I took a deep breath and went down the rabbit trail.
We thought about making floors out of plywood, aren't these pretty, but decided against this option because we wanted to protect the resale value of our house. As great as they look – plywood floors just don't sound appealing in a home description.
I considered cutting budgets elsewhere and getting something that was near my dreams if still a little out of budget like these.
Then I found what I was looking for.
I found 8 inch wide unfinished pine planks for under $2 a square foot! These unfinished planks were just what I wanted and I already love them so so much.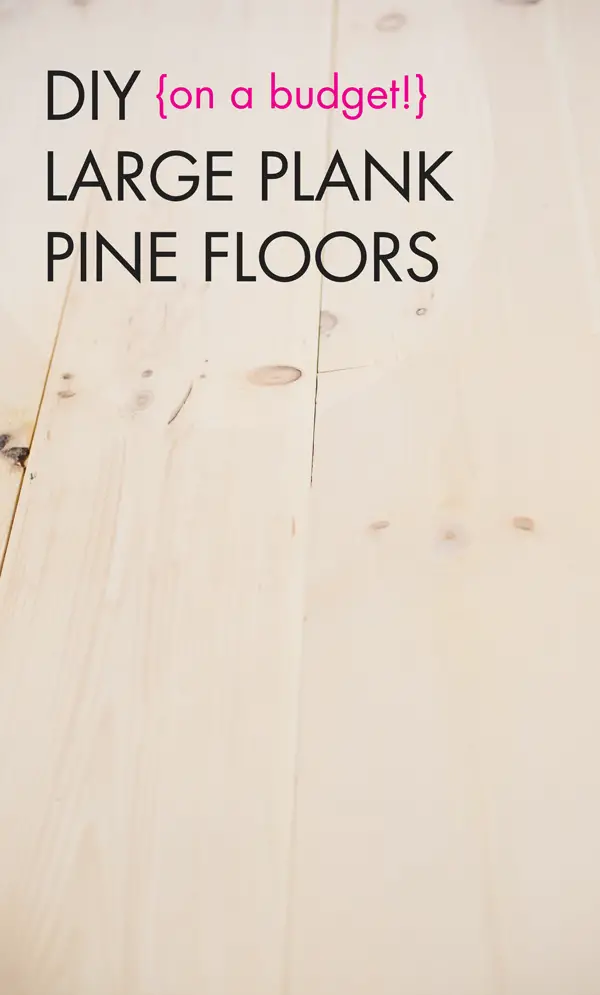 We installed the flooring ourselves to further save money, and by we… I mean that awesome guy I call a husband.
Then I finished the floors with a white wash. After reading up on pine I learned it tends to yellow over time, which is why we white washed the entire house. The white wash gives the entire flooring a milky light touch right now and it should keep the pine light looking and allow it not yellow over time.
To make the white wash I mixed 1 cup of White Wash Pickling with 5 cups of water in a large paint bucket and rolled it onto the floor. We experimented with the mixture for awhile. This combination seemed to give us exactly the white milkly texture I had been dreaming of.
After the wash dried I finished off the flooring by adding 3 coats of water based poly finish.
For both the wash and the finish on the floor I used an extendable roller. I found these awesome roller holders that keep the roller wet between coats. Having the rollers out and ready to go made the job much easier.
One tip I will recommend if you try these out on your own – be sure to cover the flooring with paper or plastic and let NO ONE touch it between laying and sealing. Unsealed the pine will absorb everything! We had Nike shoe marks in the middle of a room that I had to sand out before finishing the floors. If there are any imperfections a hand sander will allow you to fix them before finishing. Once the floors are sealed though it seems to clean up gorgeously.
We hesitated for a second about the pine because it is such a soft wood. I heard a couple horror stories of huge scratches all around. In the end we decided as long as the floor is finished correctly it should be protected well and we are willing to allow imperfections and a more natural farmhouse look come to life over time. It is definitely not for perfectionists.
The white washed wide plank flooring goes great with confetti and my new favorite pink chair so it's obviously perfect for us!
We covered the entire main level of the house with my dream flooring and came in under budget. All together the cost to cover about 1500 sq feet came out to just under 3k. For an entire house of flooring! It's a pretty great deal and looks so amazing to have my dream flooring in every room.
And now it's time to move everything in. xoxo
(Photography ©A Subtle Revelry by Erin Holland).