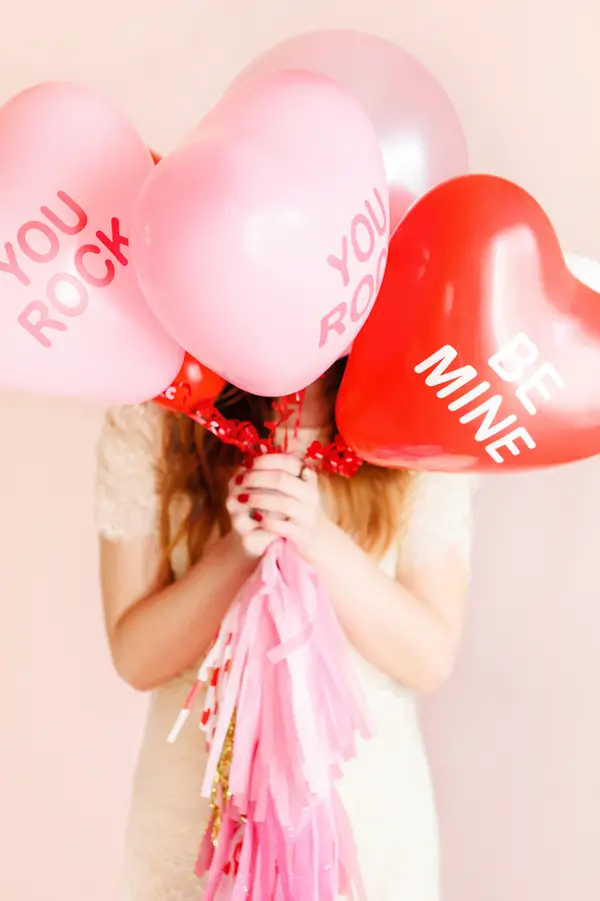 Happy Friday! It's the time of year to talk in the language of sweethearts candy. Love, cuteness, and calling someone a hottie – all those little one words statements that really mean love. And what better way to give candy hearts then on balloons!?! I was so excited to see these beauties in the store last week. You could easily have a set of them blown up, add some string or tassels and bring into the office or classroom. You could even gift them to your own HOTTIE for a heart popping Valentine.
While I get to work on my simple statements of love, here are some favorite…
Crafting ideas with sweethearts candy hearts
Before you could buy these balloons, of course you could DIY them.
Conversation heart sugar cookies look amazing to make for a sweet treat | This bingo game using sweethearts candy is perfect for the kid's classroom |A conversation heart pinata will be loved at our Valentines party this year | Conversation heart felt baggies |Oh my goodness, I want this sweater filled with sweethearts candy | Conversation heart candy boxes | Sweethearts candy necklaces | I've been looking for a good Valentines countdown for the kids and this one seems just perfect | Conversation heart mtchboxes to gift as Valentines | And conversation heart macaroons that I can't wait to make.
Have you ever tried to make sweethearts candy at home?
You can if you know how to work a candy thermometer. See the full recipe right here, or you can go the easy route and use marshmallows. They are much less messy than making the full on sweethearts candy recipe and you can whip out dozens of them in about 1/2 an hour.
To make your own sweethearts candy at home you'll need a bag of colored marshmallows (like these) and a miniature heart cookie cutter (like this one). Cut hearts out of the marshmallows and use a food pen to write in your candy hearts sentiments. The recipe is so easy even the kids can help! Such a fun and simple way to celebrate Valentine's Day.
Have a sweet weekend friends.
(Photography @Ellie Baygulov/Stocksy United).