Cinco De Mayo is coming up quick! I always love a reason to brighten up my treats and drinks, and the holiday is perfect for doing that. A few years ago we made our own churro bar – it would be so fun to host another to celebrate this year. Everyone loved making their own churros and the sweet change up made for a really fun night.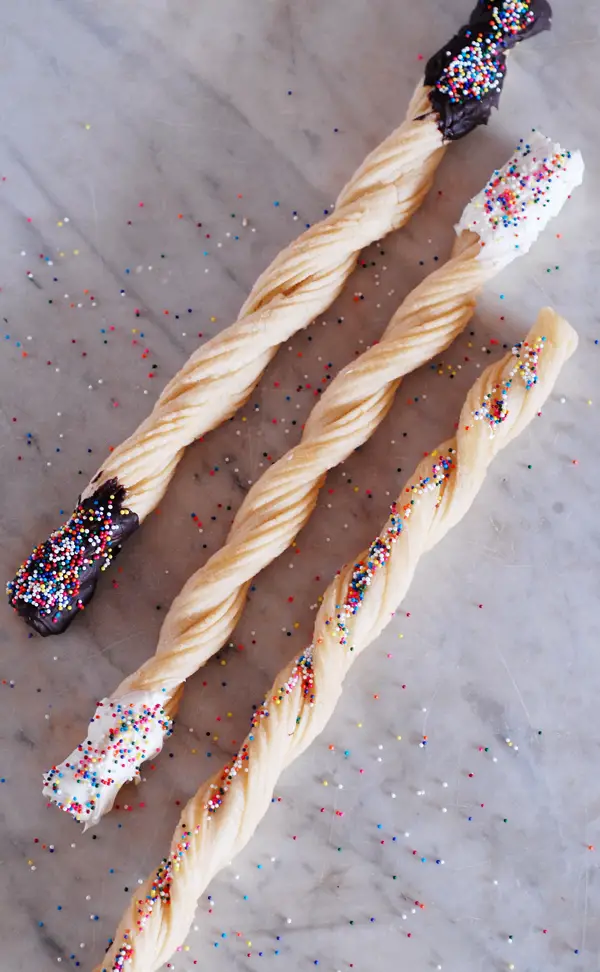 During that party prep, I learned that you can buy HUGE unbaked churros from the food stand at Costco. They are a dollar each and great for baking in large quantities at home.
Although the store will give you sugar, I thought it would be fun to gussy up our churros with sprinkles, chocolates and sweets for the 5th day of May. An easily bright way to treat your guests.
Not having a party next week? Wrap a dozen of these up and take them into the office for a break room filled with smiles!
To make ours I used vanilla frosting, melted baking chocolate and lots of sprinkles. Bake according to the food stand guys directions and sweeten them up right out of the oven. Laying the churros out in bar form like our original party (with a toaster oven) and the sweets on the side will allow your guests to make their own. Designer churros! Yes, please.
I've collected 13 other favorite sweet treats perfect for Cinco De Mayo. Which one will you make?
This post is done in collaboration and compensated by Foodie.com – build your own collections and Follow along with mine right here..