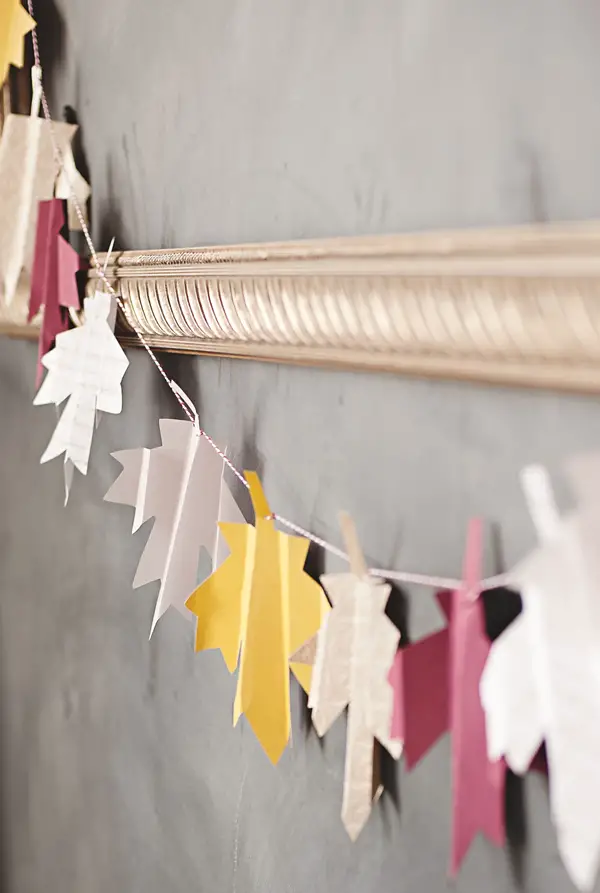 You guys… today it is officially fall! I am celebrating by planning and plotting for a fun season of pumpkins, costumes and spooky sweets! But first, one of my favorite fall elements. The iconic leaf.
Folded leaf garland makes an awesome welcome to the season. Liven up a party, or brighten a corner at home with these beauties… It will be just like you have a seasonal tree inside – minus the mess, minus the bugs, and with an added burst of festive color.
To make the strand of festive fall leaves, draw a basic leaf to use as a template or download our maple leaf template right here. Trace the template onto a piece of scrapbook paper – I love how the bright fall colors look alongside a simple blush vellum.
Cut out the traced leaves and use an accordion fold along each the leaf. An accordion fold is a back and forth fold along the paper, see the accordion party hats to know more.
The accordion folding of the leaves gives nice texture to the garland, allowing it to catch the light and pop right off the wall.
The leaf accents can be used throughout your house or party space. You can never have too many leaves during fall! Place settings are a great way to use them, a mobile would be sweet, stacked in a bowl – maybe even topping a cake! Whatever you do with these leaves, they'll help us welcome fall (A.K.A. my favorite season) in festive, fun style.
See the full gallery of fall projects here.
(Photography by Erin Holland for A Subtle Revelry).