Gilded glass bottles are a specialty usually reserved for only the finest of dinning. Pure gold on glass can be quite costly! I just love the look and am pleased to have found a way to incorporate this pretty style into our everyday entertaining.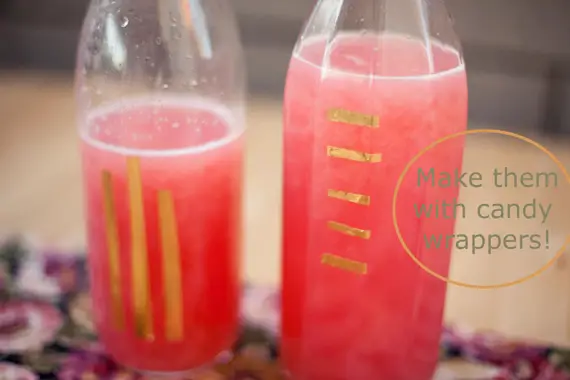 My DIY gilded bottles cost only a couple cents each to make and look so pretty filled with a festive drink. Line them up at your next celebration or make a stash to hand out as favors. Filled with something special they would also make adorable hostess gifts!
To make you own DIY gilded bottles purchase a pack of gold foil candy wrappers from your local craft store (they are about two dollars for a stack of 30 wrappers). Cut your wrappers to size using lines, shapes or whichever textures seem appealing. Using a very small amount of glue place the cut wrappers onto your bottles.
This project will work for any type of glass, use it to bring new life to plain kitchen glasses or liven up a serving dish for your next evening at home.
Photography by Jackie Wonders.
PS. See more DIY projects here.