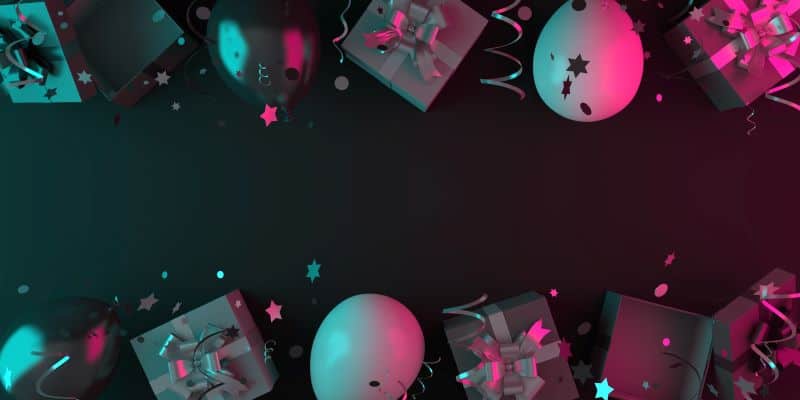 Fear not! Glow in the dark parties doesn't have to be a hassle!
As daunting as they might sound to organize, they can be as quick and easy to throw together like the dinner you cooked last night.
People of all ages can enjoy the experience, and more importantly, everyone can have fun at these parties together!
Read Related Article: 20 Glow in the Dark Party Ideas
1.Glow-in-the-Dark Cupcakes
Let's start small. This simple glow-in-the-dark party doesn't take too much preparation. 
The glow-in-the-dark feature in the cupcakes is the buttercream icing!
Use your children's most favorite cake mixture for the cupcake mix.  What you will need for the buttercream icing is as follows: 
Butter
Clear vanilla extract
Tonic water
Confectioners' sugar
Food coloring
Boiling water
The quantities of each ingredient will vary depending on the number of cupcakes you choose to make.
What's so 'glowing' about these ingredients? The secret is an ingredient called quinine.
Fun fact – did you know that quinine comes from tree bark and is used to treat malaria? 
Can you guess which one of the above ingredients holds this secret super magic power? If you guessed the food coloring, guess again! 
It's tonic water! 
Host the party at your home or local community center and layout the glowing cupcakes on the table, turn on some music and enjoy! 
2.Glow-in-the-Dark-Decorating
Sprinkle a bit of creativity at the start of the party. Get the kids involved by making the glow-in-the-dark decorations for the food table. Then the party food is ready to be served. 
Glow-in-the-dark arts and crafts kits are extremely popular these days. You won't have to look far to find an array of glowing decorations for your event.
Scatter fairy light around the room.  When you turn off the main lights the kids will enjoy being served food in the dark.  They will enjoy eating off of their glow-in-the-dark plates and cutlery!
3.Glow Stick Roller Blading
Retro with a modern twist! Contact your local roller blading arena and tell them in advance about your party theme. Most locations will be more than happy to accommodate you. They might offer some extra tips on how to make the evening a success!
Purchase online some multi-colored glow sticks and glow necklaces. These typically glow for approximately four and a half hours! You will be worn out from all that skating before the sticks run out of juice!
4.Glow-in-the-Dark Painting Party
Well, this is a really fun one! Appropriate for all ages, whether it is a party for your little pickles to a graduation bash and beyond!
Decide whether you'd like to concentrate on body and face painting or canvas splatting. 
For the little ones, the glow-in-the-dark face paint is suited for games like musical chairs and musical statues.
For the teenagers that have just graduated high school, you may be looking for an interesting and unusual prom after-party idea.  Consider that glowing body paint as an option.
Perfectly suited for those long summer nights, a venue won't even be needed for this one!
Hire a DJ and have a party in a field or in a large backyard in the very late evening. Music, dancing and good friends are the recipes for a successful party. 
Here comes the twist!
Place buckets of neon body paint around the dance floor in a number of colors.  The dancers would splatter each other with paint! The messier you get more fun!
For the more mature folk that are looking for some neon fun, you can hire an art studio.  Instead of painting your bodies consider spraying neon paint on canvases in the dark with a paintbrush in one hand while you have on hand glow-in-the-dark jello shots in the other!
5.Balloon-themed Party
Glow in the dark balloon assortments is super versatile! Remember balloons and parties aren't just for birthdays! 
Create for your celebration (or you can order) a glow-in-the-dark balloon arch. Have additional loose balloons filled up with helium and release them so they reach the ceiling. 
Jam them up in the room, to the point that you won't see an inch of the room's ceiling, only wall to wall balloons overhead.
This would similarly be a lovely setting for a baby shower. To kidify this setting, you want to bring in a clown who will make glowing balloon animals for everyone. And there you have it!
6.Hula-Hoops and T-Shirt Markers
Set up a dress code for all participants of white tops and neon accessories.  Include some glow-in-the-dark highlighters and hula-hoops. Be ready to blast some music and get ready to groove!
So what are we doing with the glow-in-the-dark highlighters? Everyone will sign their names to the doodles that everyone will draw on each other's shirts.  
When the t-shirts are ready, everyone will don their shirts, grab their hula-hoops, turn the lights off, turn the music on and let the hula hooping begin! Provide ample room for dancing and hula-hooping because people will have an awesome time. 
Boost this party even more by serving glowing jelly and handing out glowing party hats.
7.Truth or Dare!
Who is feeling brave?
Insert Truth or Dare cards into a few balloons. Have one balloon on the dance floor at a time.  When the music stops, whoever is dancing nearest to the balloon must pop it and rise to the challenge! 
Have the truth question or dare challenge available on written cards. This will avoid any memory blanks during the game and keeps things flowing naturally!
If you and your group of friends are real gamers, then simply transform your favorite games into 'glowing' versions and enjoy this fun-filled party!
Obviously this is a must! Here is a great Amazon link, but you can rent these also as most party stores.
The more the merrier! I don't think you can have TOO MANY glow sticks. They can be worn in a million different ways, and they are great to use to make fun decor! See some of those ideas below!
You could have everyone wear white to really stand out at the party. These are a fun way to add that extra cool factor in a pretty inexpensive way.
This is so fun to have everyone sign or decorate their shirts. I love this glow in the dark party idea!
Add some paint to faces and arms to get everyone involved in the glowing fun.
This steller looking centerpiece is so fun and EASY to make! All you need is a foam ball and some fun colored glow sticks.
Create fun and bright light fixture with this glow in the dark party idea. Hang bright colored glow slicks from a chandelier to create the perfect party look!
This glowing backdrop is made from BOWLS! Cool right? I love this inexpensive way to add a little flair to your glow in the dark party.
Now we are getting a little crazy with this bright idea!! Secure you glowsticks to your ceiling fan and let that baby go wild. The spinning fan and glowsticks create a cool glow in the dark show.
17. DIY Neon Glow Signs
Send the perfect message to all your party guests with these crazy fun DIY neon glow signs. They are so easy to make and add a little something special to the party!
Add a little tonic water to your jello packet and you have the perfect glowing treat!
19. Cotton Candy
Glowing Cotton Candy? Alright, maybe the actual cotton candy doesn't glow, but these cool light-up sticks are the perfect cotton candy holder. They add a fun glowing look to your sugary treat!
We all love a good dress-up moment, am I right? These fun glow in the dark glasses are a great party favor to hand out to all your guests.
Another great glow in the dark party idea is these fun glowing cups. They add that little extra something special!
22. Cake Toppers
These glow in the dark cake toppers add a little spark to your party. They are a great way to celebrate any occasion!
23. DIY Tablecloth
This fun DIY glow in the dark splatter paint tablecloth adds the perfect amount of fun to your party table. I love this idea, it's so easy to make!
What a great idea for younger kids. This would be great in an open area, where all the kiddos can let their glowing imagination run wild!
Get super festive with these fun glow in the dark hairstyle ideas. They are bright, fun, and would look great at any glow in the dark party!
WOW! These are some great glow in the dark party ideas, now I need a reason to plan a party! This is such a great party theme for young kids and teens if you need more fun party ideas check out these fun party ideas!
Glow-in-the-dark parties can be offered all year round.  After all, the secret ingredient for these parties' success is that they are best in darkness! 
So it doesn't matter if the party is happening in the middle of summer at 12 o'clock in the afternoon, simply black out the windows and close the curtains. Fill the room with your glowing party accessories and most importantly have fun!