College and High School Graduation is just around the corner! To celebrate the successful completion of an educational journey, graduation parties are an absolute must. I've got you covered this year with graduation celebration ideas that will make your graduate feel special, some unique things that they won't see at all their friends' gatherings, and fun ways to put together an awesome party that everyone will love. Happy hosting and cheers to the grads!
Graduation Celebration Ideas For Food
In my opinion, the food & drink served can totally make or break a party, so it's really important to me to include pretty, fun, and also super yummy things for my guests! These ideas should get your creative juices flowing…and probably your tummy grumbling too. ;)
Frachos are basically every teenager's dream – way better than sliced bread. HA! When it comes to graduation celebration ideas for food, we are reaching first for nachos in french fry form, covered in gooey cheese and crispy bacon? YASSSS.
Really, they're pretty amazing to anyone who tries them, but I'm sure high school/college students, with their endless appetites can appreciate them the most. If you serve these up at your graduation party, I can guarantee it's something your grad and all their friends will be talking about long after the caps and gowns have been hung up and the diplomas displayed.
A Custom Print Soda Bar is a teen-friendly way to pop some bubbly in the spirit of celebration. Check out the post for free printable labels that I've included just for you, or customize your own. You could do the grad's name, a congratulatory message, a school mascot, or their graduation year. Then pick up some colorful sodas in pretty bottles for the perfect toast to cheers your grad for a job well done!
Smoked Salmon and Cream Cheese Diplomas are the cutest little graduation celebration ideas in appetizer from! These mini diplomas are a great way to say "happy graduation" with a tasty bite. Use your grad's alma mater as the inspiration for the ribbon color for a neat way to make it their own.
Another fresh and fun drink idea for a graduation party is to serve up a variety of homemade punches. Because they're easily made with or without alcohol, the parents can happily sip a cocktail while the teens can slurp down as many mocktails as they can muster! I've recently created 5 Pretty Punch Recipes that are awesome for the warmer weather coming to us, and perfectly suited for a crowd. The only question is, which ones will you choose to serve??
Graduation is usually in May or June, which mean when you're thinking of graduation party ideas, we should obviously be thinking about a BBQ… it's warm but not super hot (in most places). I thought it would be a good idea to do a Hot Dog Bar.
They're inexpensive, easy to prepare, and can be topped with so many different things…there's sure to be something for everyone. Make sure to include your grad's favorite toppings, and a variety of others too. I'm all about the less fuss the better when it comes to warm weather gatherings, and with a finger food like hot dogs, fancied up a bit with a topping bar, there's really no way to lose!
Graduation Cake Ideas
If you've spent any time on my site, you know that I am alllll about the sweeter things in life :) And a party is the perfect excuse to bring out the goodies, graduation being no exception! These graduation party ideas of sweet treats are especially designed for a big celebration and are sure to satisfy the sweet tooth of all your party guests, but most importantly, the graduate of honor!
Typography Cake is my favorite of the graduation cake ideas – to shout "YAY!" with a sweet treat. Using mini alphabet letter cookie cutters, you can spell out any message you want to send to your special grad. "HOORAY!" or "CONGRATS!" would be great options too. Use any flavor of cake you want, but try to stick to the lighter colored ones so that the letters really pop. Then decorate the outside as you wish. The more confetti and sprinkles, the better!
If your grad is off to college, a fun + edible way to share the big news is with these Banner Cookies. Spell out the name of the college or university by hanging a bunch of banner cookies on a garland, or just do all of them with the school's mascot or logo (if you can find a cookie cutter in that shape, of course). So many fun graduation party ideas in one easy dessert! You could also spell out a special message for your grad, like "Congratulations Josh!" or "Class of 2018."
Birthdays aren't the only reason to throw a candle in a cake and make a wish. In my opinion, graduation is just as good a reason as any for high hopes and big dreams! I love the idea of using your grad's high school or future college/university's colors on these cupcakes + candles.  Since they look adorable on the table anyway, they'll double as decor, pre-dessert :)
Chocolate Graduation Cap Pops make adorable graduation celebration ideas especially sweet for a graduation party. You can pick from different tassel colors using sour straw candy and could even mix up the flavors of the graduation caps using chocolate squares with various fillings.These little guys display really well on a dessert table or can be individually wrapped into clear bags as a fun favor for guests to take home.
Candy Cake says congratulations in the sweetest way possible! Arrange your grad's favorite candy into a colorful cake using frosting and hot glue as adhesives. And it's really up to them if they want to share…maybe they'd like to start a late-night study stash with the spoil from their cake ;)
Graduation Decor Ideas
A party is made special and unique by its decor, so I'm all for making the preparations to ensure a pretty party space. From balloons to garland, streamers to banners, there's plenty of opportunity to get creative with your graduation celebration ideas and make your grad feel special from the moment they walk in the door.
Graduation Sticker Balloons are an obvious and adorable choice to celebrate the big day. Pick out some colorful mylar balloons and then artfully place some congratulatory stickers for a festive pop!
As mentioned above, I love the idea of hosting a backyard BBQ graduation party to enjoy the start of summer and warm weather that comes with it. These Paint Can Deck Candles would look so beautiful lined up outside on the deck, as centerpieces, or scattered around the back patio. Use a high school mascot or future university letters to decorate the paint cans, with coordinating colors, for a school-spirited twist!
Say "CONGRATS GRAD!" in a big way with this Extra Large DIY Letterboard. It's simple to make, and totally multi-purpose, meaning you can use it for whatever celebration or party you've got coming up next, or better yet…send it off to school with your grad for a fun way to decorate their new dorm room or apartment!
I'm a big fan of garland for any and every season and occasion. It's an easy way to decorate a sizable area with few materials and can hang around as long as you'd like to add festivity to any space in the house long after the party has died down. Triangle Party Garland is one of my top pics for a grad party because the triangle shapes remind me so much of those old school university flags…they're just so nostalgic, don't you think?
I also love making garland out of paper straws. You can find so many different colors and patterns online and in craft stores so it's always fun to make something totally unique! Check out my Paper Straw Party Garland post to get the full scoop and learn how to make your own.
Simple Graduation Gifts
Graduation gifts are so fun to give. And you don't have to stick with a typical option like a check sealed up in a card. We've got a few fun ideas for you that'll surprise and delight the well-deserving high school graduate on your list!
Wishbones colorfully painted make the perfect little surprise. Give a handful to any graduate to "make a wish" before those big moments coming up: attending the first day of college classes, stepping out to meet new friends, and taking mid-term exams. This sweet version of gift giving in our graduation party ideas tucks a little something extra in there to earn extra smiles!
Origami Money Graduation Caps + Tassels are too cute for words! I'd have a hard time unwrapping these tiny little caps if I were a grad…but I'm sure somehow they'll manage ;)
Instead of purchasing paper to wrap a grad gift, why not make your own?! Using a fun photo that the high school graduate will enjoy, have your local photo shop print it off on engineering paper. It's super affordable and so memorable. See the full details on Large Print Photo Wrapping Paper here.
For another way to gift money that as fun to open as it is to spend… Money Balloons! Hide bills of varying amounts in different colored balloons, and if you really want to add some mystery to the mix, you can do some fake ones too. Just make sure the grad you're celebrating has as bright a sense of humor as you do!
No matter what you're giving as a gift, make sure it looks pretty. It's a guaranteed way to build excitement and why not make something pretty if it's so simple to do? Bright Ribbon can take a boring box, traditional bouquet of flowers, or plain gift bag from drab to fab in just a couple knots and bows.
Grad Party Games
Planning a party filled with the best graduation celebration ideas means you'll have some great grad party games to ensure your guests will be entertained throughout the whole event. And for grad parties, it's easy to pick games that everyone will love since most of the guests are probably on the young/playful side! Some of these games are short and sweet, really activities more than anything, which is perfect for holding the attention of a crowd.
Confetti Cannon Blasters are the perfect way to kick off a celebration. When the grad walks into the party, have all the guests shoot off their confetti cannon blasters all at the same time! What graduation celebration Ideas could beat that? With a blast of confetti and cheers from their closest friends and family, the grad will feel incredibly special.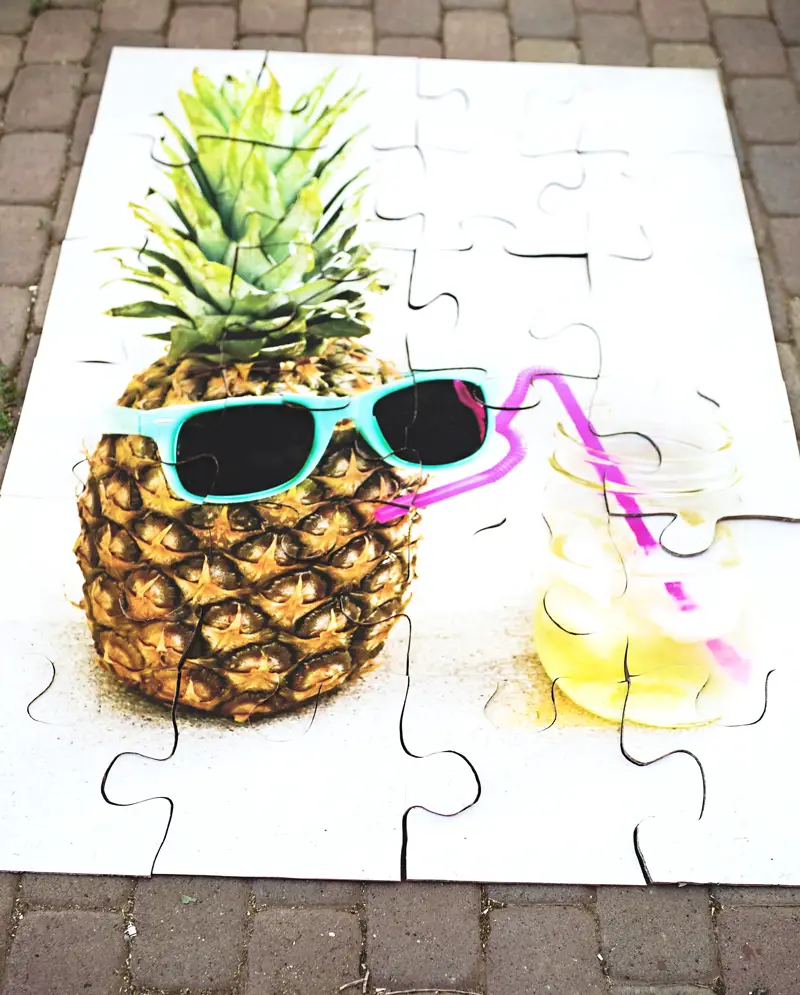 Want another fun way to use a pic of your grad? Print a life-size photo of them onto a puzzle! Then set up the pieces in the backyard and let the games begin. Check out this Life-Size Outdoor Jigsaw Puzzle for the full details and how-to.
There's nothing like yard games when thinking about graduation celebration ideas for a backyard party. And rather than buy an already-made set from the store, I think it's way more fun to make your own. Plus, that way it's guaranteed to be bright and colorful, which y'all know makes me happier than anything! This Yard Toss Game is made simply from some wood and paint. It'll provide hours of fun for your grad and their friends, not only at the party, but all summer long!
Jenga is a classic indoor party game for any age, but bringing it outside makes it perfect for a graduation get-together. Build your own Giant Jenga set using big blocks of wood and different colored paint. I especially like how this set is done in an ombre style. Pick your grad's favorite color or school colors to make a set they'll want to take onto their next big adventure!
Paper Cup Shooters are a final of my graduation celebration ideas and a fun way to start or end a graduation celebration. The best part about these shooters are that they can be filled with any small object you like: confetti, pom poms, or even candy! That'll bring a sweet surprise for everyone involved, but I especially love the Graduation celebration ideas possible when welcoming and/or exiting the grad with something special like these shooters.
I had so much fun thinking up fun ideas for graduation parties that it almost made me want to go back and do it all over again myself…almost. ;) Luckily, I've got two kiddos who will be there before I know it (EEEP!) and I sure am excited to celebrate the heck out of them. I hope you found the food & drink, sweet treats, decor, gifts, and games helpful and inspirational. Would love if you shared with me how you plan to celebrate your high school graduate. Congratulations to all the achievers out there! You did it!!!