Inside: We have created the perfect paper flower tutorial that shows you exactly how to make flowers out of paper!
How to make paper flowers that are bright, bold and beautiful. It's easier than you might think and I'm excited to show you how to do it today!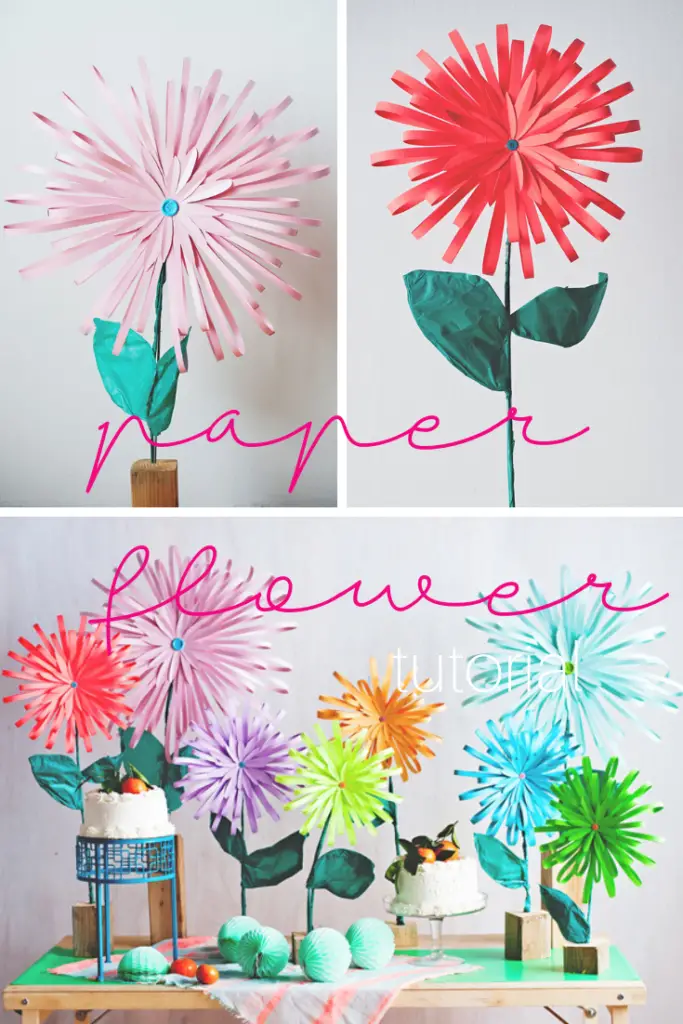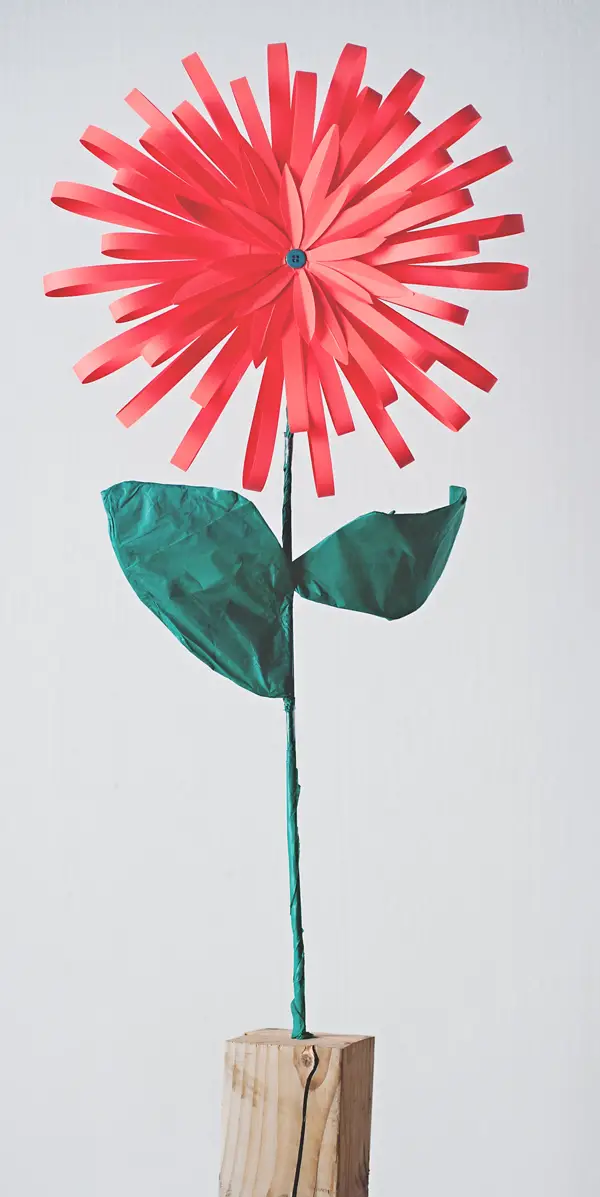 Nothing brightens up a brunch quite like filling a table with paper flowers. I made these paper flowers with large graphic lines to really make an impact at a party or shower this spring. Their large heads almost look like sunbursts! I'm excited to show you how to make a paper flower that will pop so brightly placed on any brunch table.
It's the weekend, why don't we…
A spring brunch or buffet table comes together seamlessly with these bright and bold paper flowers. We covered the table in contact paper, laid out a scarf (my secret way to score a cute table runner on the cheap), and set about cakes for a festive serving table.
See Related Article: WHY I LOVE MY PAPER CUTTER
When getting our cakes ready, I couldn't help but top them with a few cutie oranges right off the trees. Plucked citrus is the simplest way to top a cake and set the stage for any celebration.
Paper Flower tutorial 
If you want to make one paper flower or an entire table of them, the process is the same. To make a paper flower you will need:
14 gauge metal jewelry wire
Green wrapping tissue paper
Small wooden blocks
1 cute button
A drill bit
Glue
Scissors
How to make a paper flower head
1. Start by cutting two of the sheets of paper into about 3/4 inch strips. A paper cutter is the easiest way to do this, but it can also be done by hand.
2. Out of the other sheet of paper, you will cut two 5-inch circles (one for the front and one for the back) of the flower. Also cut a small flower (about 3 inches) out of this paper to cover the front section of the flower.
3. Start with one of the circles lying flat and glue 1/2 the strips around the circle, then fold each upward and glue into place to make the petals.
4. Do this a second time on the inside of the first petals to make two rows and add texture.
Next, glue the flower you cut out onto the top to cover all the glue dots and loose ends, top with a button for fun spring style.
How to make a paper flower stem
1. Make the stems by covering a length of the wire with the green tissue paper. Just wrap and glue into place.
2. Make a leaf for the stem by winding the wire into a leaf form and covering with the tissue paper. Leave about 2 inches wire sticking out of the leaf to wind around the stem to hold into place.
3. Place the flower front side down and place the top of the stem centered in the back. Cover the back with the second circle. Glue into place to hold the flower together.
4. Drill a small hole in the wooden block and insert the bottom of the stem into the block to hold it upright.
Place these flowers around for a spring brunch table that will be pretty all season long.
Here are a few tips on what to do one you learned how to make a paper flower.
Wrap them up in a bouquet to give to mom for Mother's Day.
Place them stretched out on a table as we did for easy spring party decoration, paired with this work of art floral cake it will be stunning.
Put a couple of the paper flowers on the top of a dresser or shelf that needs a little height and brightness added to it.
Make one for each friend and set it on her porch with a note proclaiming why she brightens your day.
I love these beauties so much and it's an easy craft to create and share.
PS. Hang the flowers on the wall as well for a fun party backdrop or check out this DIY hanging flower wall!
(Photography ©A Subtle Revelry by Erin Holland).