Inside: We are showing you how to make a balloon monkey animal.
Hey little monkey, we have the cutest birthday fun for you! These colorful and fun balloon monkeys are perfect for your next birthday bash. We created a bunch of bright and festive monkey balloon animals that make great party favors, headbands or party decor.
And… a few more fun elements to have the best monkey bash ever! Taking these fun balloon monkeys once you learn the crazy easy process of making them and turning it into an entire themed party.
More animal themed balloons
Incase you are just having so much twisting balloons, here are a few more to try: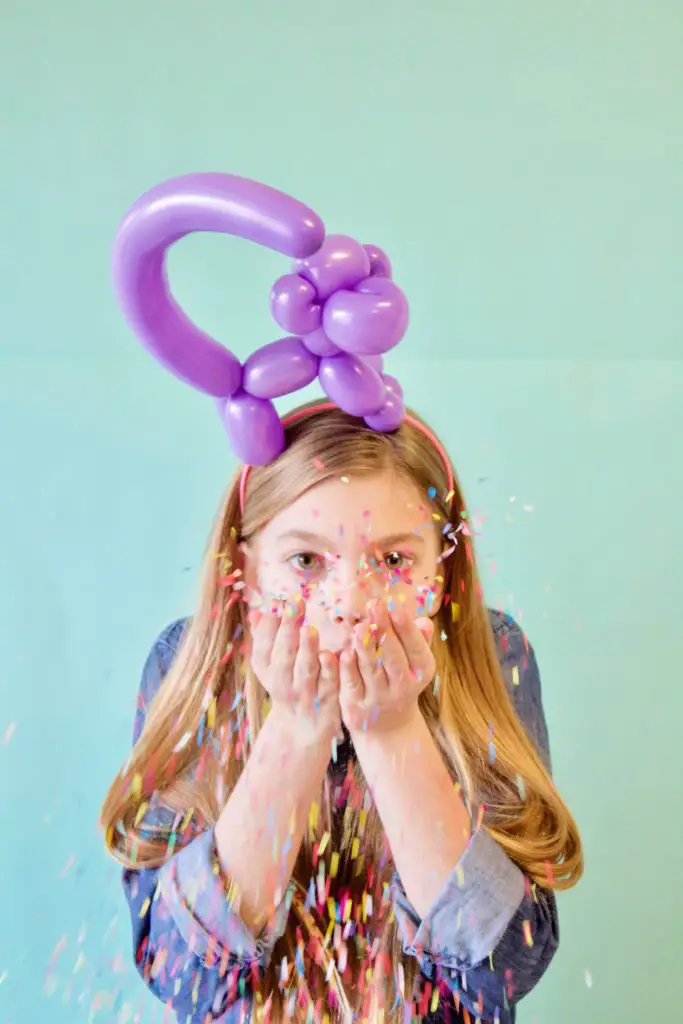 [adthrive-in-post-video-player video-id="lrXyMtUA" upload-date="2019-02-12T19:33:59.000Z" name="Monkey Balloon" description="How to make a balloon monkey step by step for party favors & fun!"]
How to make a balloon monkey
There are just a couple of things you will need to make these adorable balloon monkeys:
Let's start with the monkey balloon animal face
When it comes to making these balloon monkeys practice is key, Remember to not blow up your balloon fully, leaving about 2 in of uninflated balloon. This allows you room for twisting and ties. Give yourself a little time to learn how to handle and twist the balloons, I promise you will catch on quick!
1. First, you will start with the balloon monkeys face. The first twist with be a flower petal twist, take about a 3in section of the tip of the balloon and bending it in half.
2. Then you will twist a small section to create a small ball, this will be an ear.
3. Once you have those two twist complete, you will take your flower petal and fold it over to the untwisted part of the balloon, leaving that small ball twist in the middle.
4. While you are holding on to those to spots, grab your ball and twist.
5. Twist another section, about the same size of your first petal twist, and create another ball twist.
6. Bend this in half, having your first petal twist and the rest of the balloon touching. Then twist the two ball twists and second petal twist together. This will be a tough twist but just trust yourself!
Moving on to the balloon monkey body step-by-step
The rest is easy breezy, you're almost done!
7. These will be your front legs and hands. So first you will twist a small section for the neck. Then you will make one longer twist, about 1.5in long, then two ball twist, and then finally another 1.5in long twist.
8. Now fold those in half, having both of the longer twists together, and give that a good twist!
9. Next are the body and the back two legs. So you will make three longer twists, all equal in size.
10. Fold the last two sections together and twist, creating your legs.
11. Let's curl that tail. Grab the remaining balloon and wrap around and give a slight squeeze. This creates a fun curled look!
We're not monkeying around, we have everything you need to finish off your monkey party!
We have some of the best ideas to go along with your adorable balloon monkey party favors!
Monkey Balloon Animal Party Favors
For an extra fun effect, you can buy some fun thin plastic headband and slide the balloon monkeys onto them through their legs. They are such a fun twist on balloon headpieces!
These fun balloon monkeys are the perfect fun and adorable party favor for your next birthday bash. The kids will love them and they are so easy to make.
(Photos & video @ASubtleRevelry created for us by Whitney Gray)