It's about this time of year that I start wanting to change up my hair. To try something new and fun. Now, I have this new hair new me mood more often than I like to admit. There is something about changing your look and feeling like you can take on the world like I hold my power in my hair. That's why when i learned how to dye hair with kool-aid I fell love! Using kool-aid hair dye is easy, comes in some pretty amazing colors, and its only temporary. Which is what I would call hair goals, can I get a "hair yeah!"
Lucky for me I have great friends like Jesy Almaguer and we have been chatting about all our hair dreams! Her portfolio holds some of the most whimsical ideas which are full of inspiration for my kool-aid hair dreams. She and a handful of talented stylists have given up their secrets for a few festive spring hairstyles that bring a punch of awesome to your fashion this spring.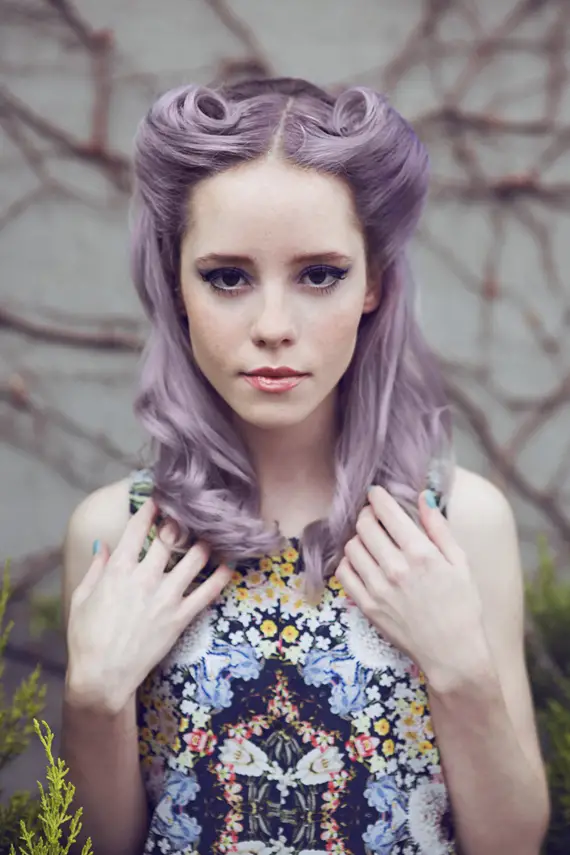 Here is how to dye your hair with kool-aid
1) You must start with clean hair. To ensure the best hold, wash with shampoo, then baking soda, and rinse well.
2) The formula for easy temporary hair dye is to mix one packet of unsweetened Kool-Aid with, 1/4 cup hair conditioner and 1 tablespoon white vinegar  To get this pretty color purple – mix 1/3 cup hair conditioner with 1 packet of blue, with half a packet red and 1 tablespoon yellow Kool-Aid, and a little more than 1 tablespoon white vinegar.
3) Cover entire head and let sit in hair for 60 minutes. Wrap hair up in a plastic bag and clip to save your clothes from being dyed as well.
4) Rinse well and style. A few big curls on top will give this dyed look just enough formality to make you party ready this spring.
A few tips and tricks when it comes to using kool-aid hair dye
First, to maintain the color for as long as possible its best to wash your hair with cold water. Hot water will dull your color a lot faster than a cool shower will. Now if you experience another "need to change my hair mood", there are a few easy solutions. My go-to hair color correction is baking soda and water. Treat yourself to a hair mask of equal parts, and that kool-aid hair dye will wash right out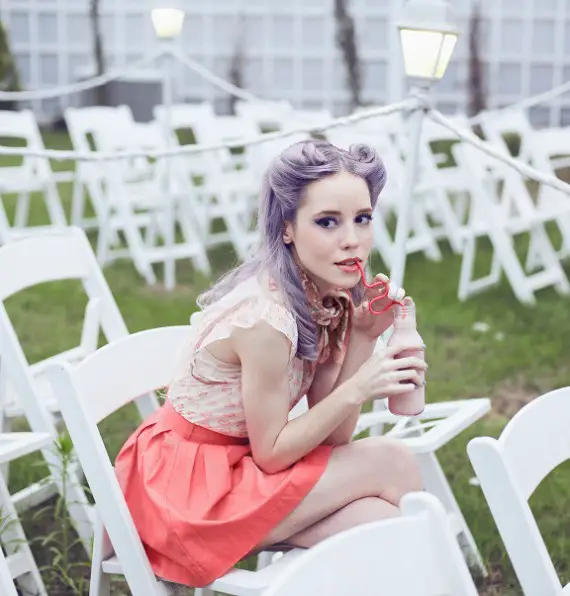 This tutorial seems perfect for the upcoming week of egg dying and pastel wearing. Instead of dipping an egg – why not dip your hair!?! I am a complete scaredy cat when it comes to hair dye, but this purple – I might really be able to get into. It is fun, festive, and TEMPORARY! Perfect for next months big birthday party.
Photography & Art Direction by Jesy Almaguer, see more photos from this beautiful shoot right here. Styling by Tere Prieto. Model: Marijose García.