This is a sponsored post written by me on behalf of Tyson Foods, Inc. All opinions are entirely my own.
As you all know, football season is upon us and we are all about cheering for our favorite teams. If you can't make it to the stadium throwing a "Homegate" party right where you are is the next best thing. Actually, in our opinion, it is even better! What is a homegate you ask? It's like a tailgate, but better… because it is thrown at home!
Which means all of the fun football cheer is had at home without the crowds, dust, flies and drunk guys you'd be hobnobbing with in the parking lot. It means you can decorate the space any way you want and set your food without having to transport and keep it warm on the way. Basically it's all the fun with much less hassle! YAY – team party at home! I'll always cheer for that.
To start off our homegate party right we created a football lover's spread. A charcuterie football field with chicken wings taking the place of fancy cheeses.
Chicken Wing Charcuterie Board
To create this look start with a green paper tablecloth. Use white paint (or white tape!) to get field lines in place. Then start layering all the goods. We mixed an assortment of favorite veggies with all the chicken wings. Have a salad on the side and some sauces layered throughout to give a fun party look. This can be served up in the center of any table at home.
For the chicken wings on our wing tray I will be serving up Tyson® Any'tizers® hot wings buffalo style, Tyson® Any'tizers boneless chicken WYNGZ* and Tyson crispy chicken strips, for the non-wing loving crowd. The Any'tizers snacks are incredibly simple to whip up in the oven and all specially marked Tyson chicken products (fresh/refrigerated/frozen) are raised with no antibiotics ever. They have no added hormones or steroids so I feel okay about the kids reaching for the 3rd helping of the party. ;)
Any'tizers snacks are made with white meat chicken in a variety of different sauces, perfect for any time. Crispy chicken strips are made with 100% all natural (minimally processed and no artificial ingredients) white meat chicken, fully cooked and fully crispy. Tyson® Any'tizers and crispy chicken strips are great for homegating and bringing friends and families together on game days. You can find them at your local Kroger or Kroger division store.
Serve the wings in small red plastic baskets with lots of napkins on the side – this is seriously one of the easiest and most fun party set-ups ever possible!
Here are a few other tips for throwing your epic homegate party!
Get the kids in on the fun!
Just because you aren't at the stadium, doesn't mean the kids can't get involved. Face painting, football crafting, even styling your nails, just so, can create a football memory that will be pure bliss. Why not take a cue from Tyson no antibiotics ever chicken products, and stick to all natural face paint in your team colors.
All Natural Face Paint
Here's our favorite all natural paint recipe to get everyone celebrating in style:
To make the fruit and veggie face paint you will need a tube of natural, non-fluoride toothpaste (Toms is a great brand to use). You can also find non-fluoride toothpaste in the toddler paste section, just be sure it is not flavored.
For the coloring; first pick out which colors you would like to use, then find fruits and vegetables that will produce the vibrant colors for you. The hues in these paints cannot be matched by stores and come out perfectly for rooting for your team at home!
Grind up the foods individually in a blender or food processor. Heat them in a sauce pan with 1/4 cup of water until boiled down into sauce consistency. Note: every food will be a different consistency, no need to worry about that. Add the sauce slowly to a 1/2 cup of toothpaste and stir until achieving the color you would like.
For the colors shown I chose: Blueberries – purple | Pumpkin pulp – orange | Graham crackers, dirt- Dark brown | Papaya – yellow | Strawberries, Raspberries – Red
Apply with makeup/paint brush for Halloween faces and be sure to never use a fruit if there is a known allergy to on your child's skin.
Alphabet Letter Ice Cubes
And don't forget to be creative with your ice cubes! Ice cubes that can cheer… Are always a great idea! And an easy one for homegating parties, since the freezer is right over there. Using an alphabet plastic ice cube mold we created a berry blend that pairs perfectly with anything fizzy.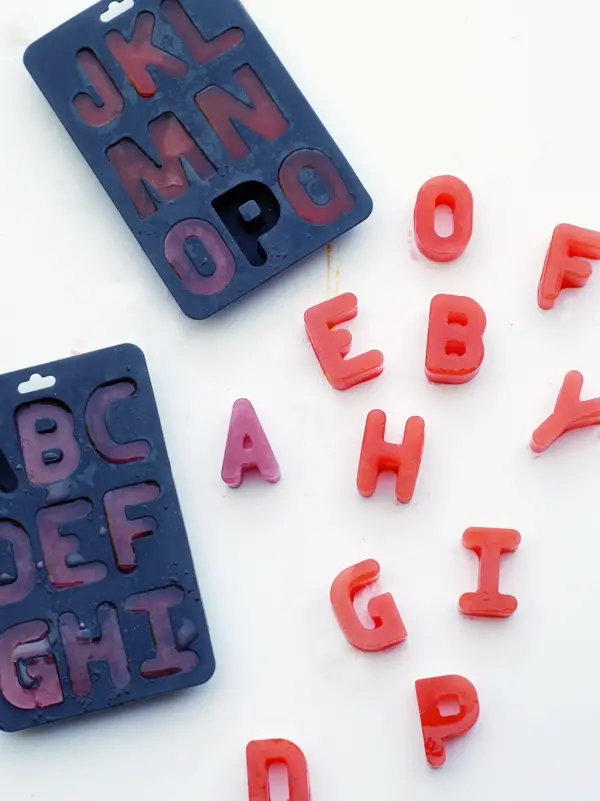 To make enough letters for a party, fill the trays a couple days before hand. As the ice hardens remove the letters and place on a cookie sheet covered with wax paper. Continue refilling and saving letters until you have the right amount for whatever it is you want to say. This party tip would be awesome to use for birthdays and hosting evening drinks also.
Set everything out and enjoy the game in the comfort of home with exactly the people you want around. This is a homegating party at its best!
(Photography ©A Subtle Revelry by Ashlyn Savannah Photo).