This post is sponsored by EDWARDS® Desserts. All opinions are my own.

We are in the final stretch of the school year and I have a serious case of summer-can't-come-soon-enough, get-those-kids-out-of-school mindset. I love summer for so many reasons, but this year having the time and space to host small gatherings and parties is top of my list. We have a weekly plan to have friends over and an easy way to win at hosting parties with ease by bringing a sweet dessert out, having simple games and serving something bubbly for the mommas to drink.
This simple plan plus a large umbrella and a lazy Thursday afternoon is exactly what I'm envisioning for our next couple months.
Hosting summer parties doesn't have to feel overwhelming. Win at them easily with a fail proof plan that you can pull out at a moment's notice. Here are 5 ways to easily win with your summer party plans.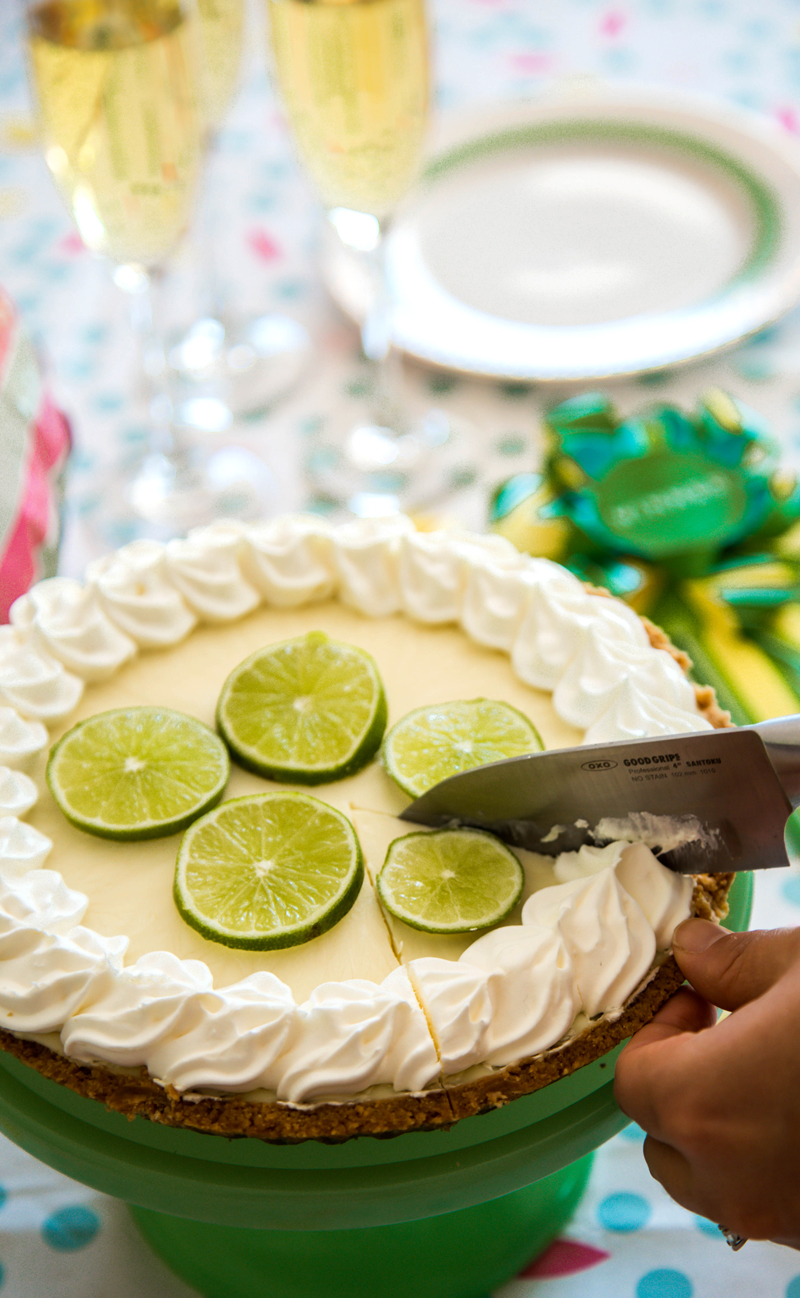 1. Bring the sweet out
Serving a sweet dessert will immediately liven up the party. Since no one wants to turn an oven on in the summer I reach for my EDWARDS® Desserts. This Key Lime pie is exactly the refreshing note I love to hit as the summer warms up and topped with a few freshly cut limes, the presentation looks as exceptional as it tastes. Since I don't enjoy loading my kids up with tons of sugary snacks, we keep our playdates healthy with one decedent treat and it makes it all the more savory to enjoy.
2. Paper tablecloths + nice dishes
As we prepare for summer I buy pretty designed paper tablecloths by the handfuls. They are less obnoxious than the plastic variety, but are just as easy for turning a peeling wood deck table into a party ready spread. I love a paper tablecloth in the summer because it takes all the work out, we can just roll it right up and toss it when the gathering is through. I do like to balance out the paper though by using my favorite dishes for serving treats in. I find that nothing quite gussies up an afternoon on the porch as well as classic dishes and glass flutes. Tossing then in the dishwasher afterwards is a small price to pay for making an afternoon feel more glamorous.
3. Pour something bubbly.
Whether it is sparkling cider for the kids or a Rose Cava for the momma's – offering up something that sparkles quickly turns the mood to festive. Especially on a hot summer days, a chilled bottle of bubbly and a cold tasty treat will make everyone feel like they are on vacation right in your backyard.
4. Keep a stash of balloons nearby
Our backyard is slowly turning itself into a kid friendly paradise, posts on that coming soon! In the meantime, we've found a package of 50 balloons will keep kids of all ages busy for hours. Blow them up to jump on the trampoline, fill them with water to play toss with, or bust out the helium tank for tons of outdoor fun. Balloons are possibly the most affordable way to make an ordinary afternoon something truly spectacular.
5. Produce a ribbon for winning
We all love to win at something. Make a stash of ribbons in all shapes and sizes to hand out before the party is through. We give awards for everything around here and the kids talk about it for weeks on end. From who cleans up the quickest to who can dance the longest. Everything's more fun when there is a ribbon to be won.
Start planning out your summer parties based on this plan and your house will be the house everyone wants to lounge at all summer long. It's easy to take the award as best summer hostess with EDWARDS® Desserts and simple hacks to make the awesomest days look effortless. Because in the heat of the summer, with the kids at our feet – effortless fun is what we need.
(Photography ©A Subtle Revelry by Ashlyn Savannah Photo).