Happy October! It's the month of spooky faces, pumpkin carving and… balloons! Pumpkin balloons you say? Absolutely.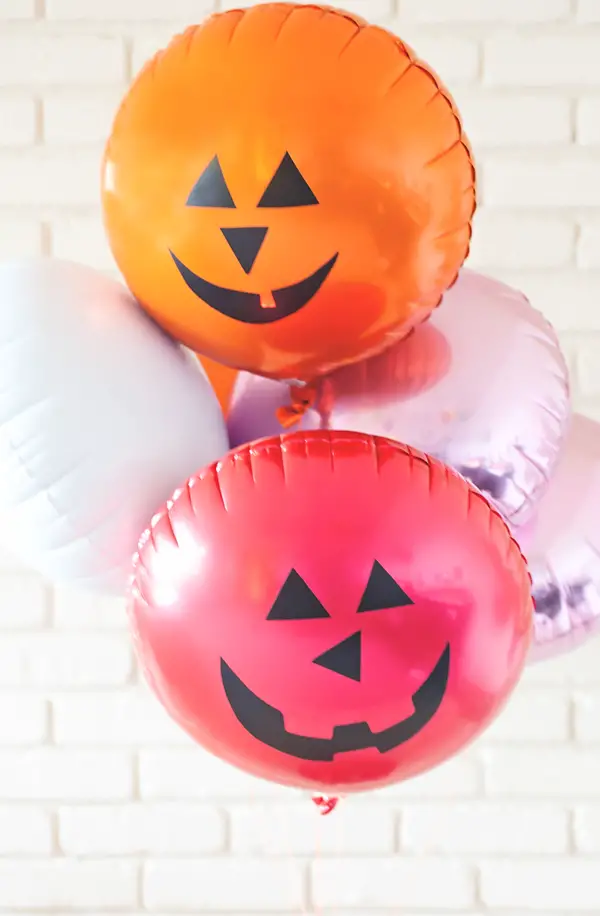 Pumpkin balloons are better than carving
Before grabbing that knife and getting pumpkin guts all over the house, try making a set of jack-o-lantern pumpkin balloons for the porch. They are bright, fun and WAY less work than pumpkin carving will be.
Not much makes kids happier than balloons – and you can trust me, I spend a lot of time around both kids and balloons!!!
As a general rule, balloons make every situation more happy and festive. And this fall, whether you are planning a classroom party at school or a chili cook-off at home, these bright jack-o-lantern pumpkin balloons will make your event so much better.
Follow along with the simple directions for these carved pumpkin face balloons and grab your own helium tank to bring the spooky spectacular fun wherever you plan to be.
These balloons are taunting you to grab a handful of balloons and get going, aren't they???
I quickly bore of the orange simple pumpkin carve which is why we've gotten crazy in the past with carving pineapples, making pumpkin party lanterns and office supply pumpkins.
But nothing… I say nothing… beats the bright fun of a jack-o-lantern balloon. Pick any color in the rainbow and let's get started making our own very colorful Halloween.
How to make a pumpkin balloon
The Balloon time helium tanks are great for parties on the go. Grab one and bring it right into the classroom at school (I promise the kids will freak!), or have it at home to blow up a balloon for each trick-or-treater – your house will quickly become the best stop on the block.
Anyway you use it the ease of having helium always at hand is one of those life necessities you quickly realize you always did need.
Jack-o-lantern pumpkin balloons DIY
To make the jack-o-lantern pumpkin balloons you will need:
Black contact paper, grab it at a local box store or order right here
Balloons, any balloons will work, but I especially love the look of doing it with 18 inch mylar balloons for the color selection and the size
A jack-o-lantern template
Scissors and a pencil
Step by step making pumpkin balloons
1. Create a jack-o-lantern face template with pencil and paper. This is a fun part of the process and every face can look a bit different.
2. Trace the template onto the contact paper and cut out.

3. Blow up the balloons with a Balloon time helium tank.
4. Place the cut jack-o-lantern face onto the balloon for a colorful Halloween spook.
Can I tell you how crazy excited I get to see bright, fun colorful ways to celebrate Halloween. They make me so happy!
PS. Bright cat garland and a balloon bouquet last-minute costume.
(Photography @A Subtle Revelry by Erin Holland).