All these fun luau party ideas have been sponsored by Kona Ice. All thoughts and opinions are my own.
Summer is coming and our parties are quickly moving outside. I love throwing a summer luau party outside when it's hot, and we've come up with a bunch of fun ideas for hosting one of your own. The thing I love best about a good luau is that it is crazy easy to pull together. No stress or sweating under the sun. Just god ol' fun!
Luau Party Ideas
One of my favorite ideas for hosting any outside party is to hire a food truck. It takes the stress off me for preparing the food and is a fun attraction as well. We had the fun chance to try out the Kona Ice® truck for our Luau party and it was so much fun! You can find your own Kona Ice truck right here and save now with this code!
We LOVE Kona Ice and how delicious and nutritious their snow-cones are, and we're so excited to have them come out to the house to help us celebrate our luau.
Did you know that Kona Ice snow-cones have 40% less sugar than a regular snow-cone and are sweetened with all-natural Stevia? That's right, a NATURALLY tasty snow-cone with vitamin C & D.
We worked with our local Kona Ice franchisee, Shanna, who was super easy to work with and made our luau an absolute hit.
The process of hiring the truck was super easy. They pulled up at just the right time and the wow factor for our guests was huge. I am already planning for the next party that we can get a fun food truck for.
Here's another couple fun ideas to try out for your luau party:
Luau party decoration ideas
I think for making any luau party fun, the decoration should be kept minimal but TOTALLY colorful!
A pretty yard is the first step to decorating your luau right and will make a big difference for the entire feel of the space.
Also, having the Kona Ice truck that was perfectly decorated for our Polynesian luau was a huge centerpiece to the entire event.
We also bought this cute honeycomb pig centerpiece because he was too cute not to buy. Lastly, rainbow grass skirts and leis covered every other surface we had to create a simple weekend luau for friends that was focused on treats and fun!
This Aloha decoration set would also be a fun element, especially if your luau party ideas included being indoors.
Luau Party Ideas for adults to enjoy
One of my favorite things about hiring out the Kona Ice truck was that they specialize in adult shaved ice. Think much more sophisticated snow cones. They had really fun grown-up flavors like Blackberry Mojito and Coconut Lime that everyone was excited to try.
Lavender lemonade was by far our crowd favorite of all the more grown-up flavors.
We had our own adult luau bar set up so that when we got the fun flavors of the Kona shaved ice, we could match it with the correct mix-in. The two favorite combos were the Mai Thai + Rum and the Watermelon Mint + Gin.
Having luau party ideas for adults as a twist to the everyday kid-focused luau was really fun for our friends to come enjoy and having the shaved ice as a starting point made the bar set-up WAY more fun.
Luau party food ideas
Along with the fun of the adult snow cones, which just screams Hawaii to me, the Kona truck also had a great set-up for the kids. They were able to get their own shaved ice and put whatever flavors in they could imagine!
Here are a couple other fun luau party food ideas to serve at your next summer party:
Luau party games
Since we all know any party is as good as the games to be played, here are some favorite luau party games to try for your next Polynesian-themed party: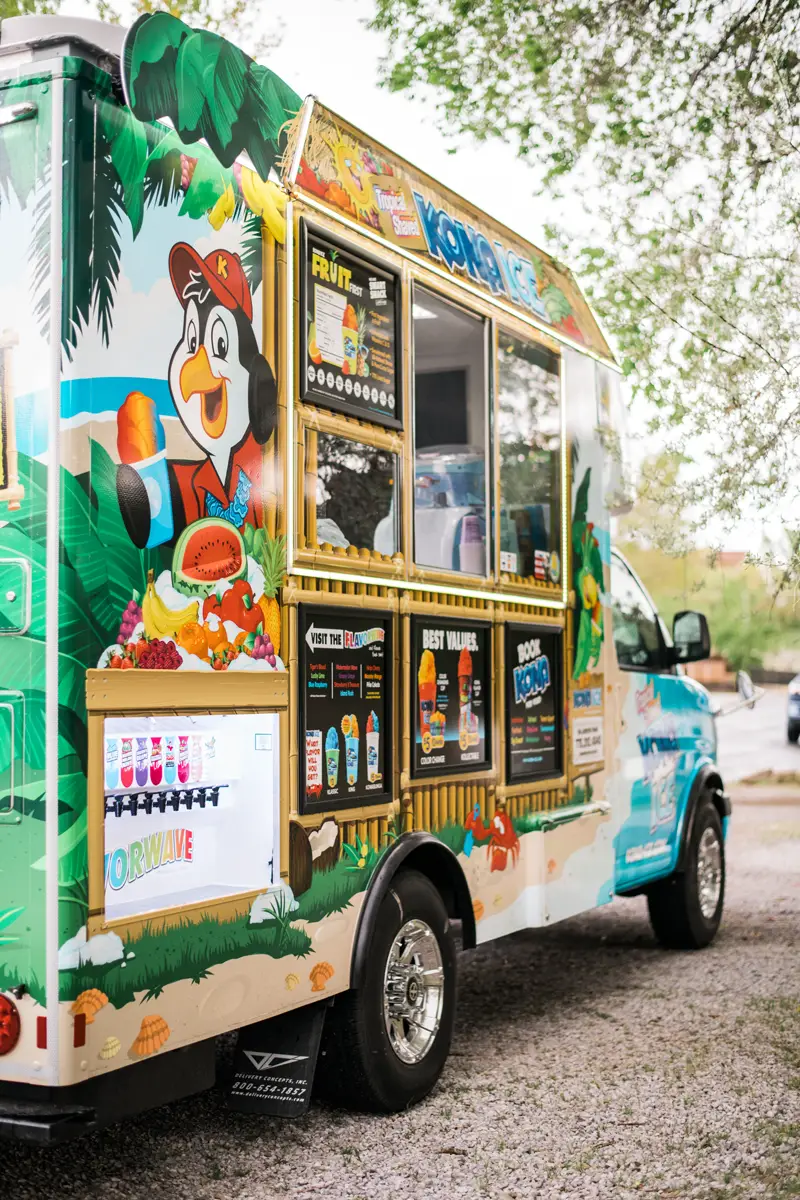 Fun luau party ideas
I mean really, could a luau be more fun than having the Kona Ice truck pull up outside your house? I think not!
But here are a handful of other ideas to make your next luau party the most fun one you've ever hosted.
PS. My forever favorite party hack for any adult party is to hire a babysitter! Your friends will love you for it.