This post is sponsored by Universal Pictures.
We are normally not a huge movie family, but school breaks always lend a chance for us to catch up on a couple, and we are all really excited to see the new Minions movie this week. I adore the storyline behind the silly front of the Minions… about adoption, and love, and family being family no matter what.
To share our excitement, I've partnered with Universal Pictures to host a summer backyard movie party. We invited a couple close friends, everyone got a fabulous goodie bag, we watched the first Minion movie, adorned a set of fun Minion goggles, and had banana bunt cake (in honor of a favorite household Minion moment).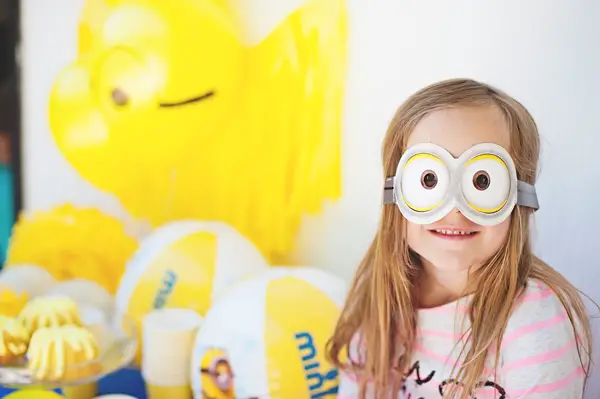 The party was decked in yellow everything! I blew up a set of Minion beach balls which anchored our party table and also gave the kids a moment of fun. We had my new favorite party garland and I made a set of Minion balloons!
The Minion balloons are a simple and fun party DIY. Get a set of yellow balloons blown up and use a sharpie to draw on the minion goggle eyes.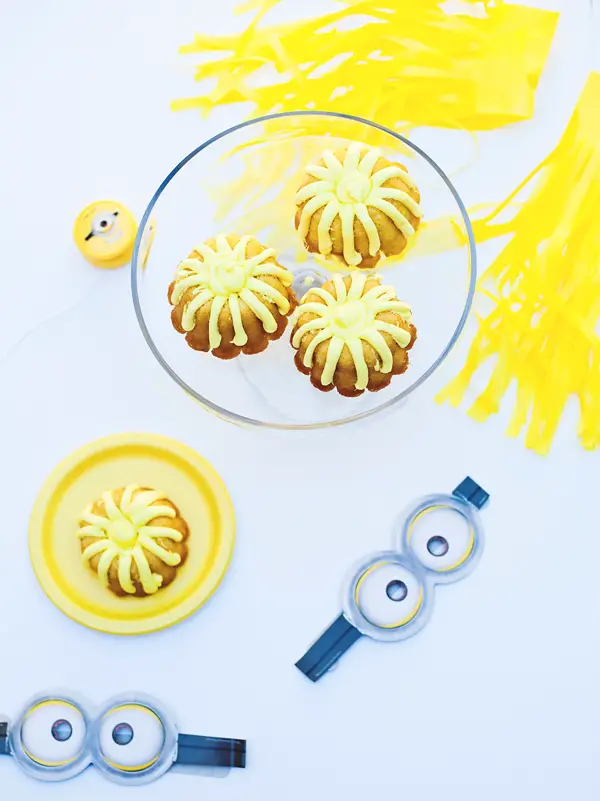 Banana bunt cake was a hit! I had our version made for us – since it is summer and I refuse to turn on my oven at all – but our great baking friend passed on her recipe so you can create it at home (when it's not 110 degrees!).
Minion Mini Banana Bunt Cakes
(Will make 5 mini bunt cakes)
You will need; 2 1/2 cups all purpose flour, 1 teaspoon baking powder, 1/2 teaspoon salt, 3 ripe bananas, 3/4 cups granulated sugar, 3/4 cups brown sugar, 2 sticks softened butter, 3 eggs, 1/2 teaspoon vanilla extract, 3/4 cup buttermilk.
1. Mix the first three dry ingredients together.
2. In a separate bowl mush the bananas up with a fork and mix in the butter, both sugars, eggs, vanilla and butter milk. Beat with hand mixer until well blended.
3. Fold in dry ingredients and mix until well blended.
4. Place the batter into 5 greased mini-bunt cake pans and bake at 350 for 20 to 25 minutes.
Once the cake is done, allow it to cool and invert onto plates or cake stand. Use your favorite frosting recipe – cream cheese frosting is especially good with this flavor cake. Tint the frosting bright yellow with food coloring for Minion worthy cakes.
The party gift bags were filled with glasses, beach towels, balls and even a Play-Doh set. The kids absolutley loved them.
We had a great time eating, playing and getting excited about the new movie release. Are you ready? The Minions have their own movie! See it in theaters July 10. Pretty sure you'll be able to find us all there opening day – wearing our paper goggles of course.
This post is sponsored by Universal Studios in support of the upcoming release of the Minions movie.
(Photography ©A Subtle Revelry by Erin Holland).