Inside: 20 Fun Movie Night Ideas
Going to the cinema to watch a new release is a fun and exciting experience, but it can be a hassle. The seats can be uncomfortable after a while, the queues are boring and there is always someone that insists on talking just as the movie is getting good. 
Why not make your own movie night where you can create an enjoyable movie experience without the negatives and all for a fraction of the price! Whether for friends or family, come up with movie night ideas that will put a smile on the faces of your loved ones. 
Read Related Article: Festive Friday: Girl's Night In
Let out your inner child with these fun and easy movie night ideas which will make you very popular among your family and friends.
1. Dress up
Why not dress as your favorite character from the movie/movies you are watching? What a fun movie night idea!
It adds a new level of fun into the mix as you and your loved ones dress as the characters from the movie/movies you'll be watching. You can re-use these costumes at fancy dress parties or Halloween and the kids can play in them whenever they like.
2. Personalized Entrance Tickets
Why not make the night feel more authentic by designing your own movie tickets and handing them out to your guests when they arrive.
It gives your guests something to take home as a memento of the night and is a great activity to do with the kids.  First, build up their excitement for it and get their creative juices flowing at the same time. 
You can design them on the computer or a tablet using drawing software.  Print them out, cut them to size and glue them to a card. You can buy some craft materials and get your hands dirty and really customize them as you like them.
3. Movie Snack Boxes
The sky's the limit with this one. You could go for a traditional style of movie snacks like popcorn, hot dogs and nachos, or throw a gourmet twist like using homemade versions like chili and lime popcorn, bratwurst hotdog with a brioche bun and nachos with homemade salsa and guacamole.
Or you could even throw out the traditional snacks entirely and make your own snack-boxes and add anything you like. You could prepare a cured meat and cheese box, fruit bowls or even try making street foods from around the world for a movie night your guests will never forget. 
This is another fun activity to do with children and letting them get excited to experiment in the kitchen with their parents.
4. Make Your Own Intermission
Intermission for the kids will give them the chance to get up, stretch their legs and get out some of their stored-up energy.
Just choose the right moment roughly halfway through the film, like just before suspenseful moments are ideal to let the suspense build up.  The opportunity for everyone to grab a snack and drink refill while they make the most of the toilet break. Particularly important if you are hosting a movie series or marathon. 
It also allows people to discuss what they think might happen in the movie and share their thoughts and feelings about the characters. If you are hosting a mystery movie night, then this is particularly fun to do.  
5. Get Comfy
One of the many advantages of throwing a movie night at home is that you don't have to put up with those movie theatre seats.  You can create your own cozy den to hunker down for the night. 
Throw on your most comfortable pyjamas, spread blankets and pillows throughout the room, and set aside a few more blankets if anyone gets cold during the movie. 
For that "movie theatre" feel, you could turn the air conditioning on 15 minutes before the movie starts to copy the temperature of a movie theatre.  It's a great excuse to cuddle up with your loved ones. 
Maybe you could try putting up some fairy lights around the space here and there to add an extra magical touch. No one will ever dream of watching a movie squished up on the sofa again!
6. Activity Sheets
This one always goes down well with the kids and helps keep their concentration on the movie. An example of what you could do is, if you are watching a movie like Toy Story, create questionnaires to keep the kids on their toes. "How many buttons does Buzz have?"  or "what color are Woody's eyes?" or maybe even "what is the name of the dinosaur?"
The possibilities are endless, which guarantees you many ways to keep the kids entertained. For an added level of competition, you could give a small prize to the winner like a coloring book or toy from the movie. Be sure to add consolation prizes to avoid any tears or arguments. 
7. Outdoor Cinema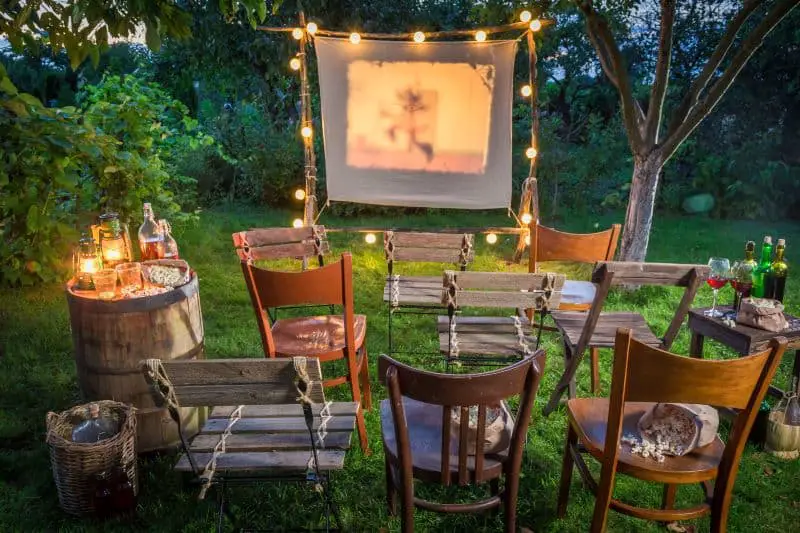 Make the most of those warm summer evenings and set up your own cinema outside! Set up a projector or move the tv outside. Set up the chairs or throw a blanket on the grass and add a makeshift concession stand for a truly unique movie experience that the whole family will enjoy.
Be sure to bring some blankets for anyone that may get cold in the evening and maybe a few pillows for added comfort. If it's particularly hot where you live, try making a homemade lemonade or ice tea to refresh your guests and keep them cool during the movie.
8. "Create Your Own" Popcorn Stand
Popcorn and movies go together like peas and carrots, but the same old salty and sweet flavors, although classic, aren't exactly memorable. Why not make your own flavors! This is one of the tastiest movie night ideas!
Try out garlic butter, bacon salt or your favourite spice mix to throw on instead of the standard varieties. Experiment with combining two or three different flavors to really mix things up. 
If sweet popcorn is your thing you could try making salted caramel, cinnamon sugar or butter Oreo to name a few. Let your guests mix and match for a popcorn experience they will never forget.
9. "Create Your Own" Hot Dog Bar
What's better than hot dogs at the movies? Offer everyone the experience to make their own custom hot dog for the movies!
Set up all your favourite sauces and topping.  Provide a range of hotdogs and sausages like smoked franks, bratwurst and veggie sausages. Prepare some toppings like sauerkraut, grilled onions and chili. 
Let your guests have a blast coming up with their own delicious combinations to enjoy while watching the movie. Be sure to provide plenty of napkins if you have any particularly messy toppings (or if kids are involved).
10. "Create Your Own" Nacho Stand
If nachos at the movies are your thing then this is a must. Set up a table with a selection of different tortilla chip flavors.
Get some good guacamole, throw some salsa in a bowl and open a tub of sour cream. Make a quick meat sauce, shred some American and cheddar cheese, break up some queso fresco and you are set. 
To add a special element to it, you can experiment by making your own tortilla chips, guacamole and salsa for a more gourmet nacho experience and maybe even make your own refried beans, chili or salsa verde. This is one of my favorite festive movie night ideas!
11. "Do It Yourself" Candy or Fruit Bar
An inexpensive and easy option that is popular for every kid and adult with a sweet tooth. 
Simply buy a range of candies or fruit from the store like Sour Patch Kids, M&M's, Jolly Ranchers, Gummy Worms or fruits like bananas, strawberries and watermelon for a healthier option. 
Be sure to cut the fruit into bite-sized pieces for your guests and add any other personal favorites. Set them up in a bowl or on a tray and provide your friends or family with a bowl to put any candy or fruit they like into it for a tasty sweet treat.
12. Personal Movie Snack Trays
You have prepared and served a mountain of delicious food and treats, but you don't want to risk getting your favourite blanket messy.
You can solve this problem by making your own easy snack trays that will accommodate the assortment of snacks you have provided while avoiding the potential mess of an accident. Make it big enough to put a variety of snacks but be careful not to make it too big to make it become cumbersome. 
You could simply cut the bottoms or the tops off a cardboard box and decorate them with some fun things like classic movie quotes like "you're gonna need a bigger boat" or draw a film reel or movie ticket. Your guests won't hesitate to grab whatever they like.
13. Home Movie Night
Invite the family over.  Dig out from storage any and all home movies to watch with your family. Being the star of the show and highlighting the particularly funny or memorable moments caught on camera are guaranteed to entertain the whole family.
Screen weddings, the kids' first steps and "that time dad fell in the lake" to create a unique family bonding experience that will cross over three (or maybe even four) generations. 
Make sure to bring out the tissues.  Be assured that nostalgia will take over and a few happy and sad tears may be shed. 
14. Home Drive-in Cinema
Even more fun than the movie itself is stepping up the activity with a car-themed movie night. A total favorite for the kids. 
Simply get a pen, a paper plate for the steering wheel, a couple of boxes and cushions and voila you have your own drive-in cinema. 
For added fun let the kids design their own cars that they can play with long after the movie night has finished.
Go ahead and take these cars outside along with a projector to create a more authentic experience for the kids.  For extra fun, enjoy the experience of different car themed movies like Disney's "Cars", "Herbie: Fully Loaded" or "Chitty Chitty Bang Bang". 
Read Related Article: How To Make A Movie Night Grazing Board + Free Printable 
15. Movie Favorites Marathon
Make a list of everyone's favorite movies on a piece of paper. Put each movie name on individual pieces and place the names into a hat.  Draw the names out of the hat. What you pick is what you watch.  

When you finish watching the first movie, continue drawing movies out of a hat as long as you want to continue the marathon. If there are names still in the hat then save them for another movie night to be scheduled at a later date.
This way everyone sees a movie they wish and enjoy sharing their favourite movie with their loved ones.  Enjoying movies makes a great excuse to throw another movie night than watching the other movies?! 
Establish this as a family tradition to enjoy together for many years to come.   You can change the theme to view action movies, animated movies or even musicals to name a few. 
16. After Movie Club
Talk amongst yourselves about the movie when the credits finished rolling.  What was everyone's favorite part? Who was their favorite character? Or scene? Why? 
Enjoy hearing everyone's point of view and discuss the ins and outs of the movie with them. It's a great way to teach kids the basics of analysis. They will develop a keen interest in movies as well as practice voicing their opinions to others.
It's also great fun for you and your friends if you want a deeper and more serious discussion about the movie's ins and outs.  This is also a great girls' night in activity. A wonderful way to continue enjoying the movie long after it has finished. 
17. Movie Singalong
If you are the type who enjoys watching a musical or movies with a lot of singing like Disney movies, for example, then print off the lyrics to the songs and sing along with the characters during the movie. 
This is nice light fun for the whole family and is particularly popular with musical families. You could each portray a character and sing their individual parts or the whole family can singalong together. 
Be warned though in between viewing these movies you may find that you are hearing the same songs sung on repeat around the house as the kids won't get tired of them any time soon.
18. Dinner and a Show
Invite your guests round to enjoy a nice homemade dinner before the movie starts. 
You could go an extra step and make dinner according to the theme of the movie. For example, animal-shaped foods when the movie of choice is The Lion King, Ice Age or the Jungle Book. 
Why not make tropical fruit punch when the movie is set in a jungle. Blue raspberry Kool Aid is a great idea for water-themed movies like the Little Mermaid or Jaws. 
Just be sure not to make the food too heavy because you don't want your guests to fall asleep just as the good part is on!
19. Custom Popcorn Boxes
Add an extra touch to movie snacks by offering your guests personalized popcorn boxes, or better yet, have the kids make them before the movie begins! 
Buy some cheap cardboard popcorn boxes (or make your own) and get creative customizing them. For your friend that says something that you associate with them, you can write it on their box. For the friend that always talks about their pet, draw it! 
20. Read and Watch
Is the movie you plan on watching based on a book? Do your kids love reading, or do you want them to enjoy reading more? If so, then why not read the book as a family in the nights leading up to watching the movie. 
What a great way to get the kids reading while also building up their excitement for the movie. For a more adult audience, you could ask your friends to read the book in the weeks leading up to the movie so you can all compare and discuss the differences after.
Let us know in the comments your favorite movie and favorite movie night ideas!