Every year I've wanted to throw a Christmas party, but my ideals always get lost in the midst of the twins birthday, cookie making, and present buying – so this year we've decided to throw a New Year's Eve Party. We will be celebrating East Coast style – since all our friends have little ones at home – meaning that we'll call it a night slightly after 9pm! I've been excitingly planning out all the drinks, food, and decor – which is why this last in our 2013 series of Party Hack posts with Smirnoff has come at the perfect time.
New Years Eve is an event everyone wants to celebrate, but it can be a hard holiday to really go all out for – since most of us are spent from all the Christmas hoopla. It's a perfect time for simple and stunning party hacks! The goal I have for all these ideas is that they can be done in under 10 minutes, and most of them with the left over supplies you have on hand. Making New Years Eve a bright and festive (and easy) party to remember.
No need for expensive drink markers when you can use colorful tinsel. Pick up a couple extra strands of this affordable tree decoration and wind different colors and different heights around each of your glasses. The result is a bright and pretty bar top where each guest will know which glass is yours.
The best part about colorful tinsel drink markers is that they are the perfect addition to fun and pretty drinks, like a Poinsettia Flurry. Here's how to make one: 1.5 oz. SMIRNOFF® Fluffed Marshmallow Flavored Vodka, 2 oz. pomegranate juice, 1 oz. sparkling wine (optional). Combine the first two ingredients in an ice-filled shaker. Shake thoroughly. Strain into a well-chilled martini glass. Top with the sparkling wine.
A second hack is to quickly make your drink display look brilliant, beautiful, and festive by topping each glass with sprinkles. Place a handful of sprinkles in one plate and a bit of water in another. Gently set down the glass in the water plate and then the sprinkles. Let dry for the pretty party look.
The sprinkle glasses are the perfect decor for a Snowday swirl. We adjusted Smirnoff's yummy Peppermint Swirl recipe to include a snowball of ice cream in place of the half and half. It tastes great and is a fun way to present the winter drink. Here's the basic recipe: 1 oz. SMIRNOFF® No. 21 Vodka, 1.5 oz Tonic Water, 1 snowball of moose track ice cream (or whatever type sounds lovely). Directions: Top the martini glass with sprinkles and pour in the Smirnoff, top with the Tonic Water and place snowball of ice cream over top of the drink to serve.
New Years would not be complete without festive party hats! I used our left over tinsel to create the fun New Years Eve crowns. To make them I bent floral wire into form, using one long piece and a couple others bent into different sized triangles. 
Once the wire is bent into shape, use hot glue to attach the pieces and then glue a layer of festive tinsel garland on the top. The crowns will look great in photos and will set a fun and festive mood for all your guests.
For our party I'm decking the walls with this glitter and tinsel garland. Make glitter letter garland by cutting out letters and using spray glue/glitter to top them off. Or purchase the letters (since they are being sold everywhere now) and add your own embellishments – glitter, tinsel and the like. Adjusting the project to simply adorning letters will save you time and not sacrifice your festive, homemade style.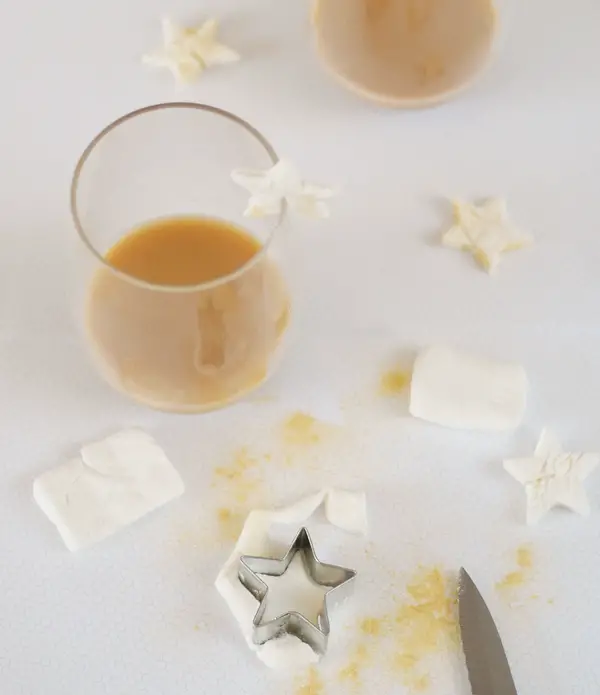 Making marshmallow stars with a dash of baking glitter is a fun way to top a rich holiday drink. I found a package of flat marshmallow (or you could use a rolling pin to flatten down regular ones) and used a small cookie cutter to make the stars. A dash of baking glitter brings them festively into the night's celebration.
The marshmallow stars are amazing paired with Smirnoff's Gingerbread martini. To make it you'll need 1 oz. SMIRNOFF® Iced Cake Flavored Vodka,1.5 oz. BAILEYS® Original Irish Cream, 1 oz. half-and-half cream. In an ice-filled shaker combine all the ingredients and shake well. Strain into glass and garnish and/or rim glass with marshmallow stars.
It wouldn't be a New Years party without a bit of disco and bling! I used glass ornaments and large chunk silver glitter to make these festive homemade disco balls. They're perfect for party favors and for hanging in little bunches around the party room. The silver flakes pick up the Christmas tree lights perfectly, making for a pretty disco show around the room.
One of my best "throw a party at any moment" supplies in my arsenal is a collection of clear plates. Since the plates take the form of whatever is showing through – they were the BEST party investment I've ever made. No matter the holiday, all I need is a festive napkin or cloth underneath and the plates quickly take form. I love the look of bright festive bunting and a sprinkling of starry baking glitter to showcase my New Year's Eve appetizers.
For the easiest decorations in the house, I am getting balloons filled and finishing them off with tinsel garland. The look is seasonal, fun and an instantly festive way to fill a room.
Sitting below the tinsel balloons, we are topping a drink with glittered star toppers. These stars are so simple to throw together. I cut off the glittered stars from a selection of that gaudy Christmas wreath garland (that can be found everywhere this year), and winded them around small skewers before placing the the drinks. Just be sure the skewer is what goes in the drink and not the glitter (since it isn't edible).
We used the toppers to fancy up a Smirnoff Peppermint Swirl Martini. To make it you'll need 1 oz. SMIRNOFF® No. 21 Vodka, 1 oz. BAILEYS®, 1 oz. half-and-half cream and a splash of Creme de' Menthe. Combine all the ingredients in a shaker with ice. Shake well. Strain into a well-chilled glass. Rim glass with glittered stars and twist.
An finally, to ring in the New Year we will be lowering this 3 foot black balloon etched with candy wrapper foil for our countdown ball to the new year! The large black balloon being lowered during our countdown brings a huge dose festive fun and sends a welcoming note to the year to come. Make it by having a 3 foot balloon blown up at your local party store. Using candy wrapping foil, cut out the numbers and use Mod-Podge to attach.
I know there are a lot of you out there – LIKE ME! – too scattered to pull off a Christmas party, and too tired to throw together a New Year's Eve party. Hopefully these party hacks that encourage us to throw something together, and inspire us to do it quickly, easily, and beautifully.
This is a sponsored post by Smirnoff. They kindly provided product for all the photos. All NYE party hack ideas and photos by Victoria Hudgins. Thanks for supporting our sponsors. Drink responsibly. xoxo