One of the questions I get asked most often via email is, "what are some ideas for great shower games." It seems that whether throwing baby or bridal showers, coming up with activities that are not annoying – and still give the air of festiveness to the day – are hard to come by.
Here is a simple idea for a baby shower: decorating onesies! Included are a couple hints to do it in a way even the most trendy attender will be happy to participate. Plus, the mom-to-be will love showing off her new bundle wrapped up in one of these designer looking baby suits.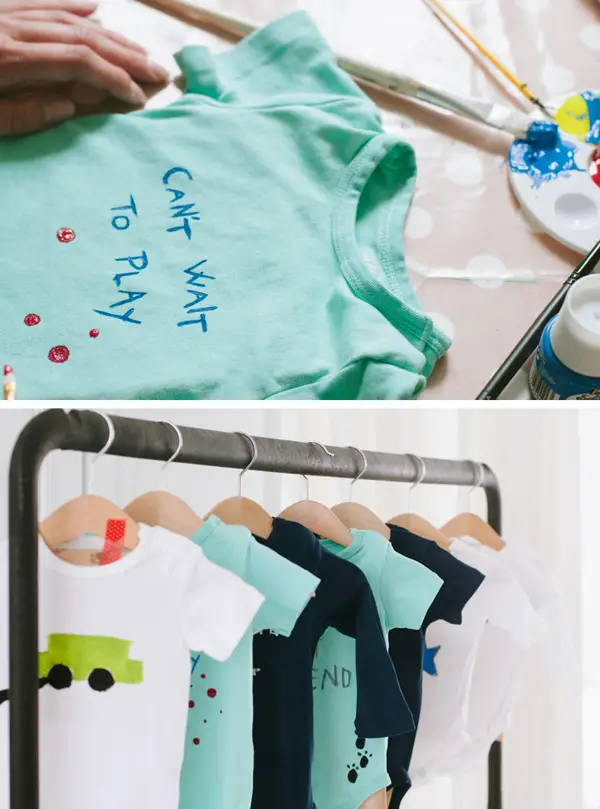 Set up a onesie painting station by covering a table with a pretty but disposable cloth. One of the tricks to turning this activity into a guest and mom-to-be favorite is by expanding the option for painted onesies beyond short sleeved and white. Try long sleeves, colors and even patterns for trend worthy creations.
For the paints, the color selection makes all the difference. Invest in a couple bottles of good quality primary colors. Add extra details with fabric markers for writing and textured paints. Lay out art palettes along the table to encourage custom made colors and be sure to have a selection of good tipped paint brushes available. Encourage your guests to add typography to the onesies with a few simple to copy sayings laid out on the table.
Be sure to provide a hanging rack and hangers to allow the onesies to dry and the mom-to-be to thumb through them ohhing and ahhing over her favorites.
Project design + photography by Tina Fussell for A Subtle Revelry.