It's finally starting to warm up where I live and that means cocktails on the deck are coming soon! We made a fun variation on this classic Paloma Cocktail the other night and it was amazing. It's one of those drinks that pulls together so easy and tastes so good – everyone will be amazed at what a a great bartender you've become.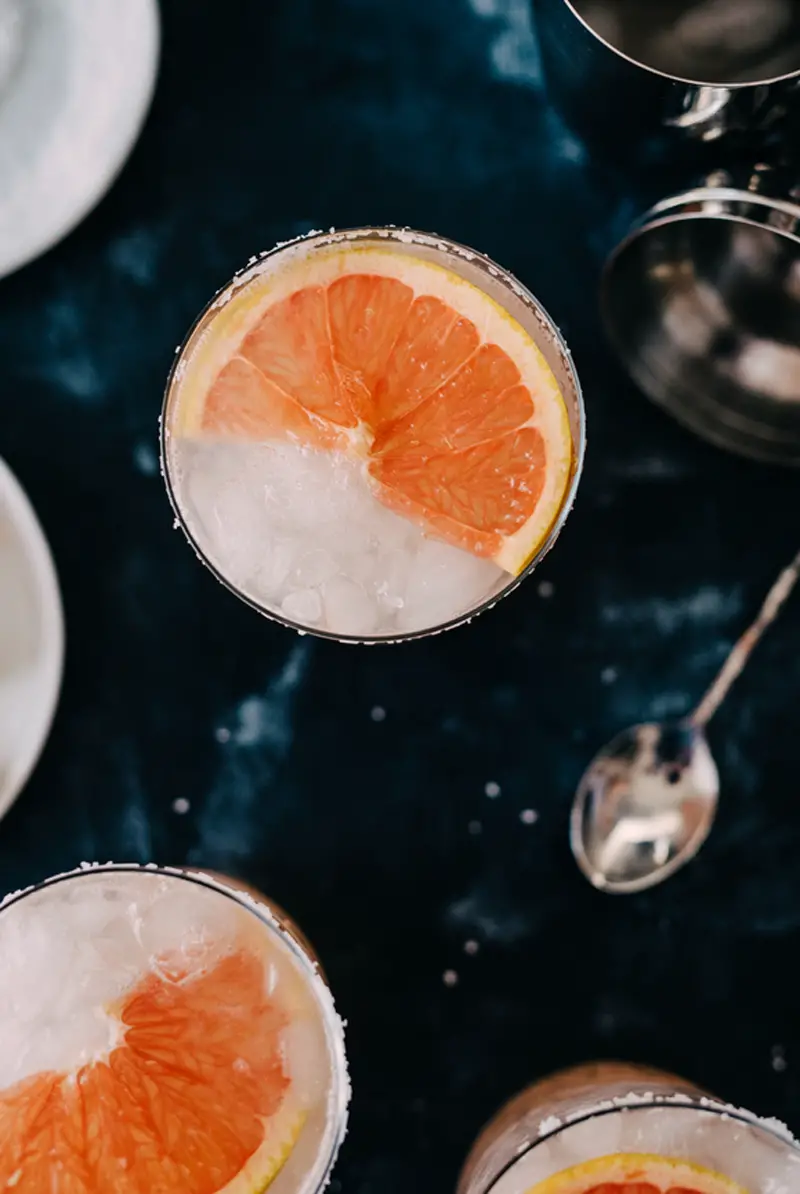 Paloma Cocktail Recipe
A Paloma cocktail is like a margarita with a little added spunk to the mix. It's a refreshing fruit forward drink that immediately brings to mind warm summer nights ahead. Light to sip on, it's perfect for the season. And a mix of the salted rim + the sweetness inside makes it a crowd favorite every time.
Normally a Paloma Cocktail recipe calls for grapefruit soda, my favorite for this is Jarritos which makes the drink taste truly authentic. Buy a pack online to have on hand or you can find this in the Mexican food section of most supermarkets. Squirt works as well to mix the drinks when Jarritos is unavailable. When I make the Paloma with Squirt, I tend to also squeeze a little grapefruit in at the end just to add an extra kick to the drink.
Paloma Cocktail
A refreshingly modern take on a beloved summer drink.
Ingredients
2

oz

Tequila

2

oz

Grapefruit soda

1 /2 oz

Fresh lime juice

1/4

cup

Crushed ice

2

Grapefruit slices for topping

Kosher salt for the rim
Instructions
Gently wet the glass and rim with good quality Kosher salt.

Combine the Tequila and lime juice in a glass and stir.

Add crushed ice to the glass.

Top with Grapefruit soda and grapefruit slices.


How To Pick Great Tequila
Much like any margarita made at home (have you tried our cantaloupe margaritas?), a great Tequila is essential to the drink quality and taste. While all Tequila's are technically Mezcal, not all Mezcals are Tequilas. Make sure when you choose your bottle you are picking one that is 100% blue agave to be sure yours is the right selection.
Also try to stay away from Blanco for this recipe. Blanco simply means the aging time for the Tequila was very limited. Instead opt for a bottle labeled Reposado or Anejo for a better cocktail experience.

Paloma Cocktail Variations
1. The most obvious way to create a Paloma cocktail variation is to go virgin with it. To do this, don't just leave out the tequila. Instead replace it with a flavored simple syrup. This will ensure the cocktail holds up to the taste of the grapefruit soda even without the alcohol.
2. The second variation we've tried when creating this cocktail is to add extra spunk to the drink with a champagne mix. Champagne… always!
For brunch try out replacing the grapefruit soda with champagne and then adding 1 oz fresh squeezed grapefruit juice to the mix. Serve this version in a fancy flute for an afternoon drink that is smashing for spring bridal showers and birthday brunches alike.
Anyway you make it, the Paloma is my new favorite drink of the season! Try it out and see…
Cheers!
PS. And while your at it, try out one of these boozy punch recipes or fizzy gin recipes for spring.