Inside: The perfect Easter bunny craft for preschoolers, including the cutest bunny head mask ever!
In no time Easter will be here. Adding in pretty and colorful handcrafted elements can make the day more festive. These Easter paper bunny heads are perfect for the special brunches coming our way. Set a kid's table with them or hang a selection of bunny heads on the wall for a colorful and pretty backdrop to the day.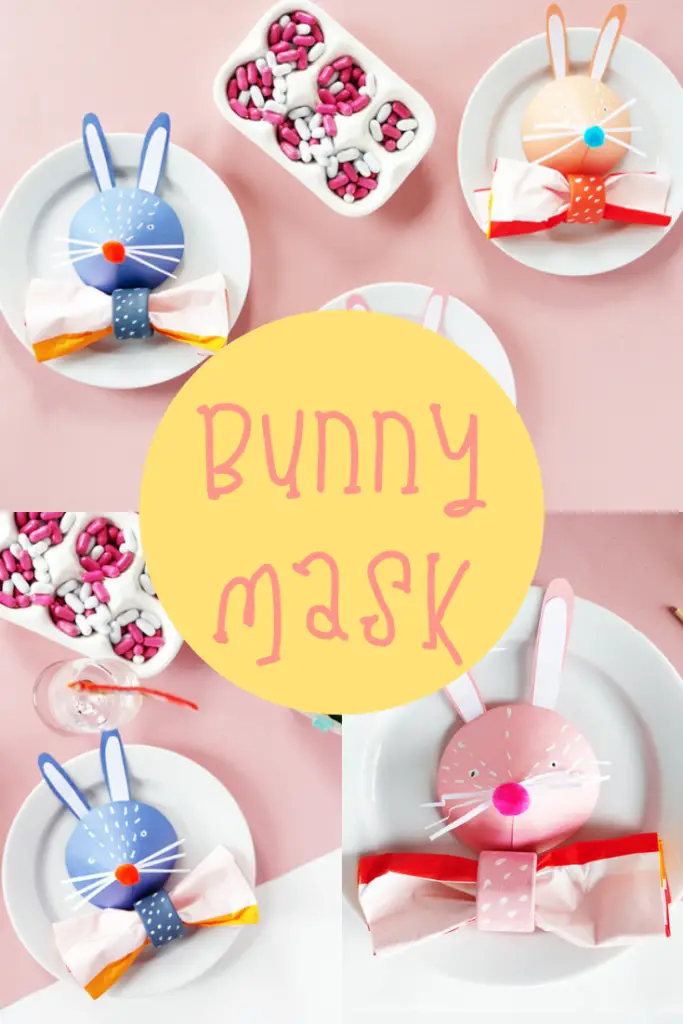 This DIY bunny head mask is for sure highlight the table and brings some serious colors and fun. After all, Easter is my favorite holiday to play it up with fun colors, textures and designs.
A few of my Easter table favorites
I love decorating my table with fun and festive decor. Which is why I love this adorable Easter bunny crafts! But here are a few more fun ideas for your Easter table!
Easter Bunny Supplies
To make these adorable bunny head masks you will need:
Construction colored paper

A glue gun

Double sided tape

Scissor

White and black markers

A compass

Craft pompons
How to make a bunny head mask
Use the compass to draw a circle out of the colored construction paper or trace a bowl to get the same look. Then draw a triangle from the center, as shown above.
Cut out the circle and the triangle. The larger the circle is the larger the mask will be.
Cut out 2 bunny ears per mask (in the same colors as the circle). From another shade of color (can be white or another color) re-cut, smaller ears for the centers and glue them to the bigger ones.
Finally cut 3 large skinny strips for the whiskers.
Now it is time to glue all the elements together. Start with connecting the back of the mask with double-sided tape. Then glue the ears to your mask. Next glue the pompon to the whiskers and finally to the bunny mask.
With these simple and colorful paper bunny head masks decorating an Easter table can be great fun. You can also attach a small string to the backsides to hang a configuration of the masks on the wall for a whimsical backdrop to egg hunts and brunch. This is also such a great east bunny crafts for preschoolers. It's so simple and they will love it!
(Project styling & photography ©A Subtle Revelry by Marie-laure Pham).