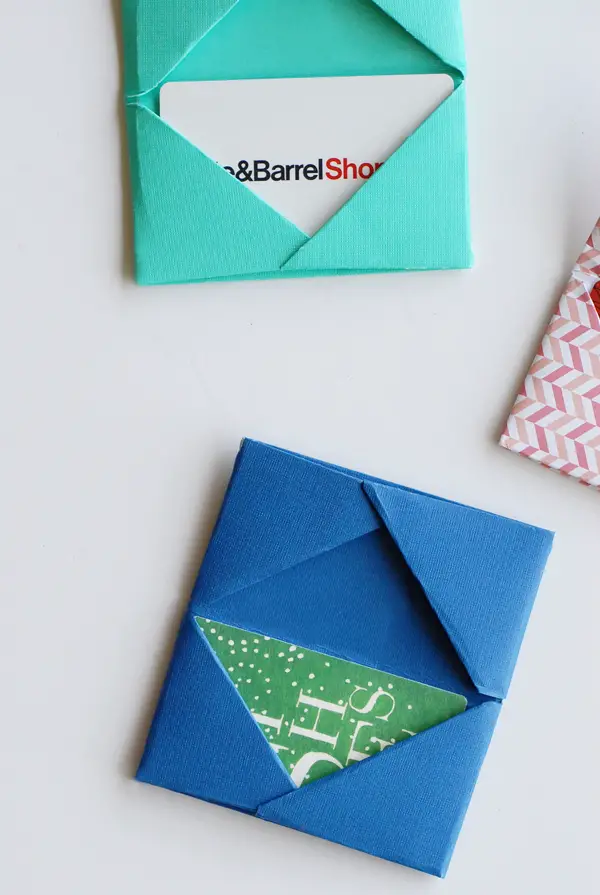 Gift cards have definitely become my gift of choice for so many events, from weddings to birthdays. I love seeing friends' faces light up when receiving gift cards to their favorite shops (and let's be honest, they're my favorite gift to receive as well!) The chance to go and pick out any goodies I want – it's a sweet present indeed.
The only problem with gift cards is that they can feel rather impersonal, but luckily, just a little bit of crafting can go a long way. I've been having a blast making homemade gift card holders. They are so simple to fold, and can be easily personalized with fun paper. A festive, custom way to wrap a gift card.
I know the word origami can make some of us run for the hills – because folding paper that way just doesn't sound right. These holders though are super basic and a great project to tackle with that extra 5 minutes before heading out to the party. I've already made a stack in advance for our bundle of upcoming birthdays. Read more with step by step DIY photos.
PS. A gallery of festive present wrapping ideas, in case gift cards are not your favorite gift to give.