Having a snack that pairs well with your drink can set the stage for a party filled with festive fun. When our drinks and food mesh well, the combination can be even better than either of the elements on their own. And sometimes we surprise ourselves when flavors we never thought would go together, actually do! Just like our bacon caramel popcorn recipe, it's suprisingly wonderful and delicous!
Here are a few more party treats that are tasty and sweet
The sweets don't end here with our bacon caramel popcorn recipe, we have tons more! Some salty and some sweet but all are very delicious, here are a few of my favorites..
How good are you at pairing your food and drinks?
Besides the obvious (pasta & wine!), I'm often not sure about exactly which drinks to pair with which food. The taste palate can be hard to navigate, which is why I was thrilled to try out the site, Pints and Plates. We used their pairing guide for a recent ladies night. I got a few friends together to wrap presents and enjoy a new favorite snack/drink pairing.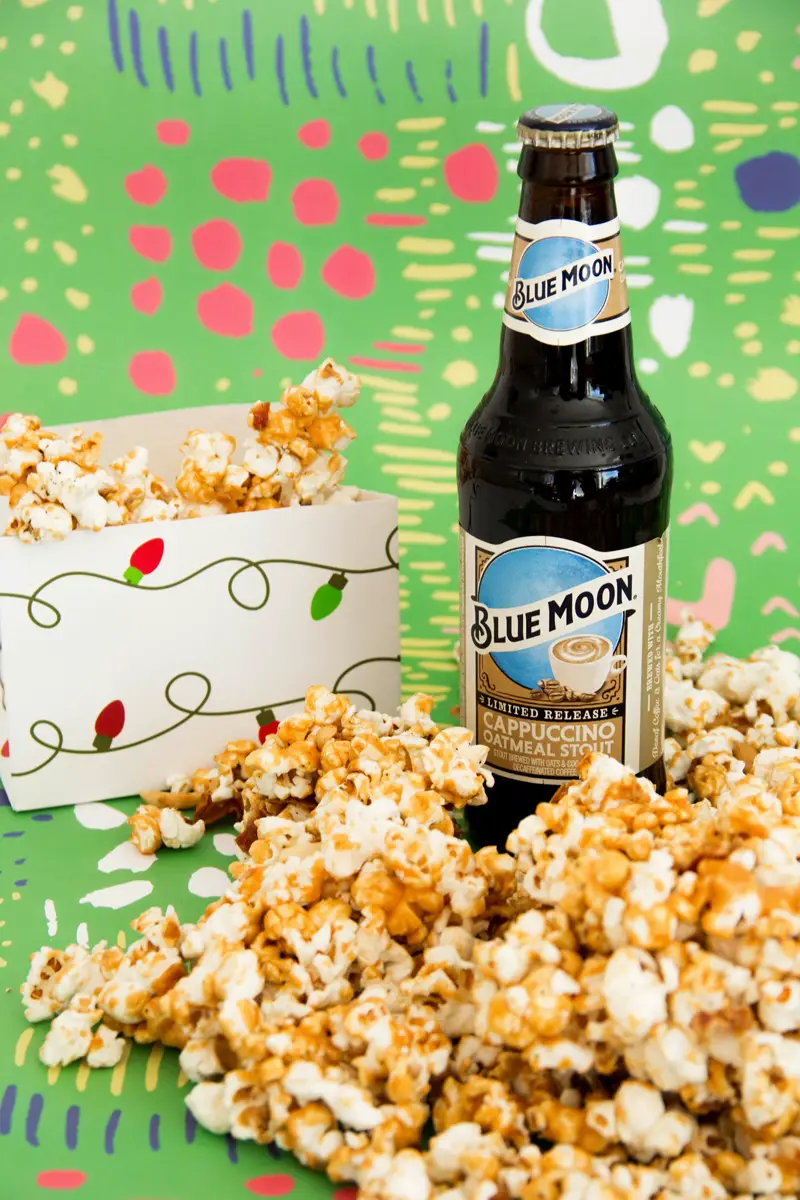 To create an easy serving solution for the bacon caramel popcorn, I cut down gift bags to serve in. They are an instant way to reuse a pretty paper bag and serve any type of party snack.
I had a blast exploring the entire Pints and Plates site. I love their commitment to a seamless entertaining process. Pick a recipe (they all look amazing) and the site will tell you which beer style to serve with it, and they even share tasting notes as to why the two pairs well together.
We tried out a couple recipes and this bacon caramel popcorn was an instant party favorite. The pairing was really good – the roasted flavors of coffee and cocoa in Blue Moon Cappuccino Oatmeal Stout perfectly complement the tasty popcorn that is a mix of salty & sweet. It's an awesome pairing to serve at any holiday party.
The Best Bacon Caramel Popcorn Recipe
This bacon caramel popcorn recipe is the perfect sweet and salty treat for all your holiday parties.
Bacon Caramel Popcorn
Here's what you need in making the Bacon Caramel Popcorn
Total Time
1
hour
15
minutes
Ingredients
2

tbsp

canola oil or bacon renderings

1/2

cup

corn kernels

1 1/2

tsp

salt

1/2

cup

salted peanuts

roasted

6

slices

fully cooked bacon

chopped

1/2

cup

granulated sugar

1/4

cup

water

2

tbsp

light corn syrup

1/4

cup

heavy cream

1/4

tsp

baking soda
Instructions
Preheat oven to 250°F. Arrange two oven racks in the top and bottom third of the oven. Line two rimmed baking sheets with parchment paper.

In a large pot with a lid, heat oil over medium-high heat. Place 3 kernels into the oil. Once the kernels pop, add the remaining kernels to the oil. Cover but keep the lid ajar to release steam. Once the kernels begin to pop, gently shake the pan over the heat until the popping slows. Transfer to a large bowl immediately and season with ½ teaspoon of salt. Add peanuts and bacon and toss to combine.

In a saucepan, stir to combine sugar, water, and corn syrup. Bring to a boil over medium-high heat and boil for until the color changes to a deep golden, about 5 minutes. Remove from heat and add cream, the remaining teaspoon of salt, and baking soda, stir well. Pour mixture over the popcorn and stir until the popcorn is coated. Divide the mixture between the two baking sheets.

Bake for 1 hour, stirring every 20 minutes. Allow to cool completely and serve immediately. Can be stored in an airtight container in the refrigerator for up to 2 days.
Check out the entire site for all your holiday party prep – from dinner parties to wrapping nights – they have you set!
(Photography ©A Subtle Revelry by Ashlyn Savannah Photo).
This post is done in partnership with Pints & Plates, one of my new favorite websites.