Inside: DIY Easter hats with plaster of Paris flowers.
Turning a party hat into something special can be done in so many different ways; tulle poof party hat, felt star kinds birthday hat, and disco ball headband are a few of my favorite options. Not much beats a huge flower though, and when placed on a hat made with plaster, it becomes a memento you will want to hold on forever. These DIY Easter hats are a sweet idea for creating a special birthday girl look that will become a pretty treasure from their special day.
Create these DIY Easter hats by taking a regular party hat and dipping it into Plaster of Paris. I learned so much about working with Plaster of Paris while creating Materially Crafted. Although the material seems scary to work with, it is actually easy as pie.
Here are a couple of tricks for working with Plaster of Paris
Make sure the bucket you use is large, deep and toss-able. Once mixed the plaster is quite messy and can end up spilling if not contained properly. An old trashcan or another long deep container that you can throw out afterward makes it incredibly easy to work with.

Save those nails… wear gloves! Plaster coated nails will never be the same again – just take my word for it.

And please always add the water first. The directions on your box are going to tell you to add the plaster first. Just don't listen to that craziness. It is 1 million times easier to stir if you add the water first. I promise.
DIY Easter Hats
To make these DIY Easter hats with plaster of paris flowers; start with a paper party hat (here's a paper hat template to make one at home), or use any purchased paper party hat.
Mix the Plaster according to package directions, taking into account the helpful plaster of paris tips above. Holding the hat by the string dip the hat fully into the plaster mixture. Remove and let drip dry for a moment and dip again. This is the best way to get full coverage – dip each hat a couple of times until it looks sufficiently covered.
Create the ruffle DIY Easter hat design, or the plaster hat bows, by following the same instructions with a bit of fabric, secure onto the hats with plaster (wearing your nail saving gloves) while everything is still wet
Hang by the string in a dry room to set the plaster. Note: if you are doing this part in your garage or basement the room temperature must be above 55 degrees to set the plaster properly.
Once all the DIY Easter hats have been dipped and dried. Begin placing the plaster of pair flowers on the hats. A small dab of hot glue on the flowers will set them in a gorgeous party style. Tie hats with a bright colored ribbon to finish each one off.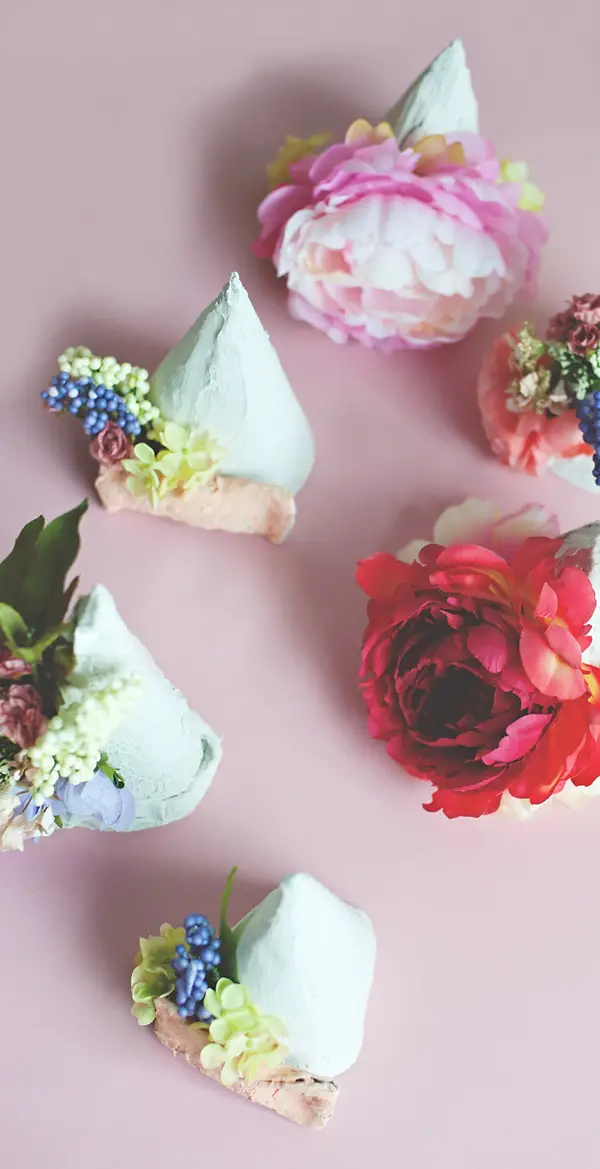 These DIY Easter hats with plaster of paris flower are perfect for you Spring get-togethers! And will add a fun festive flair to your Easter celebration!
(Photography © A Subtle Revelry by Erin Holland.)