Continuing my obsession with creative no-dye Easter egg ideas, I painted a dozen eggs using my favorite painting technique – eraser painting. Which I love because it is just the easiest! Adding colorful polkadots to our eggs in a sporadic confetti like design makes for a festive way to decorate the eggs, and shows off their natural side with style.
To make the polkadot painted Easter eggs, use a pencil top eraser and a few shades of pretty paints. Start by boiling the eggs. Let the eggs fully cool and completely dry before applying the paint to the egg shells.
Dip the eraser top in the paint, dab on a paper towel, and start painting stamp dots right onto the eggs. I love the look of the colorful polkadots on natural brown eggs, but they could definitely be dyed first for even more bright Easter fun. Fill in the polkadots completely with the paint, or leave some outlined for a whimsical touch. Allow to dry for a couple hours before handling the eggs.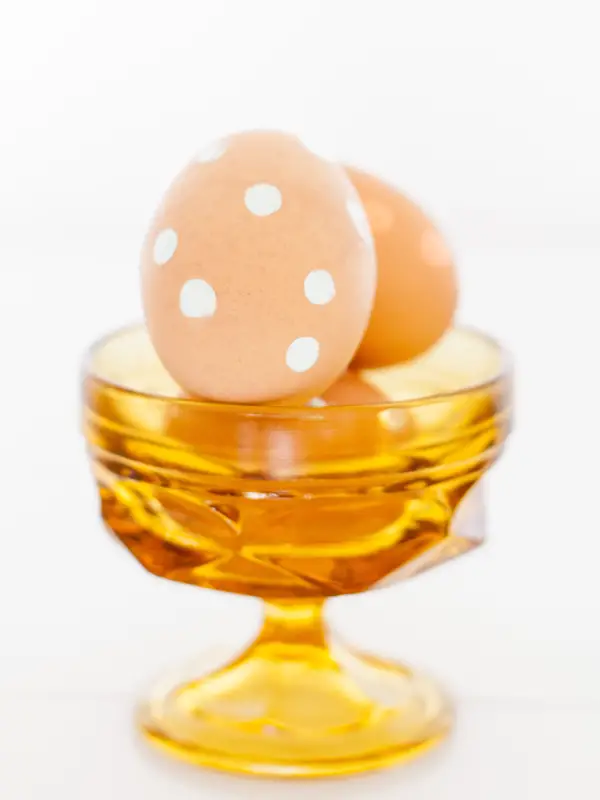 Display the eggs in small cups, ramekins, and vintage ice cream dishes for a festively pretty spring display.
Photography by Jocelyn Noel Photography for A Subtle Revelry.