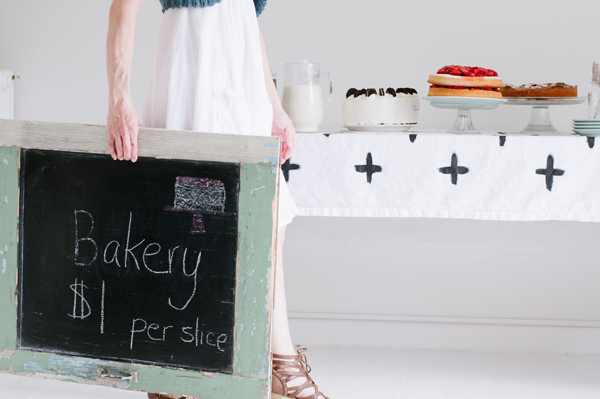 Summer is nearly upon us and along with it long, sunny days perfect for a pop-up bakery stand. The concept is a fresh take on the everyday lemonade stand and is a simple way to get the whole family involved in baking and running a shop.
It doesn't take much to have success with a bakery stand – bake some pretty cakes, grab a bold and graphic tablecloth, and hit the streets! Set up the pop-up bakery in front of your house and share your sweets with your neighbors (we are thinking this would be a great way to welcome ourselves to our new street).
Tina decided to sell her cakes to help raise money for a training program for the homeless in Copenhagen. The kids had a chance to be a part of a successful shop set-up and get the value of seeing their earnings go to help several in need locals be able to get job training. I don't know what you have planned for summer vacation, but this seems like a great idea to take up an afternoon.
If you love the idea of the pop-up bakery but need a bit of help with the recipes, here are three of our favorites! The first is a vanilla bean pound cake which is light and perfect for summer.
An Oreo cake, for any chocolate lovers made using this simple recipe and throwing crushed up Oreo cookies inside.
This last one is a Swedish cake made with apples that is a fun alternative to apple pie for a traditional (but also creative) bakery feel.
Project design and photography by Tina Fussell for A Subtle Revelry.