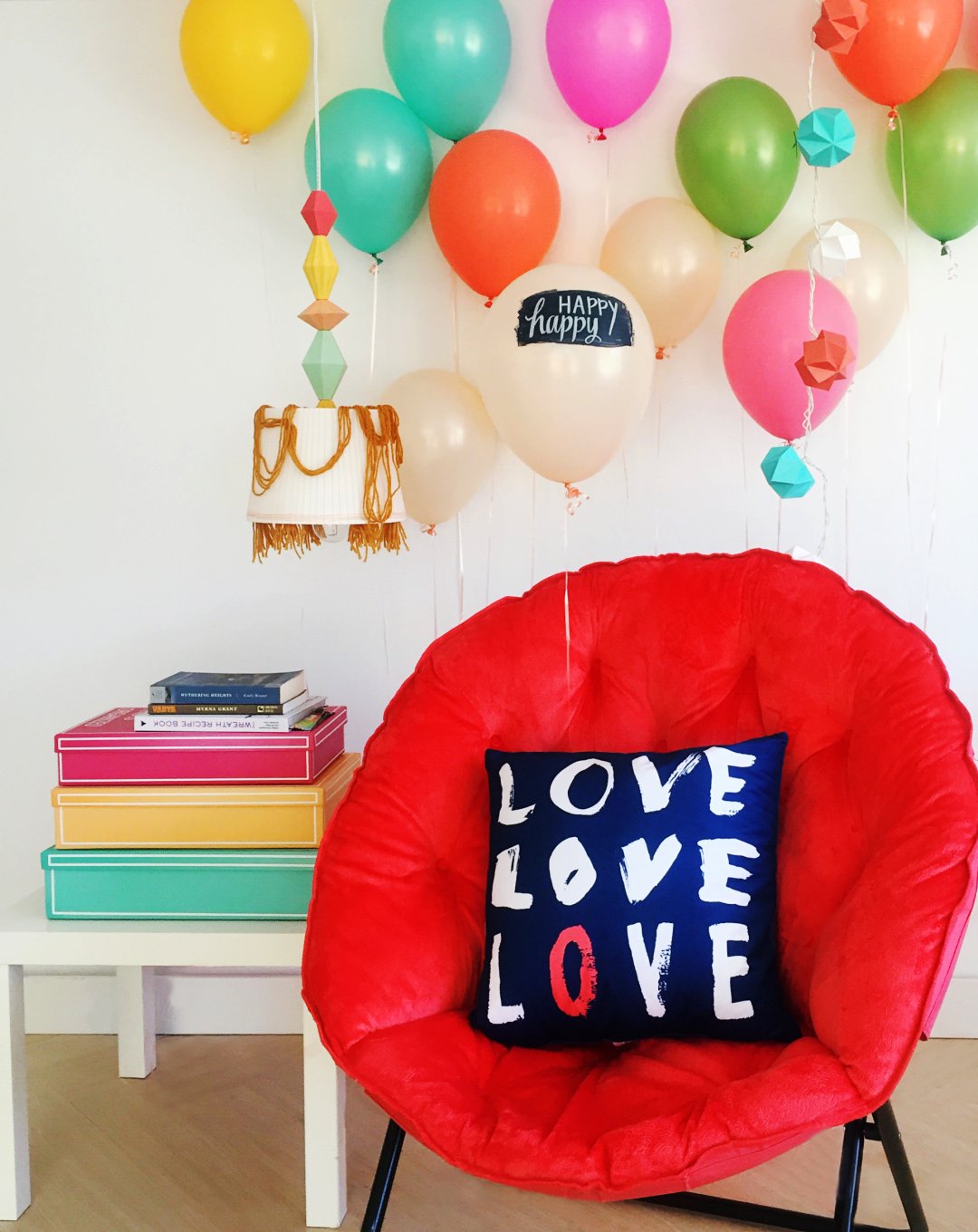 Have you noticed that ALL the summer stuff is gone and the back-to-school stuff has made its way to the shelves at the stores this week. Every summer I'm astonished at how fast this happens! As much as I want to hold onto summer, I'm also super impressed with the back-to-school selection at some of my favorite stores. So I gave in and started a little but early this year… Tell me I'm not the only one!?!
To help get ready for the new year of studying and reading we shopped Big Lots and scored the perfect chair and accessories to create a quiet reading corner at home. And since going back to school is something to celebrate we decided the corner needed a dose of festive fun with chalkboard party balloons to welcome in the new year!
Having a bright corner carved out with a comfy chair instantly makes reading for school a more enjoyable experience. A simple corner like this can be a wonderful solution for a crazy college house filled with roommates (I remember those days so well), or for my own nutty house filled with kids going this way and that.
To create a great spot to read I've started with the comfiest chair I can find. This colorful chair makes a great grounding spot, it can be found in-store or by shopping Big Lots online. The combination of the new designed butterfly chairs with the comfort of the nostalgic papasan make it an easy place to relax and read in. Adding in a simple side table that is big enough for stacks of books and fun details like origami lights brighten up the space. I was excited to see how many cute, colorful and on trend items Big Lots has in stock for creating a festive back-to-school look at home.

Chalkboard Balloons
To create the chalkboard balloons you will need:
Balloons
Black acrylic paint
A white sharpie
1. Use a small amount of black acrylic paint (being sure not to add it too thick) and paint a section of the balloon. Allow to dry for about an hour.
2. Once the paint is dry use a white sharpie to write on top of the balloon.
Shopping and dreaming of the coming year always gets me super excited for what's to come. As much as I am still loving summer- fall is coming soon. EEEK! Time to shop. :) Styles and assortment vary by store.