This Jam Recipe post is sponsored by Ball® Fresh Preserving Products by Newell Brands; however, all thoughts and opinions are my own. I've added a jam cake component for a truly crowd pleasing summer treat!
Last week I tried my hand at making jam for the first time. It was so fun and as soon as it was done, I of course needed to put it on a cake! This jam cake is one I am really proud of making. It is sweet and just that perfect amount of fruit tart and the cake is an instant show stopper at any summer gathering.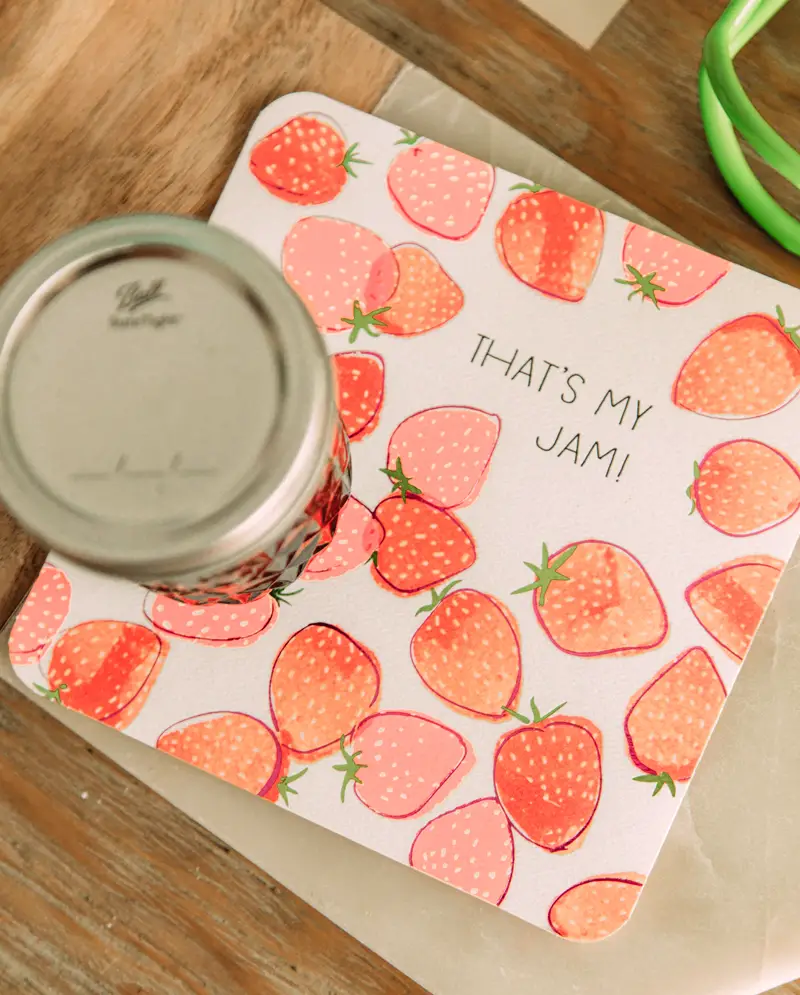 Making Mixed Berry Homemade Jam
Making homemade jam is something that always seemed way to hard to attempt. I was sent the Ball(R) Fresh Preserving Starter Kit and it had everything I needed besides the fruit & sugar to try out canning for myself. My daughter jumped in and we made an afternoon of smashing berries and submerging the glass jars.
Who knew I had this much farm girl in me!? I was astonished with how easy and fun the entire process was.
The jam cake recipe below is one you can print and use to create your own homemade mixed berry jam cake. A few notes on the recipe before you get started.
We did adjust the recipe for our altitude. Since Reno is pretty high up in the mountains we nearly doubled the processing time. Be sure to look up where you live and adjust accordingly.
Although we did crush 90% of our berries, as a personal preference we also left a couple here and there in the jam that were more full berry than not. DO THIS! The fuller berries taste so good and add that awesome homemade feel to your jam. The whole berries require some additional processing time, but trust me it's totally worth it!
Mixed Berry Jam Cake
A jam cake made with homemade mixed berry jam and our favorite cake
Processing Time
12
minutes
Ingredients
4

cups

crushed berries

mix and match your favorites such as strawberries, blueberries, blackberries, and/or raspberries

4 ½

Tbsp

Ball® RealFruit™ Classic Pectin

3

cups

sugar

6

Ball® or Kerr® Half Pint

8 oz Quilted Crystal Jelly Jars with lids and bands

Optional: Ball® freshTECH Electric Water Bath Canner + Multicooker

Your favorite cake recipe
Instructions
Making The Mixed Berry Jam
PREPARE boiling water canner. Heat jars in simmering water until ready for use. Do not boil. Wash lids in warm soapy water and set bands aside.

COMBINE berries in an 8-quart saucepan. Gradually stir in pectin. Bring mixture to a full rolling boil that cannot be stirred down, over high heat, stirring constantly.

ADD entire measure of sugar, stirring to dissolve. Return mixture to a full rolling boil. Boil hard 1 minute, stirring constantly. Remove from heat. Skim foam, if necessary.

LADLE hot jam into hot jars, one at a time, leaving 1/4 inch headspace. Wipe rims. Center lids on jars. Apply bands and adjust to fingertip tight.

PLACE filled jars in canner ensuring jars are covered by 1 to 2 inches of water. Place lid on canner. Bring water to gentle, steady boil.

PROCESS jars for 10 minutes, adjusting for altitude. Turn off heat, remove lid and let jars stand for 5 minutes. Remove jars and cool. Check lids for seal after 24 hours. Lids should not flex up and down when center is pressed.
Putting Together The Jam Cake
While the jam is cooling, mix your favorite recipe and bake in 4 small circle pans.

Cool cakes and once jam is done stack, spreading a layer of jam between each cake layer. Top with Jam for a cake that is sweet, fruit forward and great for summer!
Once the berries are mixed, you add the Pectin, be sure to use classic Pectin for best results and safety! Then sugar and the recipe says stir consistently. We had a hard time getting the boil needed while doing this, so we stirred about every 20-30 seconds to allow the heat to work and ensure nothing started burning. It might be an electric stove issue? But something to note.
I loved using the Ball starter kit because it made everything so easy. The jars once filled with the mixed berry jam recipe stand up on this metal rack that then you just gently drop into the pot. And I plan to reuse this pot for major soup making this fall, it's so fun and huge!
Assembling A Jam Cake
A jam cake much like any food you'd think to cover in jam should be filled and overflowing with the goodness! When we layered the jam cake we made sure there was a good portion of the jam between each layer and even dripped some down the sides.
Assembling it this way makes the cake seem like a glorious pastry you might find at any coffee shop and utterly tasty.
We used the small 8oz. half-pint Ball Jars and after they cooled I ended up wanting to hand them out to everyone I know. It was a fun project and one I can imagine doing over and over again now that I know how easy it all is.
If you are serving this cake at a party, think about making multiple batches so each guest can bring home a can as a favor. So many options with this new found skill.
(Photography ©A Subtle Revelry by Ashlyn Savannah Photo).