This Strawberry sparkle cake post has been sponsored by Sparkling Ice®. All thoughts and opinions are my own.
It's getting warmer outside, and I am thrilled to try my hand at making a few new party cakes this season! We've teamed up with Sparkling Ice® and Safeway to design a fun Sparkling Ice strawberry sparkle cake that will easily take center stage at all your summer parties.
From Mother's Day, to birthdays, to teacher appreciations, this Sparkling Ice Cake is bright and sweet enough to be the center of any brunch table. Using the Sparkling Ice recipe makes for an extra creamy dough that creates a fizz-like moist cake that will go quicker than you can even imagine.
Sparkling Ice Kiwi Strawberry has naturally sourced flavors and colors and tastes just like its name: Kiwi Strawberry. It is filled with vitamins and antioxidants to make your cake feel as good as it tastes.
Get inspired with more summer fun ideas here.
Sparkling Ice Strawberry Sparkle Cake
To make the strawberry summer party cake you will need:
2 cups all-purpose flour
2 eggs
2 cups sugar
1 teaspoon baking soda
1 teaspoon vanilla extract
1 cup butter
1 cup Sparkling Ice Kiwi Strawberry 17oz
1/2 cup buttermilk
For the coconut strawberry frosting
1/2 cup butter
6 tablespoons Sparkling Ice Kiwi Strawberry
4 cups confectioners' sugar
1 cup chopped coconut
1 cup sliced strawberries
1. To make the strawberry sparkle cake, first combine flour and white sugar in mixing bowl. Mix well.
2. Add buttermilk, eggs, baking soda, vanilla.
3. Next, mix in the Sparkling Ice Kiwi Strawberry (which I found at my local Safeway in the drink aisle). I like to look before I shop and make my store list on my Safeway mobile app, which shows me the available coupons to make baking even more fun.

4. Mix until well combined and bake in a greased pan for 40 minutes at 350 degrees.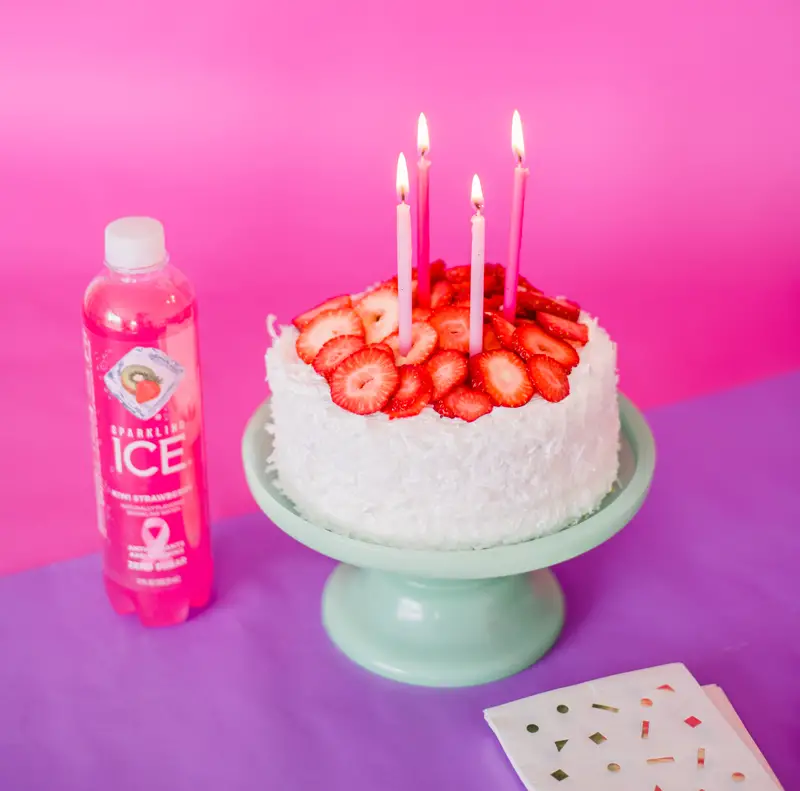 Strawberry Sparkle Coconut Frosting
Mix the frosting by combining 1/2 cup butter or margarine, 8 tablespoons Sparkling Ice® Kiwi Strawberry, and 4 cups confectioners' sugar. Mix well. Add in chopped coconut and spread over cooled cake.
Top the Sparkling Ice Strawberry sparkle cake with the sliced strawberries for a sweet start to the season of fresh baking inspiration and fun! Where would this cake look amazing in your life? It's simple to create when you save today at Safeway.
(Photography ©A Subtle Revelry by Alyssa Lynne Photography).