My rule for kid's costumes is that they must be cute (not too spooky), crafty, and able to brighten someone's day. A tall order? Here are my ideas for the best costumes for kids that can be crafted in about an hour. These will definitely bring a smile to everyone you see!
Homemade Toddlers Halloween Costumes: Top Ideas for 2021
Rainbow Halloween Costume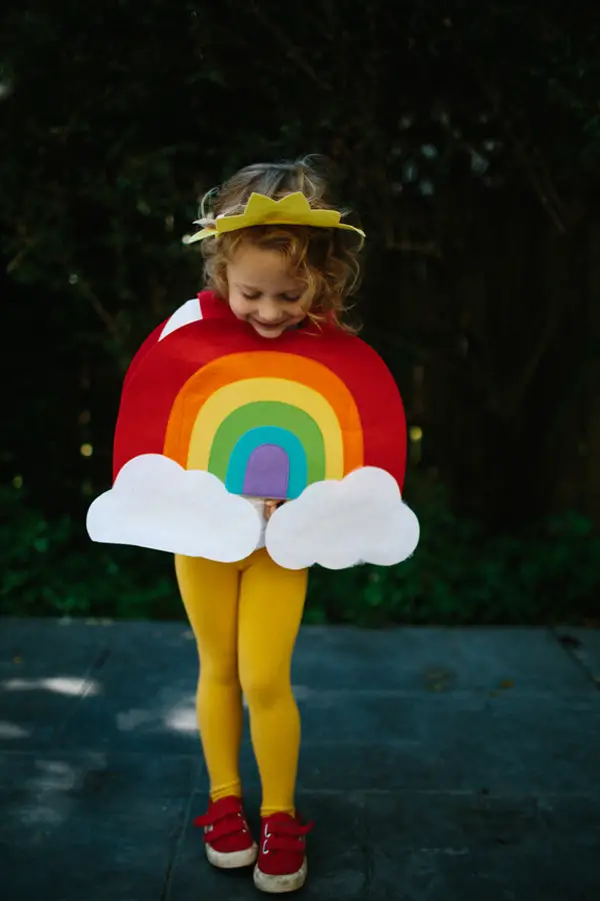 I'm not sure anyone can look at this sweet rainbow costume without breaking out in an enormous smile. It's festive, fun and defiantly one of the best Halloween costumes for kids!
To make a felt rainbow costume; cut out two large half circle of red felt (you can find yards of felt in the rolled fabric section), connect the two half circles with red felt straps to go over the shoulders. Lay the base out and begin cutting half circles in descending sizes to create the rainbow affect for both the front and the back. Glue in place from largest to smallest. Cut out 4 cloud shapes from white felt and glue to the bottom ends of the rainbow.
Pair the sweet rainbow with a yellow felt sun beam headband, yellow tights, and colorful shoes for a brightly beaming kid's costume.
DJ Kids Halloween Costume
When you are not parting the clouds, bringing a dose of pop and funk is another awesome way to turn Halloween into a festive, fun party! This iconic hipster DJ costume with/or without real music will be sure to bring grins to all your fellow trick-or-treaters.
To make the hipster DJ Halloween costume start with a cardboard box. Cut off one long top flap and one long bottom flap. Connect the two with glue to create the boom box handle. Tape the remaining flap down to keep your box secure. Paint the box and the handle a bright/bold color. Add the speaker and button details by painting smaller pieces of cardboard and gluing them onto the box.
Add a pair of headphones, Converse sneakers, a beenie, and a puffy vest for classic DJ style. For extra happiness stick a small tape player inside and leave the top of the boom box open for pressing play as you stride by.
More of the best Halloween costumes for kids below!
A Honeycomb
This fun and festive vibe will light up even the darkest Halloween night. This is one of the easiest toddler girl Halloween costumes, and we've discussed how to make it from scratch in our guide to an amazing triplet honeycomb Halloween costume. Of course, triplets are optional, you can make just one if you wish!
A Birthday Cake

If this isn't adorable, what is?! I'm so excited to share our Halloween birthday cakes costumes – full DIY instructions found here!
A Party Lantern
Light up your little gals life with this simple Ikea hack DIY girls costume. Couldn't be easier to make with just a few store-bought accessories. Here's the instruction on how to make this one!
A Sparkly Heart Emoji Costume
Here's how to make a sparkly heart emoji Halloween costume that would work for mom, but is PERFECT for baby! The heart emoji costume is soft and basically like a pillow, which is perfect for that phase when the baby won't have anything scratchy near her delicate skin.
Easy DIY Toddler Costumes: Simple Last-Minute Ideas
A Birthday Present
This was recently featured on our guide to some cute, DIY costumes for the whole family. There may be times when your little angel doesn't feel like much of a gift, but we can always pretend for the party.
A Ghost
Sometimes the old classics make the best easy toddler Halloween costumes, and this simple but effective ghost is no different. An old white hoodie could be all you need to put this one together in under an hour!
Minions from Despicable Me
When you think about it, this is an incredibly easy costume to put together. You just need the minion's hat, and you may already have the yellow tee and dungarees. This is a perfect easy toddler Halloween costume that you can put together at short notice.
Superman
Looking for do-it-yourself toddler boy Halloween costumes? You won't get much easier than this. The Superman costume is both easy to put together and effective. Plus, your little boy might love the superman t-shirt and get lots of use out of it afterward.
An Octopus
One of the cutest costumes we've seen. There are a lot of different ways to make an octopus costume, just try to get the octopus hat and some extra limbs for the full effect.
A Bat
If you want to find a costume that is surprisingly easy to create then the bat could be ideal for you. Some cheap and readily available materials including an old umbrella might be all you need.
A Stick Figure
So easy to make that your kids might be able to create this themselves (with a little supervision).
Colonel Sanders
Funny, and super simple to put together. You can even pick up a bucket on the way for the most authentic look possible.
Circus Troupe
One of the most effective last-minute easy DIY toddler Halloween costumes is to dress them ready for the circus. You can make it a costume for the whole family or check out our guide to circus costume ideas for twins. It's great to have the option of making easy toddler Halloween costumes for two.
Best DIY Halloween Costumes for Toddler Girl
Grandma
This is one of the easiest toddler girl Halloween costumes to create, and it is also incredibly cute. Some jewelry and a scarf and hat can do the job, but a wig and frame can do the job even better.
A Witch
Your little girl might not be the only witch at the Halloween party but you can make sure she's the best.
Gumball Machine
You might even be able to trick some people into giving you quarters in the process.
A Virus
Here's a topical Halloween costume for toddlers or other kids. Why not go as a virus? You can pretty simply make this costume and twin it with a mask for an even more complete (and COVID-secure) look.
The Headless Lady
This is not the easiest Halloween costume to make, but it certainly looks truly fantastic.
A Jellyfish
Why didn't we think of that? This couldn't be much simpler to make, and you might already have everything you need to get started.
Funniest Toddler Boy Halloween Costumes Ideas
Elmo
This is just a purely cute Halloween boy costume and while it wouldn't be easy to make it yourself, it's absolutely fantastic for those who want to make their kid the talk of the party.
Ace Ventura: Pet Detective
So it might not be the most current reference, but this Ace Ventura costume is fantastic. If you can get your hands on the wig and those loud clothes, you've got yourself the ideal Halloween boy costume.
A Golfer
You can probably think of things much scarier than a golfer, but you might not be able to think of a costume that is quite so simple, effective, and cute.
Army Figure
Be warned that this will not make your little boy standstill for the duration of the party. However, he will look very cool.
Bilbo Baggins
One costume to rule them all!
Lumberjack
How cute is that little outfit? Lumberjack shirts are relatively easy to DIY costume ideas, just make sure you make the big lumberjack beard with a material that is easy to get off.
Edward Scissorhands
Talking about creative toddler Halloween costumes, this is one of the very best we've seen. Look at that fantastic outfit and amazing makeup. Just be sure to use plastic knives.